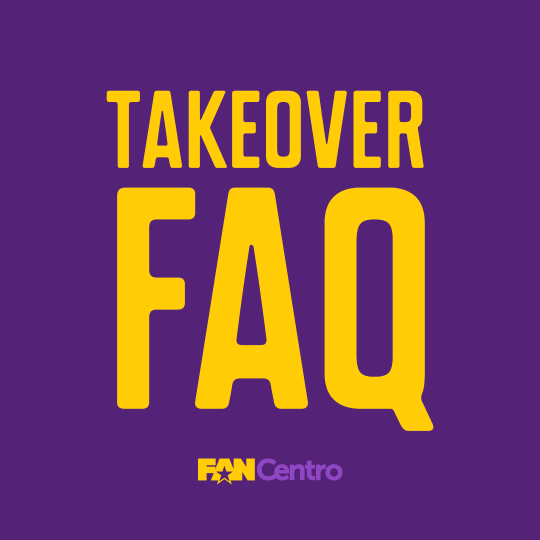 Snapchat Takeover FAQ
When will I receive the details of my takeover?
All the information you'll need will be emailed you the day before your scheduled takeover. The email will include the Snapchat login and password, a list of takeover rules, and social media banners that can be used to promote your takeover.
Where should I promote my takeover?
Everywhere! Start spreading the word 24 hours before your scheduled takeover. Our designers will create special social media banners that include a Snapcode to make it easy for you to share the news with your fans.
Is there anything I should or shouldn't do during my takeover?
Since your takeover is public, it's very important to follow Snapchat's rules regarding content. Snapchat has strict guidelines, and engaging in behavior that is not allowed may result in our account being banned. We'll be providing you with a list of reminders before your takeover, but here are some things to keep in mind.
Absolutely no nudity. Nudity, or even implied nudity (e.g. hand bras, emojis, etc.) is grounds for being banned. You must remain clothed at all times during your takeover. Inappropriate snaps will be deleted.
We love it when our models promote themselves, but please do not overdo it. Viewers are looking for intriguing, quality content, and we don't want to overdo advertisements.
Keep content fresh, interesting, and original. Viewers come to takeovers to see things 'in the moment' so try not to use uploaded pics or videos. Live snaps will always be more interesting than recycled content.
Snap, snap, snap! You have a long window for your takeover, so use it! The more content you post, the more fans will get to know you–this is a great opportunity to snag new subscribers…don't miss out.
Can I promote my FanCentro Profile during Takeover?
Of course, that's what a takeover is for! Add 'Swipe Up' + a link to your profile to some of your snaps to boost your sales.
When I try to access the Verification page, I get a 'Bad Login' message.
Please try opening the Verification page in the Incognito window of your browser.
There are four codes on the Verification page–which one should I use?
Please use the code in front of the name of Snapchat account you are taking over. If you accidentally type in the wrong code, please log out of Snapchat, login again, refresh the verification page and use the new code.
I'm in California, should I start a takeover at 6AM?
Takeovers should be started at 9AM EST and finished by 9PM EST. Of course, you may start a little bit later if you don't want to be up with the sunrise, but please finish in time.