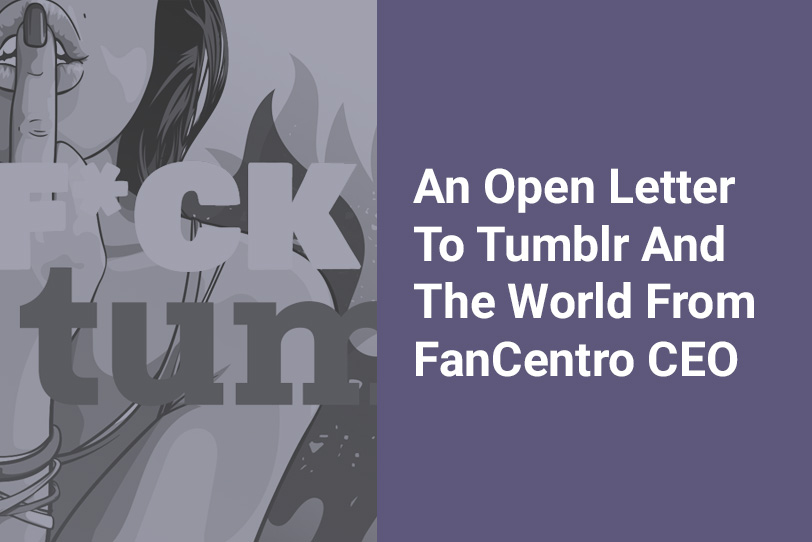 An Open Letter To Tumblr And The World From FanCentro CEO
From time to time I think it's important to clearly explain our point of view on important issues that affect our influencers, account owners, strategic partners and the public. Recent policy changes by nameless, faceless individuals who are in charge of large corporations represent a serious risk to the income, lifestyle and culture our partners and audience all depend on. This open letter demonstrates that FanCentro will never become a nameless faceless company to you. I am Stan Fiskin, the CEO of FanCentro, and I can assure you we are doing all we can each day to provide you with a platform capable of expressing your own views honestly and easily.
In a world now full of rampant gun violence, frequent fights for basic equality of races and genders, serious political turmoil and so many other important topics worth tackling, Tumblr has suddenly decided instead to focus on the morality of nipples. I am not sure why companies like Starbucks (who recently banned all adult content on their store WiFi) and Tumblr have so many issues with healthy human sexuality, or the human body, but it is frightening that their personal dislikes are causing a worldwide chilling effect on free speech, while creating a dangerous barrier between people – rather than helping people to share ideas freely as their blog platform and coffee shops were originally intended to do.
It is objectively wrong for a company like Starbucks to enable lunatics to play first person shooter games while pretending to kill other people on Starbucks WiFi, but to be so scared of a single frame or image of a partially naked human being. On Tumblr right now there are horrible people promoting distorted world views about the Earth being flat, suggesting abhorrent racist behavior, espousing anti-Semitic beliefs, belittling women – yet the Tumblr management team has decided to take a stand against nudity?
Many years ago people would falsely argue that "porn" was outside the mainstream. They would use scare tactics to suggest that if anyone ever saw a naked couple they would somehow lose their ability to behave in a moral and ethical manner. Now those failed lines of reasoning can easily be proven false. Hundreds of millions, if not billions, of people view adult entertainment online each and every day of the year. FanCentro works with thousands of influencers reaching over a billion followers through social media.
Museums have been displaying naked bodies as sculpture and oil paintings for centuries; Japanese pillow books depicting human sexuality in some cases appear to predate the original publication of the Bible. Sex is not only a moral and ethical topic, it happens to also be the only method by which our entire species can continue to exist. There is no substitute for procreation on a genetic level, and unlike almost every other human endeavor, all races and cultural orientations follow the same basic methodology regarding sex because it is a basic biological function of every person who has ever existed. Yet, Tumblr believes it should supersede the most basic aspect of our physical existence with its own editorial nonsense, because they arrogantly feel they know better than all of the billions of people who strongly disagree with them, and the human body itself.
Much can be learned from taking a wider view of the current political climate as well. Adult entertainment is every bit as mainstream as cannabis, and we have seen the political shift toward regulating adult material as if it were dangerous, when in fact it is not for anyone over the age of consent. All of these efforts to control mainstream behavior are dangerous distractions away from the things that actually matter right now on a global scale – climate change, racial relations, ongoing wars, famine, weather catastrophes, income inequality, poverty, and the list goes on. Perhaps the powerful people at Tumblr will wake up one day and make meaningful policy changes that highlight these crucial areas of interest…. or perhaps they will wake up tomorrow and decide showing any skirt that is higher than knee height is also worthy of closing your account. We won't be risking our revenue on their whim, and we encourage you to also move away from their failed platform as quickly as you can.
As of this moment the FanCentro account on Tumblr is closed and we have no intention of reopening it. We closed it ourselves and "gave up" the millions of followers we had there after many years of hard work. I believe that is a very small price to pay for our freedom.
Those of you seeking the best services and tools to generate revenue or grow your influencer brand online, now face a moment of truth. Do you want to nibble around the edges of a platform like Tumblr that openly dislikes you and hope you can somehow be deemed compliant, or would you prefer to be part of a community that actually embraces the content you make and works with you to reach an even larger audience?
FanCentro will always continue to support performers, entertainers, and influencers by providing you with a platform designed with your freedom at the forefront of our minds.  We are here to empower everyone to be yourself, with the only caveat being that adult content should be consensually made and consumed by adults. It's your life, your brand, and your choice.
Content creators can blog right now on FanCentro with many options provided here for FREE instead. We even have a simple tool designed to import all of your data from Tumblr to your new FanCentro account in seconds. Just take a moment to create your own free account, see how easy it is to move your Tumblr to FanCentro, and have the peace of mind that only comes from being part of a community that cares about your freedom, your rights and your ability to earn a living doing what you love.
We look forward to meeting you and working with you.
Stan Fiskin
FanCentro.com, CEO