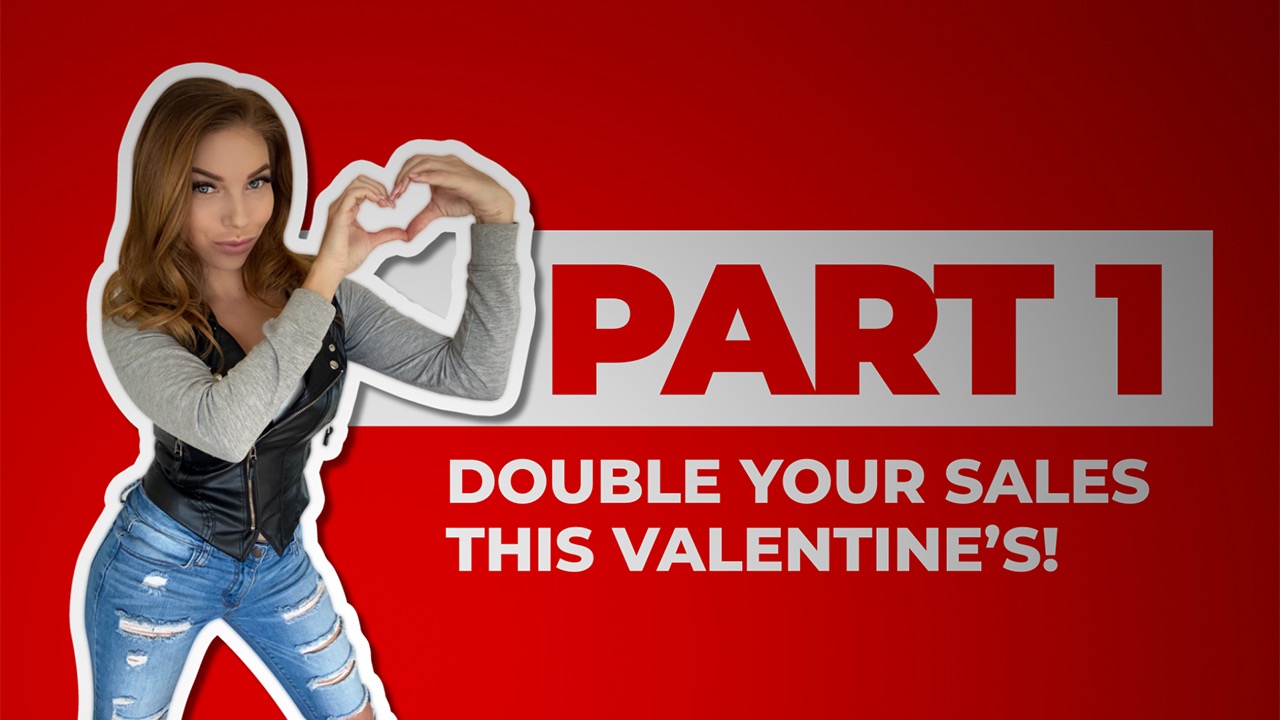 How to Double Your Sales This Valentine's! (Part 1)
Wanna know why MelRose is rocking the top of the directory day after day? We've got tips, tricks, secrets, and strategies from MelRose herself to help you turn your biz into an EMPIRE.  Every day this week, we'll be posting a new step in the journey, so stay focused, take notes, and get ready to fatten up your bank account. 
This is the ONLY place you're going to find insider secrets about how to increase your earnings and make a huge splash on FanCentro, so tune in every day this week for an all-new set of strategies. We're covering everything from Feed to DMs and giving you amazing inside information on how to make them work for you.
MelRose's first step is all about our Valentine's Day Promo — We're offering fans the chance to subscribe for only $14, AND we're giving influencers who opt-in 90% of all sales made through DMs during the promo!
Here's MelRose to tell you all about it!
To recap, here's what you need to do:
Get on the V-Day promo! Here are the quick and dirty details on how to opt-in:

Log in to your dashboard

Make sure your FC Feed is activated! (Don't know how? Check out our tutorial

here

) 

Opt-in to the promo – you'll be redirected to your subscriptions, where you can select a subscription to discount to $14 

Your fans will also receive a free V-day video from you as part of the promo. You can send your video via mass DM's–don't worry, we'll automatically generate a list for you every day so you can track your rewards.

During the promo period, you'll receive 90% of all your DM sales (Feb 13-20) That's 90% of DM unlocks AND chat tips!

Now that you're in on the sale, it's time to start promoting. First step: Change your profile pic to something with a Valentine's Day vibe. (Hint: make it amazing, because we're featuring the best pics on our socials all week long!)
Film your Thank You vid! Hit the lights, and create one HD full-length video (horizontal) that you can use to send in DMs. Getting this done now will make your life super easy later on!
Download and print your to-do list for today, by right-clicking the following image!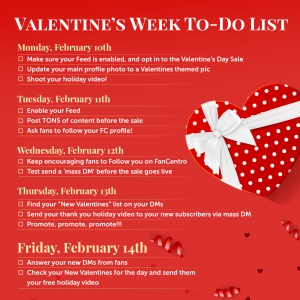 That's it! Stay tuned, because we've got more amazing money-making tips coming your way tomorrow!