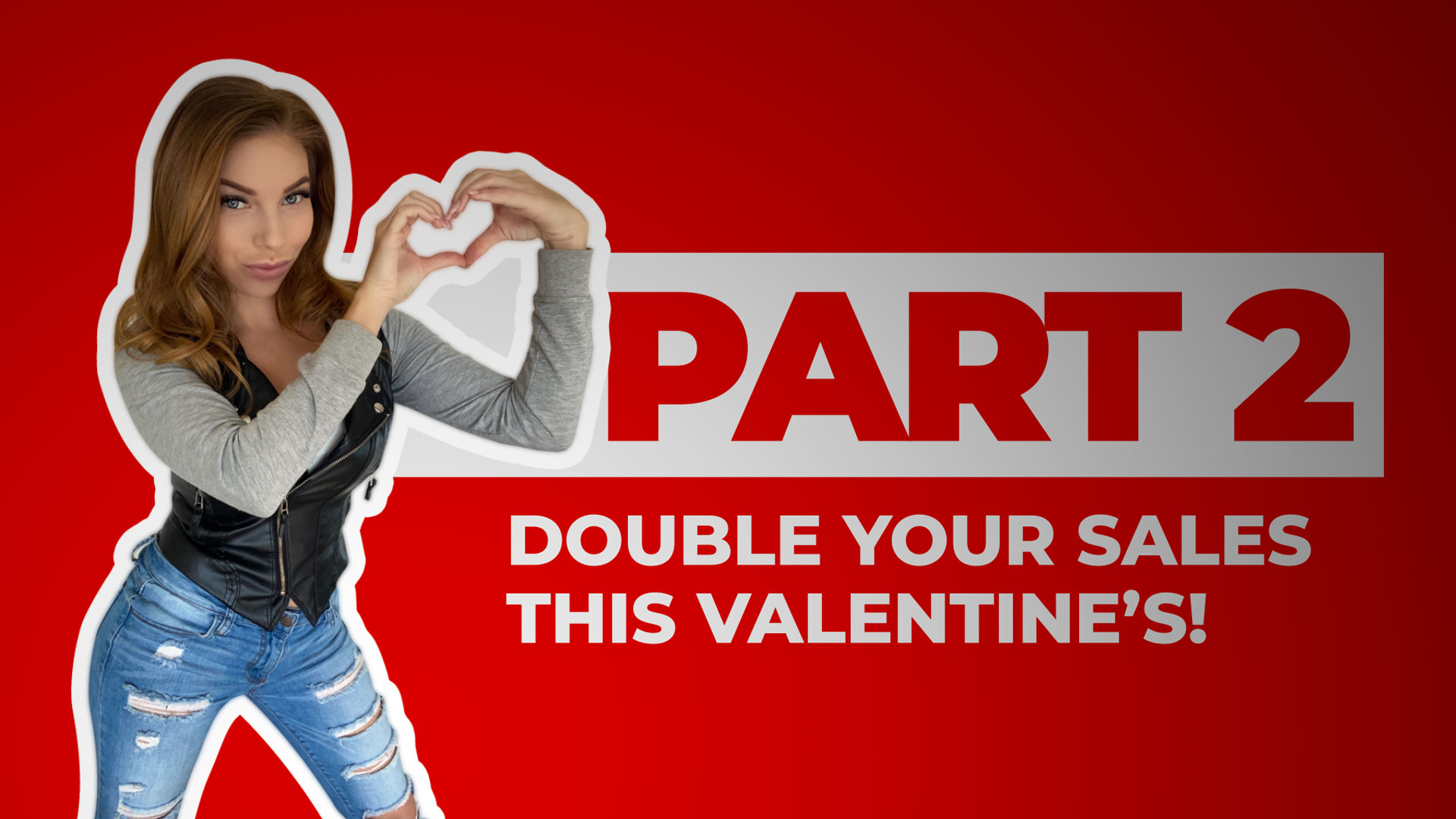 How to Double Your Sales this Valentine's! (Part 2)
Welcome to Part Two of our FanCentro Masterclass. This is the ONLY place to find step-by-step strategies for achieving the maximum success on the platform, so if you are ready to increase your revenue by a LOT, you're in the right place!
Remember, we'll be posting tips, tricks, and ideas (that you're not going to find anywhere else) all week long. This masterclass was created by MelRose, one of FanCentro's top models, who uses EXACTLY these strategies to drive her own success, so this is literally the best advice you can get.
Let's begin! Now that you know all about the Valentine's Day Promo from Part 1, let's dive into what the Feed is, and how to make it work for you. Here's MelRose!
What is the Feed? 
Just like any social media site, the Feed is a timeline where you can post exclusive photos, videos, updates, whatever you want. Fans can subscribe to your Feed to gain access to your content, so staying on top of your Feed is a great way to gain and keep subscribers.
Don't have your Feed activated? Here's how:
Log into your dashboard
Click on "Subscription Offers"
Scroll to "Feed" and click the toggle to "On"
Set your subscription price (remember, the Valentine's Day sale discounts the Feed to $14 so make sure your subscription price is over $14.)
Adding Content to Your Feed
Now that your Feed is activated, you've got to add content. Remember, fans can see exactly how much content is there BEFORE they subscribe, so they're going to be much more likely to subscribe to the sale if you've got 50 posts than if you've got five. Take an hour and post as much as you can: pics, videos, whatever it takes to get that Feed looking REALLY tempting before the sale!
*Pro-tip: You can schedule Feed content to post automatically, so spending an hour or two scheduling posts can give fans fresh content all week.
And don't forget to put your personality into your posts. You can post regular pics alongside hotter content so your fans can get a real feel for who you are!
Twitter Notifications
The next thing to do that really amps up your Feed is to set Twitter notifications. The beauty of this, is that every time your Feed has new content, a tweet will automatically be sent to all your Twitter followers. That's good news for subscribers and it's super intriguing to everyone else…it's one of the best ways to grow your Feed subscribers, so don't skip this step!
(Twitter notifications can be activated in your Dashboard under the "Promotions" tab!)
Ask for a Follow!
Finally, it's super important to have people following your FC Profile. It's free to do, so it's a total no-brainer for them, but for you it's a possible lead to a future subscriber! Share your profile and ask people to click the purple "Follow" button. They'll be able to track the profiles they follow, so it makes it easier to find models they are interested in once they're ready to subscribe. When that time comes, you want to be on their list, so gaining profile followers is definitely worth it!
Download your Valentine's To-Do list to keep track of what you have to do this week! Right-click on the image below to download!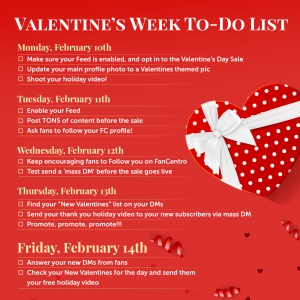 Tomorrow we'll be talking more about why profile followers are so important, so stay tuned for more amazing advice from MelRose!!!