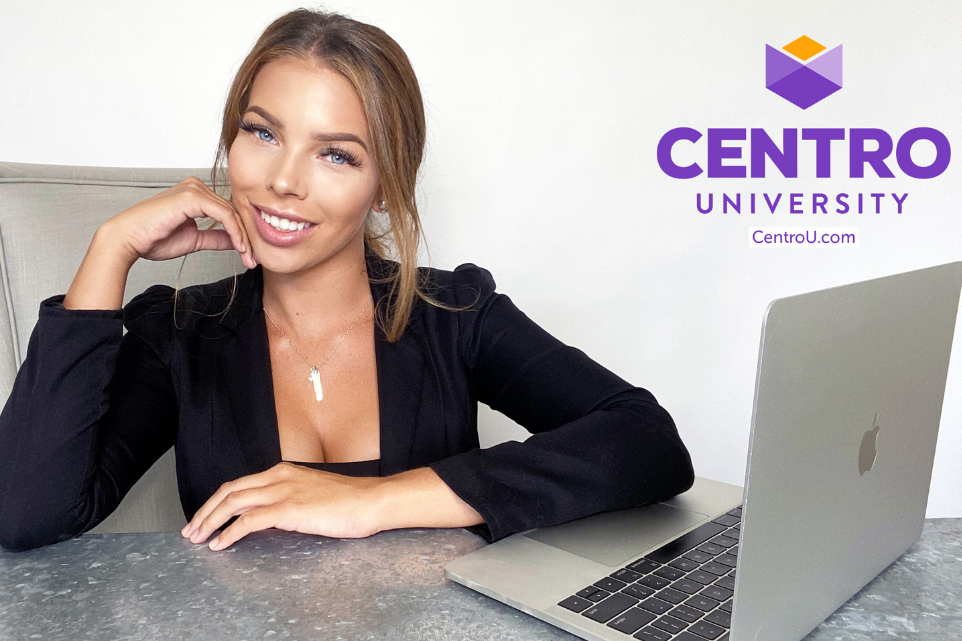 CentroU – Meet Your Instructor
With the launch of CentroU, you probably have a ton of questions about what it is and how it can help your business and earn you a ton of cash! You might also be wondering about the brains behind the operation, so we wanted to introduce you to the influencer extraordinaire who offered her time, talent, and expertise as one of FanCentro's top-selling models to make CentroU a reality. MelRose Michaels started in the exact same place thousands of influencers start off in every day, and she has built her business into something truly extraordinary. Not only that, she's extremely dedicated to helping other influencers do the same. We sat down with MelRose to find out about where she got her start and how she propelled herself to where she is today.
How did you get started in the business?
I got started in the Adult Industry as a webcam model in 2011. I found a lot of success with the livestream setup until I began to see a shift in traffic. Overnight seemingly, users in my chat room began to dwindle and I realized people's attention had begun to shift from computer screens to cell phone screens. In an effort to capitalize on everyone's attention being primarily focused on their phones, I launched a premium social media account. The initial platform I worked with didn't have the user base or functionality that I felt I needed, so after 6 months there, I switched to FanCentro, and over time I expanded my private social media business to include a fansite, clips, and paid DMs. I feel like being able to centralize my entire business in one place has been a large factor to my success. Instead of using a separate clips site, fan site, and messaging site the fans can interact with me their preferred way, all on one platform. That was a game changer for me!
Why did you want to become a teacher? 
I didn't honestly set out to become a 'teacher'. As a brand ambassador for FanCentro, I like to think that my job doesn't only entail advocating for the platform publicly, but also advocating to Fancentro, on behalf of the models privately. As a model actually using the platform day in and day out, I have a good grasp on what it's missing or what could be improved on. I'm also heavily involved in the sex work community as a whole so I hear the conversations surrounding what models needs are, and I try to communicate that to Fancentro so that we can provide it. It became apparent pretty early on that there was an education tool missing from FanCentro. Not only in regards to teaching new models our platform and features, but for teaching models about owning and operating a business as a whole. I worked alongside FanCentro closely to create this educational tool so that we both felt models could take the course and walk away with the tools and resources they needed to be successful.
What's the most important thing you've learned?
While writing and revising the course I learned a lot myself! I learned in-depth about how our CentroProfits program worked, which is hugely beneficial to models as an extra stream of revenue. I also learned how retention offers work and how to capitalize on those!
What are the top three tips you can give for being a success? 
My top 3 tips for success, not only on Fancentro but in business in general are, be consistent, manage your time well, and DO the work. I wasted a lot of years in my early 20's sleeping in and scraping by instead of really buckling down and growing my business. I honestly believe that I would've been a lot further along if I'd have taken things more seriously back then. But I'm hoping this course will provide motivation and focus to younger models so that they don't make my same mistakes.
What do most people getting into the business not know? 
I think they don't know it's a legitimate online business. Most models approach this kind of work as a detour down 'easy street' because they assume anyone can sell nudes online. My opinion on that is, sure anyone can sell nudes online, but few will retire from it. If you treat FanCentro like a business, it will pay you like one, but if you treat it like a hobby, well, hobbies notoriously pay you in fulfillment, not large paychecks.
Can you really teach someone to be sexy? 
Hmm…This one is a tough question to answer. I think people all have their own unique qualities that make them sexy. I know plenty of models who ooze sex appeal, just in their appearance alone, but it doesn't always translate into movement or conversation on camera. Also on the flip side, I know models who don't meet 'modern day beauty standards' that ooze sexuality in how they move and behave. Sexy is really just a level of confidence. That is the magnet that draws people in. Being truly confident, living completely inside yourself and being uninhibited is where sex appeal comes from to me. I don't necessarily think that can be 'taught'. However, if you go back and watch my videos from 2011, I was SO FAR AWAY from sexy haha. I move and interact so differently now in my content, and I think that comes from experience and gaining security in myself and in my own skin. I think the more hours you put in being on video, watching and learning how you move and how to talk, can definitely help that learning curve of finding your sexy. It can't necessarily be taught but it certainly can be developed on your own.
What have you been able to achieve as an influencer? 
This is a good question. Everyone is always curious about the financial upside to being in the adult industry. However, everyone's success will look differently depending on how hard they work, develop their brand, etc. So for perspective, in the 8 years I solely webcammed, my biggest accomplishment I was able to achieve financially was buying a house for my mom (well financing one) back in 2014. That's in my 8 years working and saving etc. I was still in debt, I was still scraping by, despite having a fairly successful webcam career.  However in my mere year and a half focusing on selling private social media, and expanding into my fansite, clips, and pay to unlock DMs on FanCentro, I've been able to buy a property in Tennessee, which will be paid off by the end of 2021 and I've saved enough money, to build my dream house in cash. I've paid off over $30,000 in credit card debt, and launched a podcast and youtube vlog which I employ an editor for, as well as an online store. I've hired two personal assistants to help me run and expand both my personal brand, and my marketing company. And in that year and a half I've been able to travel to Greece, Spain, and Colombia, not including many places I've traveled domestically. The component to success FanCentro offers over other platforms is that everything is centralized. When you can run and operate your entire business from one platform, you free up the time to capitalize on other opportunities. THAT is what FanCentro allows for, and that's the skill I feel I've learned and put into practice here. In fact, that is what I'm really hoping I can teach to others. I know the platform allows for success because I've personally lived it. I'd like to be a part of that journey for other models so that more of our community is aware of what is possible here. This is a platform that outwardly supports sex workers, builds and develops their platform considering the feedback an actual sex worker. I feel this company is only going to continue to evolve and grow around our community's needs and we're going to continue to see more and more success stories like my own as a result of more and more models calling FanCentro home.