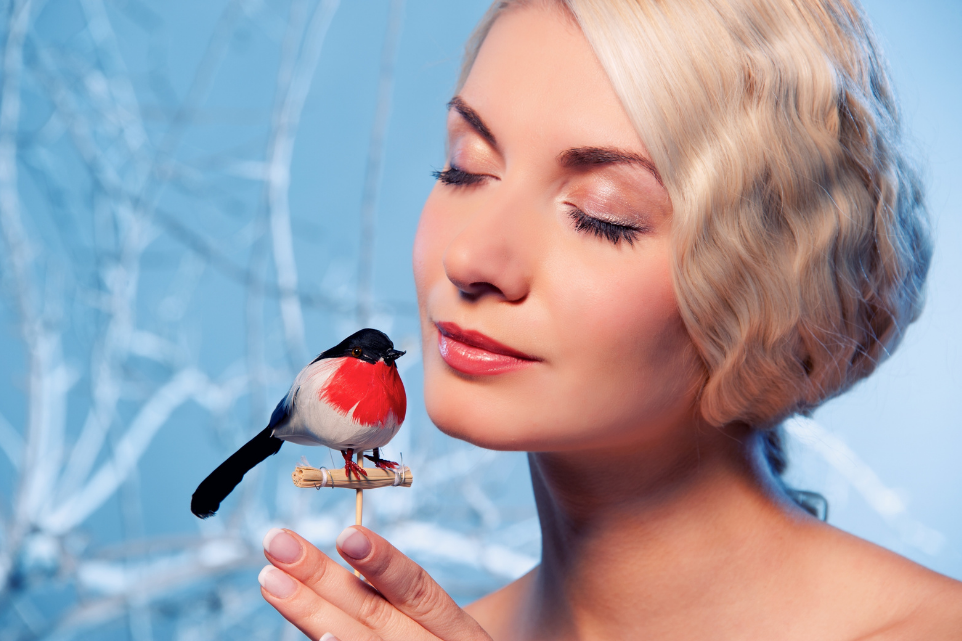 Enable Premium Twitter Subscriptions
Everyone knows that Twitter is the most uncensored, adult-friendly social media platform out there. It's always great for teasers and promotion, and now we've taken it one step further by offering Premium Twitter accounts with FanCentro!
What is Premium Twitter?
A Premium Twitter account allows you to monetize your entire Twitter following by giving them unlimited access to your private Tweets and hottest Fleets. You can set your current Twitter to private or start a brand new Twitter for premium access only (we highly recommend this!). Once you set up your Twitter, head over to your FanCentro Dashboard to set a subscription offer for exclusive access to your private Tweets and Fleets!
How Can Premium Twitter Help Me Earn Money?
You may be wondering…why Twitter? They're already uncensored! Well, until now, Twitter was only really good for posting short, teaser content for your fans in order to drive traffic where you wanted it. Now you can keep your traffic right where it is by posting teasers in your Tweets and full-length stories in your premium Fleets! The best part? You can post your hottest teasers in your PUBLIC account without worrying about being banned. That means your entire Twitter following will see exactly what they're missing out on by not being subscribed to your premium Twitter. Once your followers see a sample of the kind of content you're posting in your Fleets they'll be begging to subscribe! This is a super-unique option for monetizing your Twitter in a way that was never possible before and the only place to do it is FanCentro!.
What Are Fleets Anyway?
Fleets are Twitter's all-new story feature! Like Instagram, a Fleet can include text, videos, GIFs, or photos, and they only last 24 hours. This is the perfect place to share your fully uncensored shows with fans subscribed to your Premium Twitter account
How Do I Get A Premium Twitter?
Creating a premium Twitter account is easy!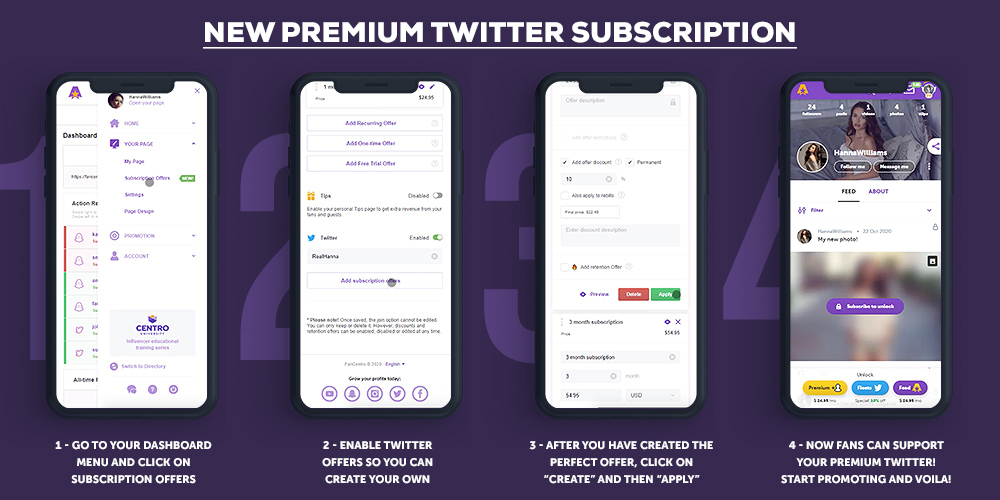 There are two options to get started. You can either update the settings on your current Twitter account and start using protected tweets, or register a new Twitter account and start over. We suggest registering a new account and running the two accounts separately: one public and one premium. That way you'll have a clean slate and a brand new account for your fans to subscribe to.
What are "Protected Tweets" and how do I turn this feature on?
Public Tweets (which is the default setting) are visible to anyone, whether or not they have a Twitter account, but protected Tweets are only visible to your Twitter followers. In this case, they'll only be visible to people who subscribe to your premium Twitter.
To protect your Tweets, follow these steps:
Log in to your Twitter account.
Click on the — More icon.
Go to Settings and Privacy.
Go to Your Account, scroll over to Account information, and input your password.
Scroll down to Protected Tweets, click the arrow, and check the box next to Protect my Tweets.
You will be prompted to select Cancel or Protect. Select Protect.
(If you change your mind, you can un-protect your Tweets by deselecting the box and choosing Cancel when prompted.)
When you protect your Tweets, you'll receive a request when new people want to follow you, which you can approve or deny.
If a user cancels his subscription you will receive a notification to remove that user. You can do so by locating them in your twitter followers and clicking "Block" and then "Unblock". This will remove them from your follower list, but also allow then to resubscribe in the future!
Remember: accounts that began following you before you protected your Tweets will still be able to view and interact with your protected Tweets unless you block them. This is why we suggest starting an entirely new Twitter for your Premium account.
When you protect your Tweets:
Your Tweets AND Fleets will only be visible to your followers.
Your followers will not be able to use the Retweet icon
Protected Tweets will not appear in third-party search engines (like Google search).
Your protected Tweets will only be searchable on Twitter by you and your followers.
Replies you send to an account that isn't following you will not be seen by that account (because only your followers will see your Tweets).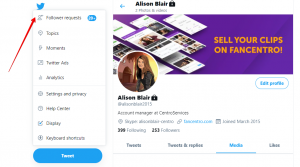 By protecting your Tweets, you'll also be protecting your Fleets, which will be visible for your subscribed followers. Although Fleets are available for mobile Twitter users only, this is still an awesome tool that will allow you to attract attention to your page and boost your sales!
Now that you've created your Premium Twitter account, head over to your FanCentro admin by clicking here  and setting up a subscription offer!
Setting Up a Premium Twitter Offer
Go to your Subscription offers section
Scroll down to find "Add Twitter" button
3. Enter your Twitter Username and click on "Add subscription offers"
4. Fill in all the required fields for your Subscription offer and click on "Create". All set!
5. Let's see what your fans will see before the purchase:
6. The fan purchases your Twitter option, gets your Twitter username, and provides their username right after the purchase:
7. You will get the notification right on your Dashboard after the fan submits their Twitter username:
When you have added the subscriber to your Private account, you need to mark them as added by clicking the check icon next to their username on the Dashboard.
Be sure to check this article about how you can manage your Premium Twitter subscribers.
So what are you waiting for? Head over to your FanCentro admin, create a Premium Twitter subscription offer, and start earning more today!