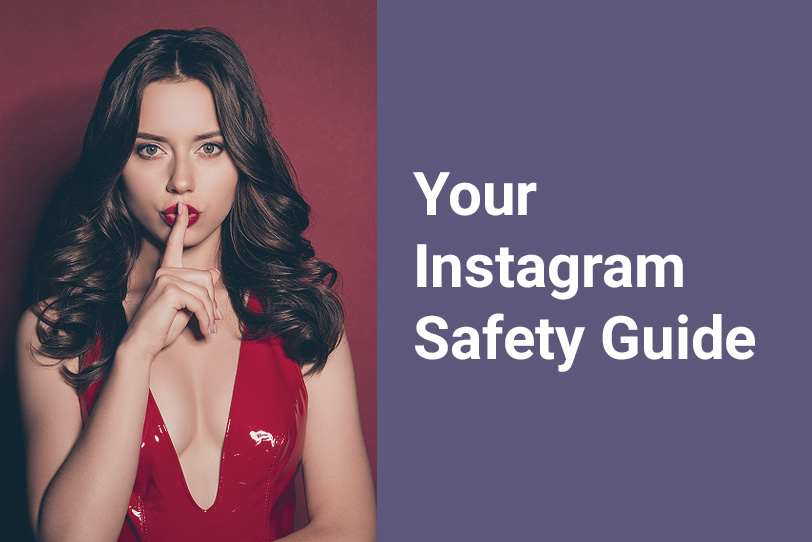 Your Instagram Safety Guide
Ask yourself these questions:
Has your Instagram been deleted in the last 6 months?
Have you had any posts removed in the last week?
Have you had more than 5 posts removed in a month?
Do you use banned hashtags?
Do you have any 3rd party Apps attached to your Insta?
If you answered yes to any of these questions, your Instagram account may be in danger.
As we've seen over the past few days, Instagram did a massive sweep of various accounts and several big name influencers were removed as a result. Instagram has recently released their all-new Terms of Service, and under those parameters you may be worried about keeping your account safe, secure, and available to your followers.  Instagram is awesome for promo, but they have some pretty strict content rules and aren't afraid to hand out bans, suspensions, and shadowbans, even to contributors with massive followings. Losing control of your account is extremely frustrating, especially when it affects your livelihood. Because there are so many content rules, it is very easy to cross a line without meaning to.
That's why we've come up with a helpful guide to keep your accounts as secure as possible.
While the tips we're offering have been designed to protect your account, it's just important to use good judgement and common sense when you post.
*Bear in mind, these guidelines are just that: guidelines. These have been developed by influencers who are trying to reverse construct the algorithm and prevent unnecessary bans. Since we do not make the rules on Instagram, these are not all of the rules, nor are they guaranteed to keep your account 100% safe, but they should cut down on your risk of getting flagged or suspended.
Content Rules
Instagram can be pretty strict in terms of what is and is not acceptable when it comes to content, and if you find that your account has been flagged or reported it can result in deletion or a shadowban pretty quickly. Let's take a quick look at what should never be shown on Instagram:
Nudity
Explicit sexual content
Depictions or simulations of sexual intercourse
Visible genitals
Up-close shots of fully nude buttocks
Booty pics in underwear
Visible nipples
Anything that is more than 50% skin tones (be mindful of clothes that are very close to your skin tone)
Sexual imagery
Censored content (by emojis or otherwise)
Instagram's rules for what is and is not acceptable are very clear, so be sure to read their guidelines carefully. As long as you respect those parameters, your account should remain safe. However, there is another side to Instagram that can lead to a potential ban, and that is how you're growing your account.
Activity Rules
When you're building a new account, it's important to engage with other accounts for organic growth. However, if your efforts are not organic, it could lead to a ban on your account. Instagram has algorithms specifically designed to monitor your activity and if you ping those algorithms it could lead to trouble for your account.
Let's break down the rules for acceptable engagement by the numbers.
For established accounts:
60 likes per hour (max)
60 comments per hour (max)
60 follows per hour (max)
60 messages per hour (max)
For new accounts:
30 likes per hour (max)
30 comments per hour (max)
30 follows/unfollows per hour (max)
Why are these restrictions in place? Instagram is constantly on the lookout for spam or bots. If your activity falls within those parameters, you run the risk of being banned. While these bans don't last forever they could be in effect anywhere from two hours to two weeks.
Captions and text
The captions you write are another area that you need to be mindful of when posting your content.
No sexual or suggestive emojis
Nothing that could be interpreted as an offer for services (massage, sexual solicitation)
No sexual remarks or offers for services or sexual solicitation of services – even if the photo itself isn't sexual

"Want to join me?"
"Would you like to see us together?"
"Come snuggle with me"
"What would you do if you walked in on me like this?"

Don't say "DM me" or "DM me on FC" etc., and don't use the envelope emoji – never use DM or messaging terms if possible unless it's attached to extremely safe context
Nothing that implies sexual activity
Hashtags
Curious about the best use of hashtags on Instagram? There is a magic number of hashtags that you should be using, and luckily it's easy to remember: 0
That's right, it's much easier to keep your account safe when you do not use any hashtags in your post. You don't run the risk of using anything that's been broken or banned.
Links and Swipes
Be mindful of your swipe-ups and the links you post — they should always be safe for work, and should not lead to a fansite or sexually suggestive content. This includes linktree and tapmybio.
Music
If a song or music is under copyright, don't use it. Even if it's just playing in the background of an innocent post, if it is not sponsored by the artist you could get dinged for copyright infringement.
Themes to avoid
Nothing at all about subscriptions – don't swipe up to anything that also links to a fansite (including linktree and tapmybio)
No sex toys or anything related to fetishes (ball gags, handcuffs, restraints, latex, etc)
No reviews of sex toys
COVID Information
This is an interesting one, and it might not apply to you, but as an influencer you have to be sure that any content you post, even just as a passing opinion, is true and safe. Posting controversial opinions about COVID, masks, or the vaccine is a quick way to get your account flagged and potentially suspended. Vet and and all COVID-related content should you choose to post it, and make sure you have medical or scientific proof to back it.
What if I get blocked?
If a block occurs, your only option is to wait it out. But just because you can get your account back, doesn't mean you should take these temporary bans lightly. Too many and you may find yourself facing a different kind of punishment: a disabled account.
Disabled or suspended accounts may come about for a few different reasons.
Your account is reported multiple times
You break the content rules
You experience frequent blocks
At this point, your only recourse is to request to have your account reinstated, which isn't always possible. We cannot stress this enough: if your account is suspended, follow the instructions Instagram gives you to the letter in order to up your chances of regaining your account.
Shadowbanning
Shadowbanning is an invisible threat to your Instagram account. Under a shadowban your account appears active, when it is actually being blocked from appearing in your followers feeds. If you find that your engagement has suddenly dropped and you're not getting your usual likes and follows, the culprit may be a shadowban.
What kind of behavior can result in a shadowban?
Falsely growing your account using bots or quick growth tools
Banned or broken hashtags
Being reported by another user
Frequent engagement that exceeds Instagram's limits
Shadowbans, while annoying, are easier to remedy. The first step is to identify why you may have been banned and correct the problem. If you've been engaging too frequently, take a break from Instagram for a few days. If you find yourself using banned or broken hashtags, remove them. If you have explicit language in your posts or comments, remove it. Don't use bots to grow your account. While it may be difficult to pinpoint the exact cause of your shadowban, troubleshooting can help identify it and lift the ban.
Being in full compliance with Instagrams rules and regulations is the best way to ensure the continued success and safety of your account. As long as you are careful, and use good judgment, you can continue to take advantage of this valuable promotional tool.
Have a question we didn't cover? FanCentro is here for you! Contact our team of success coaches at success@fancentro.com for help!