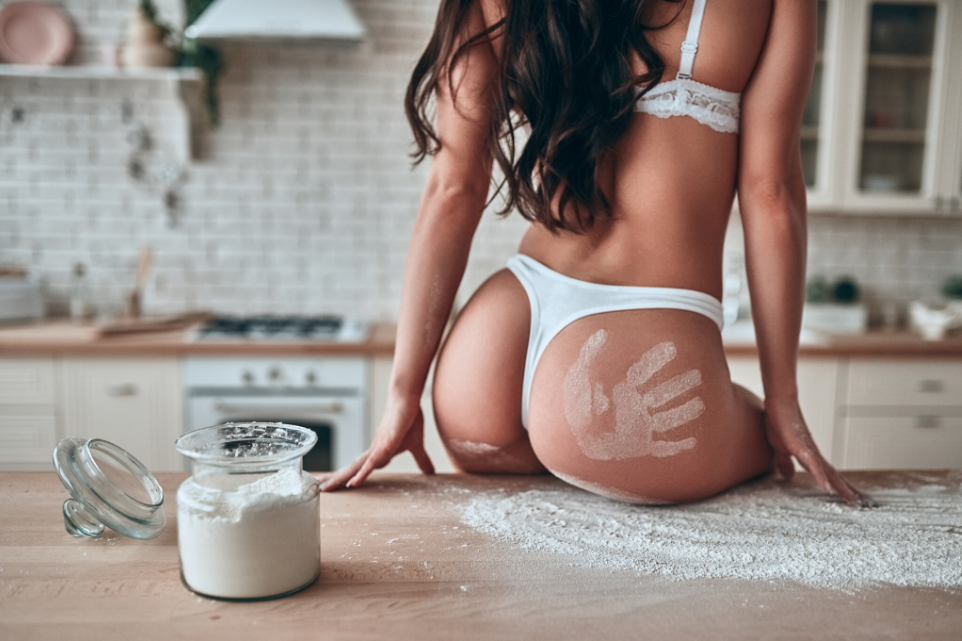 Put on a Show in Any Room of Your House!
The bedroom isn't the only hot spot in the house, and to be honest, anyone can make a sexy show on a bed. But with a little imagination and creativity, you can put on amazing shows in any room you choose. Not only is it a great change of pace for you, your fans will also love getting the 'home tour' and enjoying new locations.
To get the details from someone with tried and true methods, we sat down with brand ambassador MelRose Michaels to find out some of her best ideas for putting on a show in any room of the house.
Three Shows You Can Do in the Kitchen
Baking is hot right now, and a baking show is a great way to have your cake and eat it too. Try an apron with nothing underneath (keep your distance from naked flames!), make a mess with some flour, or show your fans just how delicious your bake is by licking the batter off the spoon.
Have a Candlelit Dinner for Two
Turn romance into something…raunchier. Your table can be the highlight of your show as dinner takes a naughty turn.
This one is a no-brainer, as soap and suds are always a good time. Get down and dirty while you clean (this is another good opportunity to go commando under your apron!).
Three Shows You Can Do in the Living Room
Stream something hot and let the movie inspire you to recreate your favorite scene or make up your own as you chill on the sofa.
When one partner is napping on the couch, the other might think of a particularly fun way to wake them up.
It may be a trope, but the sexy maid never goes out of style. Get creative with your household chores and you may find yourself inspired to clean up way more often!
Three Shows You Can Do in the Bathroom
Not only will this be fun for your fans, doing a show in a nice warm tub full of scented bubbles doesn't sound like the worst way to spend an hour. There are plenty of bath time accessories to keep things interesting as you soak, so be sure to let your creativity flow!
A shower can be just as much fun as a bath, so don't discount shower time as a great choice for a show. Showers already produce a lot of steam, so it should be easy to get inspired.
Once your bath or shower show has you all clean, keep your fans (and your skin!) happy with a baby oil show! Getting all oiled up will give you the chance to have lots of slippy, slidey fun, but be careful on those tiles!
Three Shows You Can Do in the Laundry Room
Hop on top of your washer or dryer to add a little jiggle into your show. Fans will love the intimacy of a tight space and they'll love seeing those soothing vibrations even more.
What's better than fresh, hot clothes right out of the dryer? Start folding clothes in the buff and see if you can resist taking a roll in the laundry by the end of the show.
If your clothes are really filthy, they'll need a good wash, so how about a striptease as they go into the washer? You can take your time and tell your fans exactly how each piece got so dirty. They'll love storytime and the anticipation will be amazing!