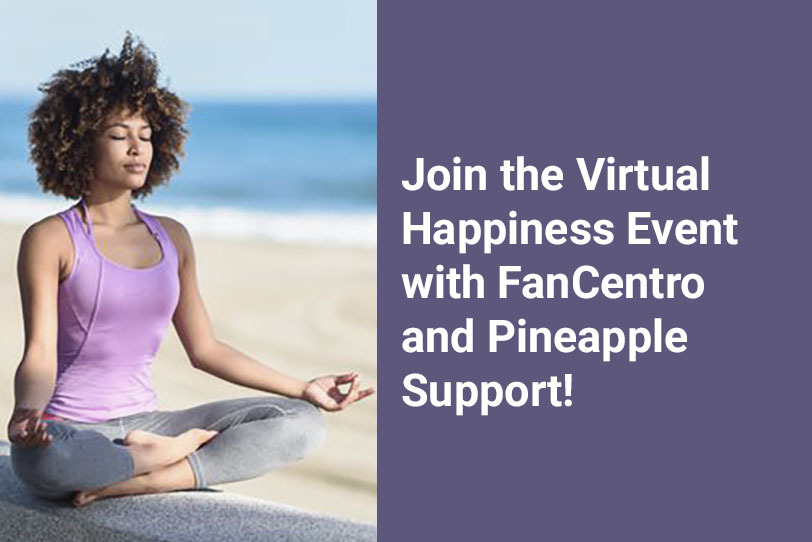 Join the Virtual Happiness Retreat with FanCentro and Pineapple Support!
Self-care is more important than ever these days, but we all know that times are seriously tough and putting yourself first isn't always a priority. It's a hard road to find your balance and discover what truly makes you happy. That's why FanCentro and Pineapple Support are teaming up to sponsor a full day of uplifting seminars and workshops designed to give you the tools you need to love yourself and discover happiness!
Join FanCentro and Pineapple Support for a Day of Happiness!
We've lined up seven amazing speakers on topics from self-care to a therapeutic sing-along, so you can choose the best options for you, or join us for the entire day! We'd love to have you!
Here's the lineup!
When: March 18, 2021
2pm EST – 'Visioning Your Life' with Hannah Lily
3pm EST – 'Self-Care Incorporating Routines' with Miki Anderson
3.30pm EST – 'Embracing Happiness & Joy' with Liza Belle
4.30pm EST – 'Laughter Is The Best Medicine' with Ingrid D'Aquin
5.30pm EST – 'Acoustic Sing-Along' with Nell Shakespear
6pm EST – 'Mind Over Matter' with MelRose Michaels
7pm EST – 'Choose Your Own Happy Ending' with Sinead Rochford
Give Yourself the Gift of Happiness
Don't put your mental health and happiness last. Take the time to tune in and find out how you can create a great work/life balance and discover your happiness. Register today and enjoy a day of positivity and self-care…you know you deserve it!
For more information and to register for this event click here.