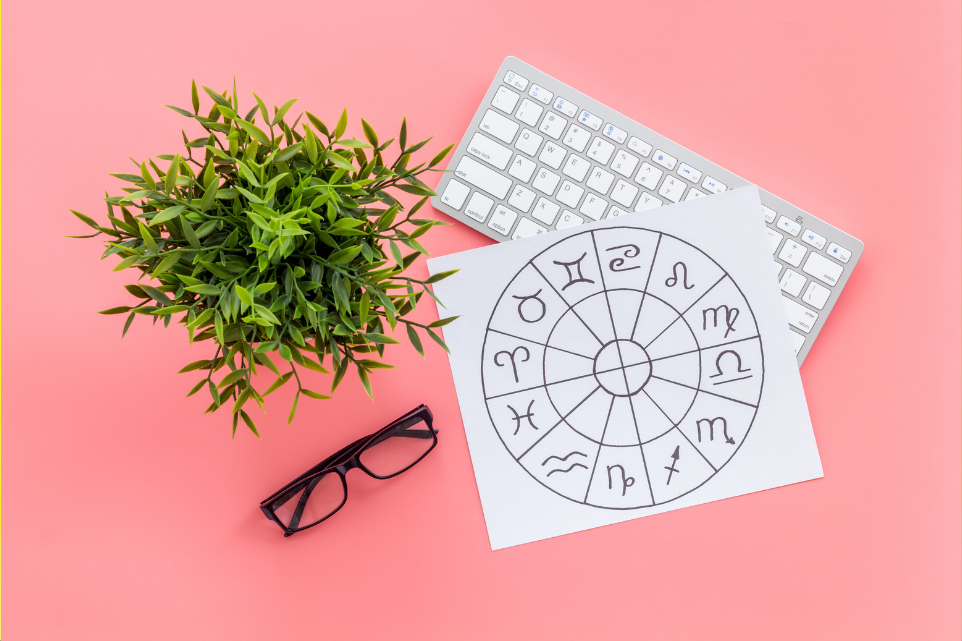 September Horoscopes
ARIES: Venus is ruling until the 10th and you are FULL of charm, so don't miss out on the opportunity to create havoc in your private, social, and professional life! Taking on a new project is a great way to burn some of the excess energy you'll be feeling, and if you play your cards right it could turn into an opportunity to make big strides toward your financial goals. When you think big, you'll see big results!
TAURUS: September is starting out with a bang! You feel great about yourself, you're constantly smiling, and you're full of solid, creative ideas. Don't waste this chance to plow ahead! There is power in numbers, so talk with friends about possible collaboration opportunities and other ways you can help each other avoid burnout and use your creativity for good.
GEMINI: Your creativity is through the roof, and this is the perfect time to find an artistic endeavor that will not only be great for you, but will thrill your fans, too! Now is the time to think outside the box and figure out how to best brand yourself for optimal success. Channel your artistic energy into promoting yourself, coming up with creative offers, and thinking about niches you've never explored before.
CANCER: You can swing from feeling awesome to being a mess of nerves because of a single word. Be aware of your emotional fragility and go easy on yourself. Now is not the time for self-doubt, because you are a LOT stronger than you think, and the more confidence you have, the brighter you're going to shine. Don't push your own needs to the wayside, this is a time for inner focus and personal growth.
LEO: You have a great opportunity to up your income and score a raise or a bonus. Maybe those 100% payouts are kicking in? Asking for feedback from your fans is going to be key in revamping your content and scoring new traffic, and all of that is going to add up to more $$$! This is also a time to focus on your personal relationships and make sure you're carving out enough time for the people you love.
VIRGO: Happy Birthday Virgo! Get ready, because you're going to be very busy with activities that you LOVE this month and that will give you the confidence boost you need. Let yourself go crazy and have FUN–you'll feel less stressed, more motivated, and have a whole new outlook on the year to come. Don't say no to risks…take them! Your positive energy will lead you down the right path.
LIBRA: A bad mood is bringing down your creativity, spontaneity, and love of life. Instead of moping around, try to take it easy, relax, and enjoy yourself. Reward yourself, even on the bad days, to elevate your spirits and start moving in a more positive direction. If you're getting frustrated, try to take it easy. The harder you fight the more discouraged you're going to get, so go easy on yourself and be patient. Better days will come!
SCORPIO: Your mood improves every single week, and this will help open doors for you! Get ready to be busy and make some important decisions. Because you're feeling so uplifted your good mood is going to start to affect everyone around you in the best possible way. Now's the time to charm your fans, hang with friends, and enjoy all the life has to offer!
SAGITTARIUS: You're going to make a project a reality, so get together with friends and potential partners to make the best plan of attack! If you've been thinking BIG lately, get ready because this month you're going to see all your ideas start to come together and that will help you visualize your next steps. Don't shy away from hard work, because it'll definitely be worth it in the end.
CAPRICORN: You are at peak physical strength so keep up the good work! Moderate physical exercise will help burn up some energy, and you'll find a lot of peace hiking and climbing. Now that the weather is cooling down it'll be a lot easier to spend time outside, and that will do you a ton of good. You may feel a bit antsy at times, so make sure you channel that excess energy in a positive way.
AQUARIUS: You are a strong seducer in September, but you may tend to isolate at times. Don't curl up into a shell, look for support that will help keep your head above water. Your fans will find you extra hot this month, so take advantage! It'll be extra easy for you to earn, so seek out new traffic, and give your fans tons of opportunities to tip! Be sure to turn to family and friends to help you stay out of any dark corners you might find yourself in.
PISCES: You've recently learned an important lesson, and you will benefit from what you have accomplished and move forward stronger than ever! Understanding your past (even mistakes!) will put you on a better path toward the future, so be sure to pay attention to any wrong turns you might have made. While it's hard to think about decisions that might not have worked out, that's truly the best way to grow.