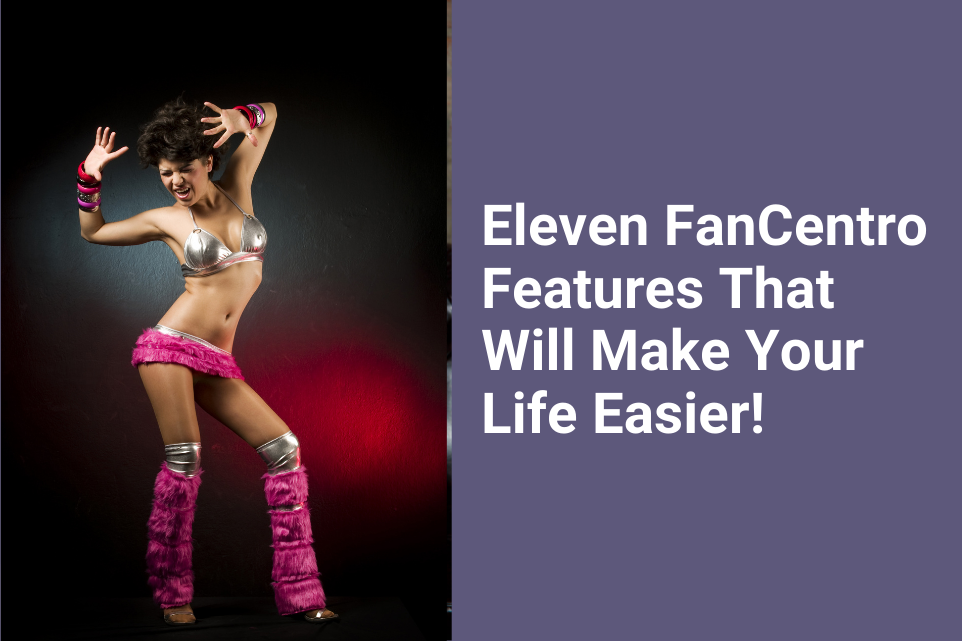 Eleven FanCentro Features That Will Make Your Life Easier!
We talk a lot about FanCentro's best-known features and how they can help you earn a ton of money from your fanbase. But there are a LOT of more subtle features that you might not be aware of that could help make your life a lot easier. We thought it would be great to give you a rundown on some of the more 'forgotten features' on FanCentro!
Eleven FanCentro Features You Might Not Know About
Domain Names
Did you know that you can personalize your FanCentro account with your own domain name? By creating your own domain name for your FanCentro page you can make sure that your branding is EVERYWHERE! Find out more about personalizing your domain name here.
Feed Post Scheduling
If you need to take so much-needed time off you can do it without losing an ounce of income. With this feature you have the option to schedule your Feed posts to go live when you want them to! Fans will still be able to enjoy new content and they won't even know that you're gone.
Accounts Security / 2FA
Two-factor authentication on your FanCentro account is a great layer of security for your page. With 2FA you can secure your account whenever you log in from a new device to prevent pirates from stealing your booty! You can learn all about how to set up two-step verification here or click here to activate it.
The Banner Generator
Promo is SO important for anyone trying to make it on social media, and we wanted to give you a simple and effective way to promote your FanCentro profile on your socials in just a few clicks. The Banner Generator allows you to create custom banners for all your socials in literally seconds. Select a picture, choose the size, and generate! That's it! You can find the banner generator under the "Promotions" tab in your FanCentro admin.
Free Trials
The Free Trials option is a great way to drive traffic and improve conversion. After a free trial of your content, how could anyone resist a subscription? This article will help explain free trials in more detail.
Automated Retention Offers
It sucks when a fan wants to cancel their subscription. To help keep your fanbase intact, we introduced retention offers! It's pretty simple. When a fan wants to cancel their subscription, you then have the option of offering them a lower rate to stay. That way you'll retain their subscription, and your fans will be happier!
Feed Posts Direct Links
Do you have a Feed post that you KNOW will get a ton of attention from fans? Link it! Direct links to specific Feed posts allow you to zero in on your most money-making content and promote it directly to your fans. Unsubscribed fans will have the option to pay to unlock the post, which can help encourage people to buy more of your content.
Automatic Content Watermarking
This is a big one. When you post on FanCentro your content is automatically watermarked with your FanCentro link (fancentro.com/yourname) to keep content-snatchers away from your goods!
Mass DM Scheduling
Build up your passive income by scheduling mass DMs to send locked content to your followers whenever you choose. You can preset messages to send at different times so you can schedule all your upcoming DMs ahead of time.
Automated Template DMs
Fans love a warm welcome. You can send an automated DM every time a fan subscribes to you or sends you a DM! DM templates can be programmed to automatically send to your fans when you choose, so you can be on top of your DMs all the time!
Tagging 
Mentions are another great way to increase your sales, so try collaborating with other influencers in your Feed posts or DMs! When you tag your influencer friends your fans will be given a direct link to check them out. Imagine merging your traffic with a simple S4S. Check out the details here!