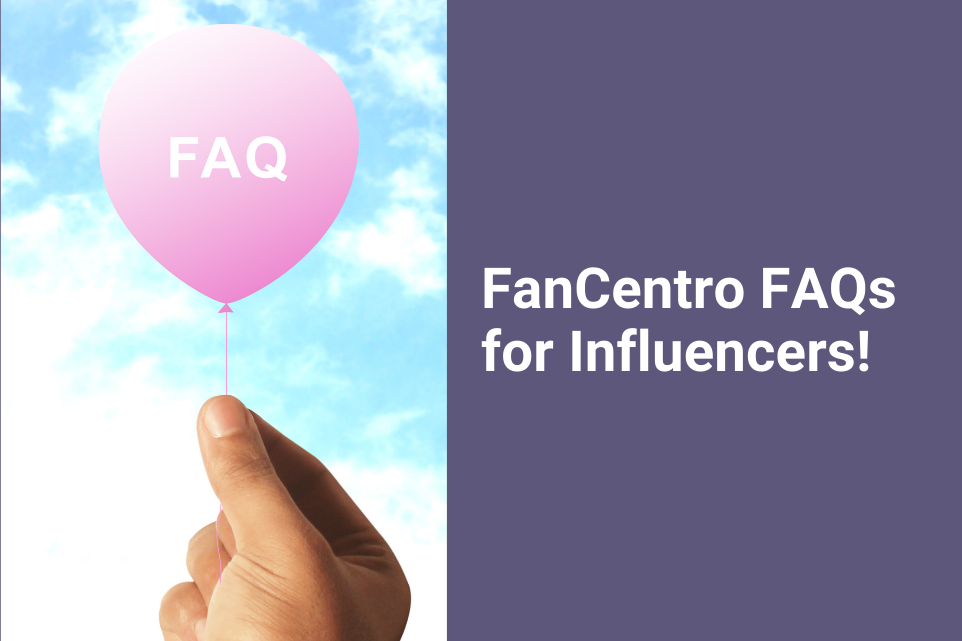 FanCentro FAQs for Influencers!
You asked, we listened!
We've been keeping all the chatter on social media, and we're here to answer all your questions about FanCentro!
First up, if you're new to the platform, welcome! We have a ton of useful information to help you kick off your new journey and our entire team is here to help. We're so proud to have you with us!
We've got a lot of info to share, so let's get started!
FanCentro FAQ
You guys have so many features…help!
We totally get that not all influencers want to sell content the same way, so FanCentro offers lots of different features and options. To help you get to know the platform, we recommend visiting CentroU! CentroU is a comprehensive video series that teaches you EVERYTHING FanCentro, plus offers incredible traffic and money-making tips. You can visit CentroU here.
Do you offer one-on-one help?
Yes! We have a team of success coaches that are ready to give you a personalized session to answer any questions you may have and teach you the best way to max out your payouts and traffic. You can contact our success coaches by emailing success@fancentro.com
How can I keep up-to-date on FanCentro news?
We share a TON of information with the content creators on our platform, so to make sure you don't miss a thing, we've created a special influencer-only social media account. Follow us @fancentrotribe on Twitter and Instagram for news, updates, contests, giveaways, and TONS of selling tips!
How can I connect with other FanCentro models?
Our Telegram group is the ultimate way to stay in touch with content creators just like you, plus get easy access to our team members and exchange S4S! If you'd like to join the group just contact support via live chat or shoot an email to support@fancentro.com
How else can I get important information?
Get Under the Influence! Our monthly newsletter is chock-full of information on mental health, beauty and lifestyle tips, entertainment, content and traffic strategies, horoscopes, and a LOT more!
Can I get a shoutout?
Sure can! We offer shoutouts to every influencer on the platform–all you need to do is fill out a quick form to request yours.
How are you handling the new regulations from Mastercard?
We will be fully compliant with Mastercard's upcoming changes, and you can read all about it here.
How can I contact you if I have questions?
We're always available to help! Here's how to reach us:
Send us a DM on social media!
For traffic, content, and selling strategies email success@fancentro.com
For technical support, email support@fancentro.com OR contact the team via live chat
Ask the team in our Telegram group