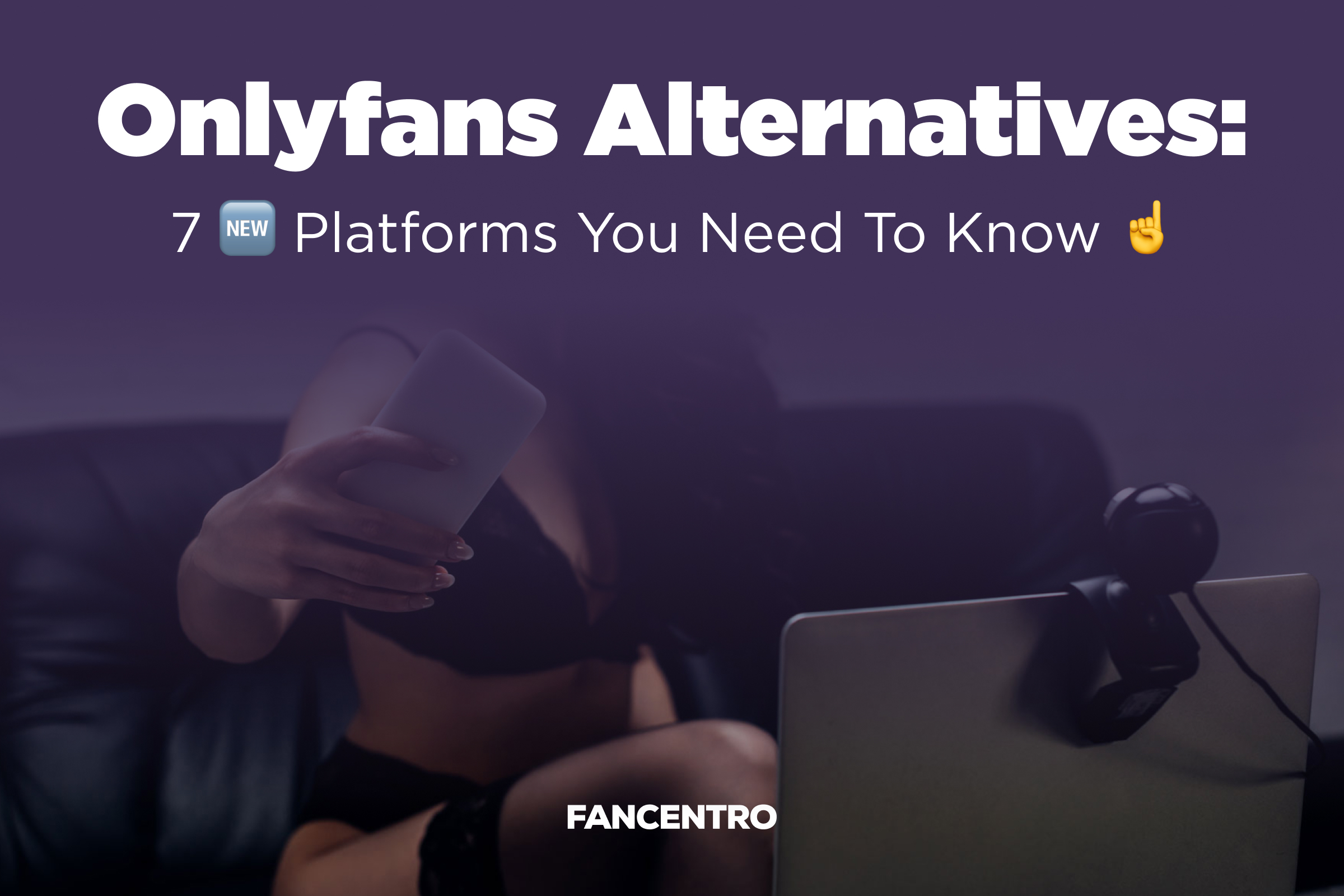 Onlyfans Alternatives: 7 New Platforms To Make Money in 2022
More and more people are turning to content creation to earn money. Whether you're looking for a side hustle or a full-time career as an adult influencer, there is no shortage of platforms that are able to help you reach your goal. Sites like OnlyFans to earn money exploded in popularity as influencers look to platforms to support their content and help manage their fanbase.
But recently, OnlyFans decided to eliminate most of the adult content from their platform with new TOS that would make it impossible for their users to continue to share the content their fans have come to expect. The news put the entire industry into an uproar as people scrambled to find an alternative to OnlyFans
So what should you look for in terms of content-sharing platforms? What will replace OnlyFans? There is no lack of options so it can be tough to choose, and while there are plenty of OnlyFans alternatives each have their own strengths and weaknesses.
What is OnlyFans?
Very simply, OnlyFans is a subscription website that allows content creators to earn money from their fanbase. Because content creators are now restricted from posting explicit adult content it's  not the best option for everyone. The good news is that there are many sites like Only fans where you can safely post your content.
If you are an influencer or you're interested in becoming one, you may be wondering about using an OnlyFans alternative to make money
It's so important to make an informed decision as to what other platforms can do to help you reach your goals.
To help you whittle down your choices, we've compiled a list of seven sites like OnlyFans so you can dive into the profitable world of content sharing.
Making Money as an Influencer
Just like there are different features and options available on different platforms, there are different payment structures as well. While you may be tempted to go to the platform with the highest payout, you may be missing out on features that will earn you more money overall. That's why it's crucial that you evaluate your needs versus what the platform can offer you, because the choosing 'highest payout' is rarely the best option in the long run.
Top Seven OnlyFans Alternatives in 2021
Diversifying your content is never a bad thing! Here are the top seven sites similar to Only fans.
      1. FanCentro
Like OnlyFans, FanCentro is a free-to-use, subscription-based platform that allows fans to purchase content directly from the influencer. FanCentro is highly flexible, with multiple income streams and many features and options that allow creators to sell their content in a variety of ways. With tools such as private social media accounts, a pay-to-view Feed, DMs, Live Streaming, a Clip Store, and uncensored Stories there are suitable options no matter how a content creator wants to connect with their fans. In addition, FanCentro offers an influencer education program called Centro University that gives detailed tutorials about how to utilize the platform and maximize your profits.
Pros:
A team that will help migrate all of your content from OnlyFans to FanCentro
Multiple content-sharing tools and features
ALWAYS adult-friendly
24/7 live customer support
One-on-one success coaching
Customizable subscription bundles (create offers using any combination of subscriptions, Feed access, Livestream access, physical items, and other perks)
Tips
Promotional opportunities
Referral program with referral 10% bonus
SFW Directory (which makes linking safer)
Cons:
The advanced admin system may take some getting used to due to the many available features.
Does not cover chargebacks or refunds (however chargebacks are challenged in an effort to recoup the funds directly from the bank).
Two week hold on payouts.
Payout structure: 
Influencers earn 75% of all sales and payouts are sent weekly.
***UPDATE***
*From August 20, 2021 to Oct 1, 2021 transactions from fans who joined between Aug 20th and Oct 1st will payout 100% to the influencer who brought them and 80% to any other influencer on the platform.
Starting on Oct 1st, influencers will be paid 80% on all transactions made by fans who joined on or after Aug 20, 2021.
        2. ManyVids
ManyVids offers live streaming and video hosting and is billed as a 'one-stop shop' for your fans. Content is shared exclusively on the website. ManyVids is purely adult content and users can sell individual videos, subscriptions, live camming services, and physical items.
Pros:
Multiple options for selling content
Specialized programs such as MV Live, MV Crush Club, and MV Social
Extremely adult-friendly
Many specialized fetish categories
Tips
Customer Support
Cons: 
Twice monthly payouts
Different payouts for different services
Users report that the website is not user-friendly
Aggressive sales and email campaigns
Payout structure: 
80%  from MV Crush Club, Make It Rain, Custom Vids, Store Items, Text Me, Phone Me, and Fund Me.
60% payout rate for sales from MV Stars from Vid sales, Memberships, Pay to Open in the inbox and MV Flyer. Payouts are sent twice per month.
      3. Justfor.fans
Justfor.fans is a content selling website that allows creators to sell individual clips and customized items, DM their fans, or go live. Content is sold via subscriptions or pay-per-view.
Pros:
Extremely adult-friendly
Multiple options for selling content and staying connected to fans
Fast and efficient customer service
Tips
Performer dashboard allows you to connect with other names in the adult industry
Cons:
Users describe the site as 'clunky' and difficult to navigate
Lower payouts
No live streaming option
Payout structure: 
Creators earn 70% of sales and payouts are sent weekly
      4. MYM.fans
MYM.fans is billed as a private social network, but their creators are exclusively adult. It operates as a subscription website, and creators can share photos, videos, 'push' content (content designed to be unlocked) or customized content.
Pros:
Good customer support
Some content pays out higher than competition (see payout structure)
Payouts sent when requested
Cons:
Some content pays out lower than competition (see payout structure)
Complicated payout structure with multiple fees
Limited features
No live streaming option
No option to share free or teaser content
Payout structure: 
75% on subscriptions, 80% on private media, 90% on tips.
Additional fees:
Bank Charges: 7% of each transaction
VAT fees (Varies by country).
Payouts can be sent when requested.
    5. ModelHub.com
ModelHub is the fanclub section of PornHub, and they offer multiple options for earning such as ad revenue, videos, and custom videos. In addition they tools for marketing and promotion for their models.
Pros:
High traffic
Multiple features for earning revenue
Model referral program gives you a flat $50 for each model you refer.
Cons:
Low payouts
Payouts only once per month
Payout structure:
65% of video and custom video sales
80% of tips and fanclub content
Payouts are made once a month with a $100 minimum to be paid
    6. Loyalfans.com
LoyalFans offers monthly subscriptions to content creators and there are several
options for sharing content on the site. You can post videos, images, GIFs, text, and audio content, and fans can receive content via text for a fee.
Pros: 
Very user-friendly with many onboarding tools and influencer education options available to their creators
Live streaming
Website is well-maintained and updated
Referral program offering an addition 5% on payouts
Cons:
Fewer options and tools for content-sharing
Twice monthly payouts
Payout structure:
Creators earn 80% of each sale, with twice monthly payouts.
    7. IsMyGirl
IsMyGirl allows models to convert fans into paying subscribers with ten different revenue streams such as recurring subscriptions, videos, locked messages, pay per minute livestreaming, tips, and premium social media
Pros:
Multiple options for earning income
Responsive support team
The freedom of a private website with camming features built right in
Affiliation with Inked magazine can lead to higher traffic
Cons:
Exclusively female
Lower payouts for livestreaming
Additional fees assessed prior to revenue split, leading to lower payouts.
Payout structure:
80% of all subscriptions, premium video sales and tipping. 70% of live streaming
Earnings are subject to an additional 12.5% processing fee before any split is made.
No matter what you're looking for as an alternative to OnlyFans, there is a content-creator website for you! While each comes with their own pros and cons, we're hopeful that this list will help you make an informed decision on the platform that is right for you.
Ready to get your career started with FanCentro? Sign up here!