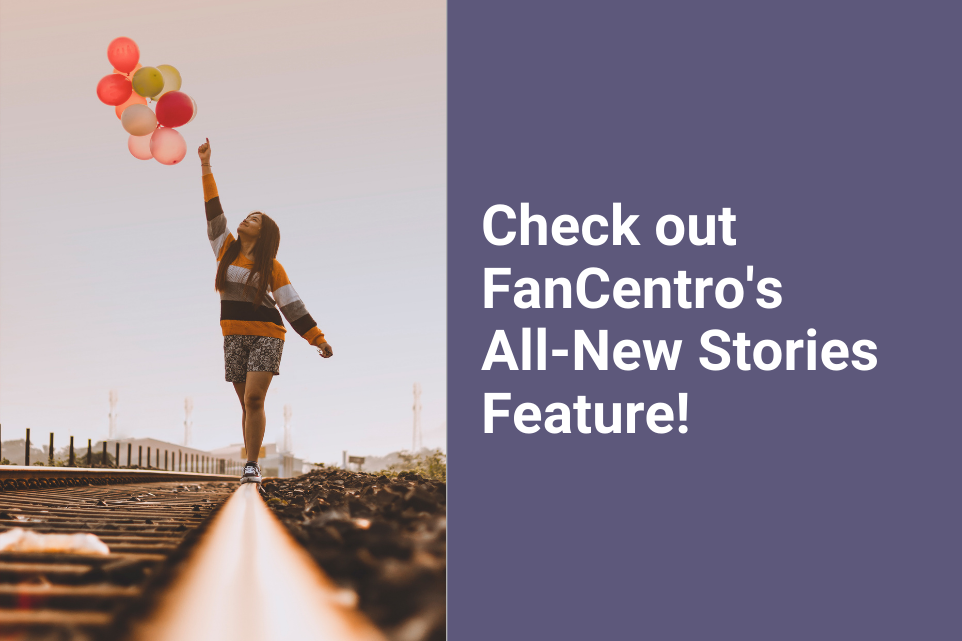 Check out FanCentro's All-New Stories Feature!
When you're scrolling through social media, what's your favorite thing to check out? Stories, of course! Stories are fun, quick, and an easy way to engage your fans.
What's the downside of posting stories on your social media accounts? Well, unfortunately, most platforms can choose to remove your story at any time. That means that you run the risk of losing your content whenever you post a story on your socials.
Well good news! We've brought the Stories feature right to your FanCentro page. With the all-new Stories feature, you can post pics and videos to your subscribers or to the general public–it's fast, flexible, and an easy way to boost your subscribers!
The best part? Fans can tip you on every story you post!
How Does the Stories Feature Work?
Stories allow you to upload saved pictures and videos (up to one minute long) to your FanCentro page, or you can record a Story right from your phone or computer. When you have a new Story, fans will see a highlight on your avatar so they know to check it out! Public Stories are SFW and available to anyone visiting your page, while subscribers-only Stories are locked. You can also post Stories that only your followers can see. There's no limit to how many items you can add to your daily Story, so you can add quick content all day long!
Here's how it works:
Click "New Story" in the Stories tab of your page
Upload a picture or video (up to one minute) saved on your device or use your phone or computer to record a Story on the spot.
Select whether you want the Story to be public (SFW), followers only, or subscribers-only (NSFW). You can choose different settings for each individual Story item.
Post! Your Story will appear for 24 hours

With FanCentro Stories you can post locked, NSFW content with NO risk of being deleted! The option to post both public and locked Stories is awesome for conversion, so be sure to tell your fans that only subscribers get UNLIMITED access to every Story you post!
Earning Money with Stories
You may be wondering how you can successfully set up a sales funnel to maximize your Stories…don't worry, we've got you covered! How can you earn money with Stories? By building anticipation with each Story you post so that your fans won't be able to resist clicking "Subscribe" to find out what your locked posts are hiding.
Here's how to do it!
1st Story: Nice, neutral pic or video – FREE
2nd Story: Slightly hotter Story to get them warmed up – FREE
3rd Story: Even sexier to get the ball rolling – FREE
4th Story: SUPER sexy, make sure that they won't be able to resist what's next – FREE
5th Story: Incredibly hot NSFW – PAID
(And don't forget to mention how much you LOVE to get tips!)
Do you think your fans will be able to resist clicking Subscribe??? Master this sales funnel and they definitely won't! Not only that, but fans have the option to tip you on every story you post!
Recycling Your Content
Stories are also the perfect way to recycle older pics and videos! If you have content just sitting on your phone, you can set up a quick sales funnel to increase your subscriptions. This is why saving ALL your content is such a great idea. Literally anything you've got saved on your phone can be turned into a Story to engage your audience. And (we can't stress this enough) you can post your NSFW content without the risk of being deleted or losing your account. FanCentro stories are completely safe with tons of money to gain!
Did someone say passive income? Stories are a great way to increase your payday with minimal effort. Just a few clicks and you've got a Stories sales funnel that will have YOU rolling in cash!
Don't wait — get out there and start sharing your Story today!