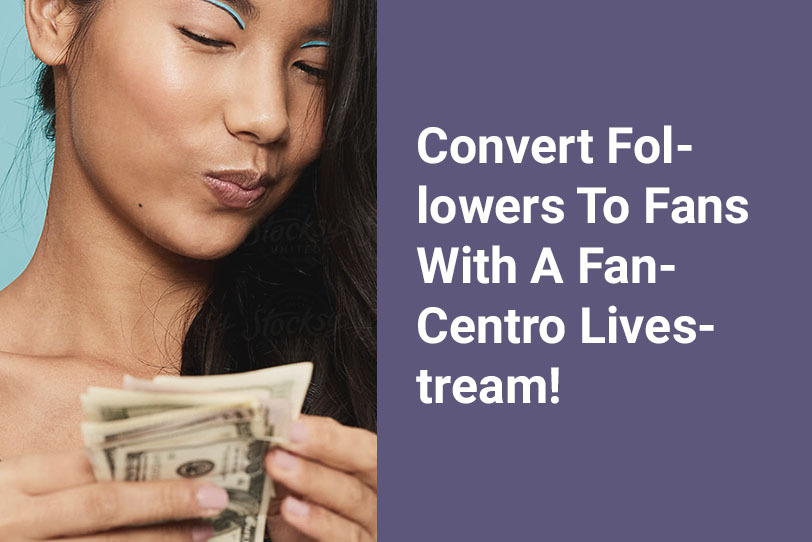 Convert Followers to Fans with a FanCentro Livestream!
Buckle up, because we've just launched an amazing way to convert all of your followers into paying subscribers!
Do you have tons of followers who just can't seem to commit? Sure followers are great for sending Mass DMs and locked content, but the real point of followers is conversion. You want to convince them that they are seriously missing out by not having a paid subscription to your content.
Don't worry, we got your back. Now you can go live with FanCentro Livestream!

Introducing Livestreams
Everyone is familiar with livestreams, but now you can hold your own in a way that will drive that precious conversion and earn you more money! Let's take a look at your options with a FanCentro Livestream
Stream to your followers only
The FanCentro livestream is great for giving followers a little teaser about what they're missing by not subscribing to your offers. You can go as vanilla or naughty as you like, and followers will have the option to tip you during the show.
Stream to your subscribers only
This type of livestream is perfect as an add-on to the fans who are already subscribed to your offers. Just like your followers, you earn money from tips during the stream, so make sure your show is super hot for maximum effect.
Stream to subscribers AND followers
This option is the real moneymaker, because it has a very unique feature that you're gonna love. You ready?
You can start your livestream for both groups, and then turn off access for your followers mid-stream. That means that only your subscribers will be able to see the full show and your followers will be hit with a major case of Fear Of Missing Out. In fact, it's the perfect incentive for your followers to hit the Subscribe button so they don't miss a minute of the action!
What's the bottom line?
Your biggest goal as an influencer is to convert your followers to fans, and the new FanCentro livestream feature is the perfect accessory for helping you reach it. Check out how fast you'll see your subscriber count go up when you do a livestream today!