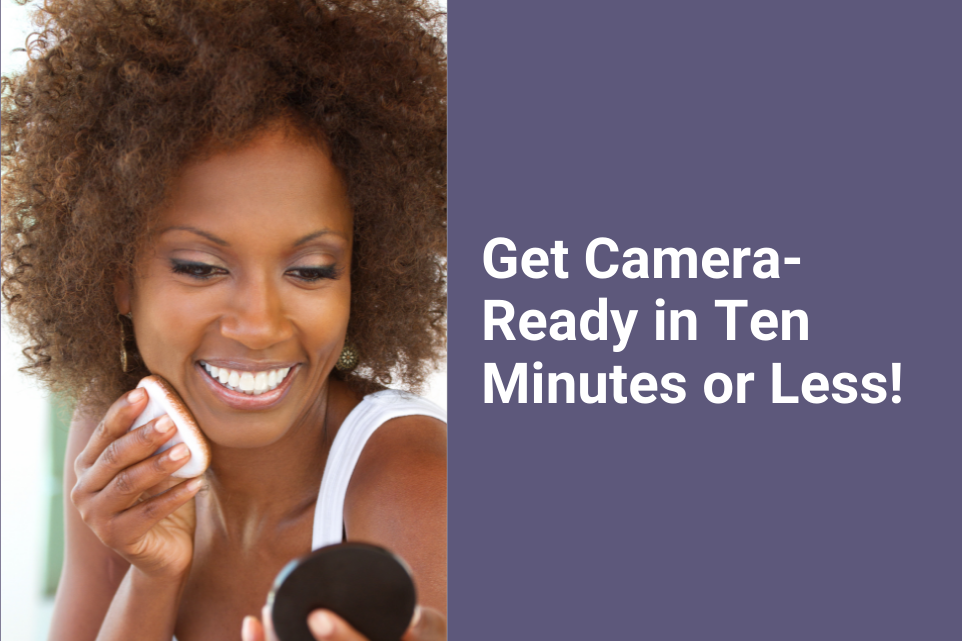 Get Camera-Ready in Ten Minutes or Less!
Being on camera every day can be a strain and it requires a lot of energy. Between makeup, hair, and wardrobe it can feel like you put in hours of work before you even turn on the camera. But we've got tips for how to cut down on prep time for those days when you don't feel like putting on a full face that will help you look and feel amazing!
Seven Steps to Looking Amazing on Cam
1. Create the perfect base
If you want to create a camera-ready glow without piling on the foundation, a tinted moisturizer is the way to go. You'll get just enough coverage to even out your complexion and your skin will love the boost of hydration. Even better? Choose a moisturizer with built-in SPF so you can protect your face while you shoot those outdoor scenes.
2. Fight facial fatigue
If your eyes are looking tired you can give them a super-quick makeover with a combination of concealer and highlighter. Choose a peach or orange shade to blend away dark undereye circles and brighten your gaze. Once you've banished the bags, add a dot of liquid or powder highlighter to the inner corner of your eyes and to your browbone to make your eyes pop!
3. Do a quick contour
Contouring is a great way to illuminate your bone structure and prevent your face from falling flat on screen. While you can go crazy with the contour brushes, a little bit of definition is all you really need. Lightly contour your jawline and cheekbones to create angles for the light to catch and then top it off with a wash of color on your cheeks. To create the perfect blush think pinks, berries, or peach, depending on your skin tone. Lighter skin looks great in pink and coral shades, medium skin loves mauve or a deep peach, and dark skin can rock deep fuchsia, light berry, or tangerine for an awesome pop of color.
4. Glow, but don't shine
With summer around the corner, you may find that your skin is shining a bit more than you might like. Too much dew can come off looking oily on camera, but there are ways to tap down the shine. Use a matte primer on your face to help smooth out your skin and always keep a package of blotting papers on hand. Blotting papers help soak up excess shine without destroying your makeup and give your face the perfect amount of glow.
5. Put some pep in your eyes
Your eyes communicate so much on camera, so you should definitely take the time to show them off. Don't have a ton of time? No problem! Apply a light liner and load up on mascara to help make your eyes pop. If you have a few extra minutes, dust your lids with a neutral eyeshadow and fill in your brows for an even more polished look.
6. Give your lips some love
You can't go wrong with your favorite lip color, so when you're finishing up your ten-minute-look go with a tried and true favorite. Sticking with a classic will boost your confidence on camera because you know you're wearing a shade that makes you look amazing. A slick of tinted gloss is another great option to plump up your lips and make them irresistible to your fans!
7. Lighting, lighting, lighting!
Even the most elaborate makeup job can fall flat without the right lighting. A ring light is a great option for completing your look–they're affordable, easy to use, and worth their weight in gold. They come in a variety of sizes, lighting options, and they make you look incredible on cam. Once you get one you're going to wonder how you ever lived without it!