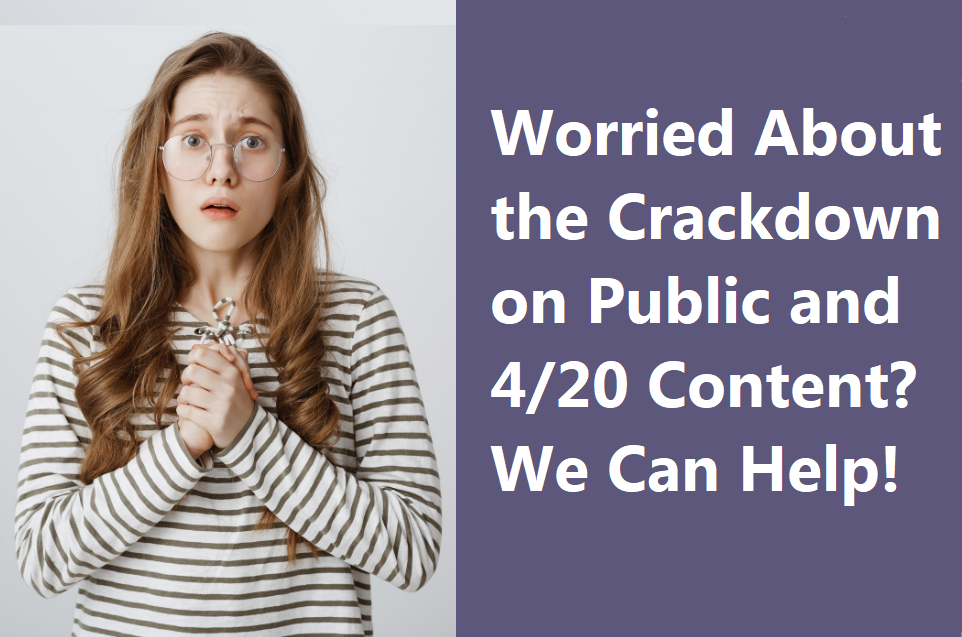 Worried About the Crackdown on Public and 4/20 Content? We Can Help!
Recently, OnlyFans released updated Terms and Conditions that have many creators concerned about the fate of their content. Public outdoor shooting and 4/20 content are two categories that a great deal of influencers specialize in. Without the ability to share the type of content that is connected to their brand, these content creators are being left out in the cold.
How Can FanCentro Help?
Diversifying your content by selling it across different platforms is a smart move for any influencer. Recently, OnlyFans has placed restrictions on their creators, but at FanCentro our rules are more lenient. FanCentro is the ultimate uncensored social media platform; we fully permit legal outdoor content, and we have an entire category devoted to 4/20 creators, two of the limitations recently announced by OnlyFans. Let's break down these two categories and take a look at what you can do on FanCentro that OnlyFans won't allow.
Outdoor/Public Content
FanCentro does not limit or remove content shot outdoors, and public content is permitted as long as you're shooting in cooperation with your local laws and are not in a location where you may be seen by minors/members of the public. We do not promote or encourage any content creator to engage in any type of illegal activity, but if your niche is outdoor shooting and you do it responsibly and appropriately, you are 100% welcome to sell that content on FanCentro. In fact, the pandemic has had us all cooped up for so long, we want you to go outside! Be safe, be smart, and shoot some amazing outdoor content!
4/20 Content
OnlyFans has banned any and all drug or drug paraphernalia from being shared on their platform, but FanCentro is still extremely 4/20 friendly! Again, as long as you're in cooperation with local laws and not impaired, you are free to utilize cannabis in your content. Not only do we welcome cannabis-inspired creativity, we have an entire category devoted to it, so fans who love to wake and bake will be able to easily find and purchase your content. If you're a 4/20 creator, you can even tag your profile so your fans can find you.
What's the Bottom Line?
The bottom line is this: you need to give your content a home where it can make you money. We want every influencer on our platform to be as successful as possible, so we do our best to allow you to do your thing without putting too many limitations on how you do it. If OnlyFans' terms are limiting your creativity and keeping you from creating the content that you love, we want to welcome you to FanCentro.
Sign up now and start monetizing all your content today.
In addition to being the most sex-worker friendly platform out there, we also offer specialized services you won't see anywhere else:
Centro University – The only educational platform created specifically for adult creators.
Success Coaching – We have a team of coaches on hand to help you tackle any challenges you might encounter, make the most of your content, and earn big!
24/7 support – Our support team is second to none in helping you solve any technical issues you might encounter.
Have questions? We want to hear from you! Reach out to us at success@fancentro.com to learn more about how you can start earning big by doing what you love.