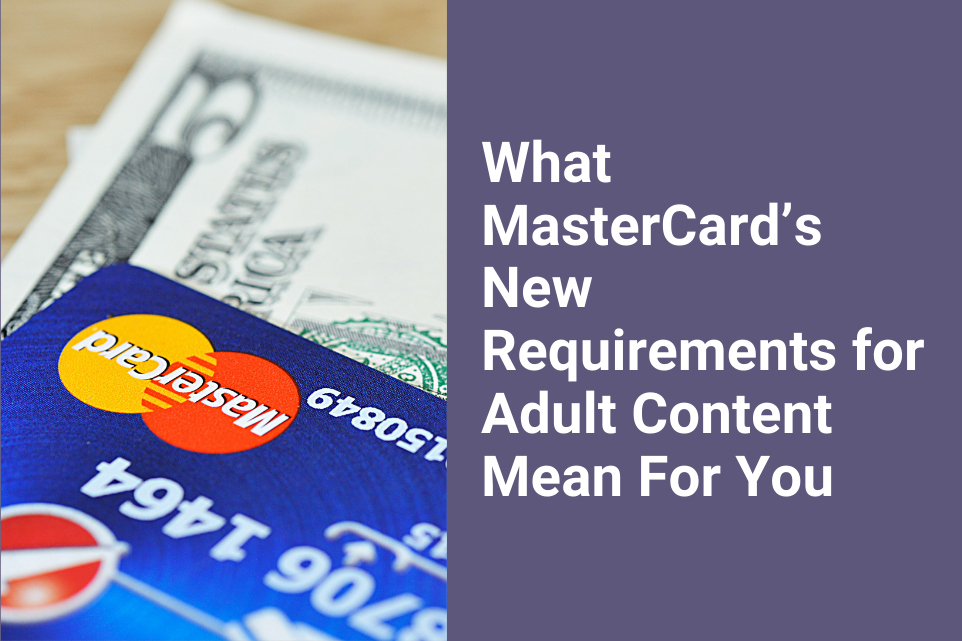 What MasterCard's New Requirements for Adult Content Mean For You
There's been a lot of buzz the last few days about important changes in the adult industry and it can be a LOT to handle. One of the biggest questions is MasterCard's role which can be confusing–but not to worry! We've broken it down so you know exactly what to expect.
What do MasterCard's new requirements for adult content mean?
To put it simply, from now on banks that are connected to the Mastercard network (so that you can charge your customer's Credit or Debit Cards for access to your pages) will need to ensure that all content you upload to FanCentro.com is compliant with the following:
All performers appearing in the content are of legal age.
All performers in the content gave their consent to be there.
Banks will require websites (FanCentro.com included) to provide documents that verify all performers' ages and their consent to be in the content in question. Failure to provide this proof may result in enormous fines and complete disconnection from the Mastercard network, which will essentially mean that you will no longer be able to charge the majority of your customers' Credit and Debit cards from then on.
It's important to emphasize that every billing processing company in the industry is affected by this change, and these requirements will be enforced throughout the entire industry in the coming months.
What content is a subject to the new MasterCard adult content regulations?
All content. But, because of the nature of processes on FanCentro.com, extra documents will only be required for pieces of content that do not depict the uploader account owner and/or depict any other persons in addition to the uploader account owner.
What implications do MasterCard new requirements have for me?
Following from the above, it means that all websites (FanCentro.com included) will require their content creators to create, store, and upload statements of consent and proof of legal age for every performer appearing in any and all pieces of eligible content. Putting it simply, you will need to have and upload the following supporting documents to FanCentro.com for your eligible content to be compliant:
Signed Model Release from any and all persons appearing in the content alongside or instead of you.
Proof of legal age from any and all persons appearing in the content alongside or instead of you (normally state issued IDs)
What does FanCentro.com do to help its influencers be compliant?
FanCentro has always stood against illegal adult content–publishing content featuring minors or non-consensual content was always forbidden on our platform, but these days it's no longer only about us and we will now need to comply with the above requirements from Mastercard.
Therefore, any piece of adult content you upload to FanCentro.com that includes other person(s) alongside or instead of you will need to be accompanied by copies of that person's ID that verifies their age and a signed Model Release that proves their consent to be in that piece of content.
FanCentro's development team is working on changes to the platform's interfaces that will support this compliance process and will make it easy and painless. Our legal team will provide an optional Model Release template to take away all headaches for our influencers. In addition to that, in the very short-term we will introduce a number of other features and automated processes that will simplify this process further.