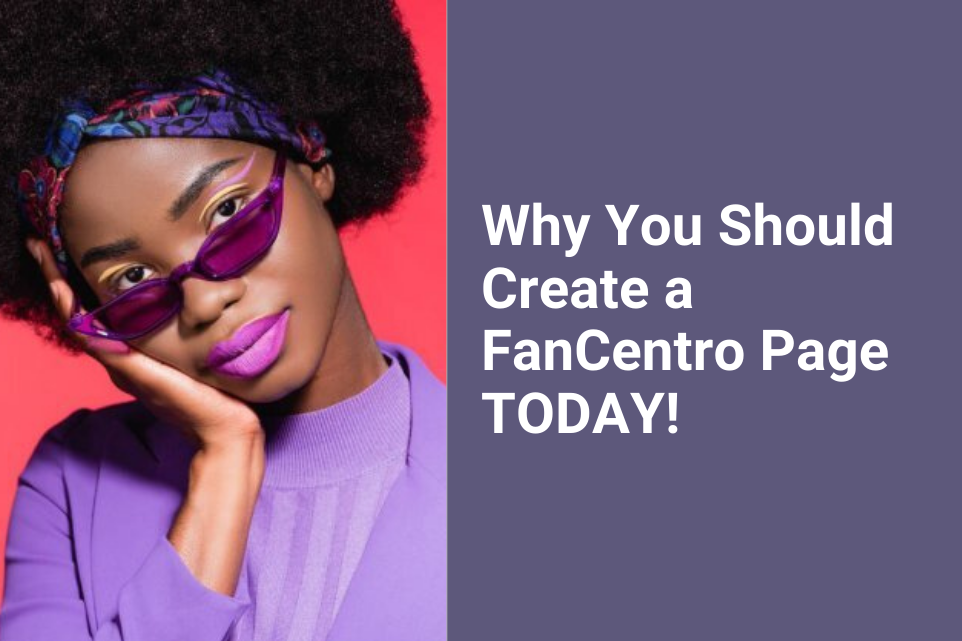 Why You Should Create a FanCentro Page TODAY!
Whether you're thinking about becoming an influencer or already have an established brand, there are tons of options for selling your content. But which platform is the right one for you? Where can you find the tools, features, and support necessary to succeed? With the recent ban of public activity on some platforms, you may be looking for an alternative. You can find it at FanCentro! We're here to tell you exactly how FanCentro can help you monetize your fanbase, increase your following, and help your business explode! Fewer restrictions = more freedom!
What is FanCentro?
Let's start with the basics–what is FanCentro all about? FanCentro is the ultimate uncensored influencer platform, and the perfect home for all your content, no matter how you want to share it. With awesome tools and features, a FanCentro page lets you keep all your content in one place and give your fans tons of buying options. That means more income streams for you!
What makes FanCentro different from other platforms?
In short, we're here for our influencers! Whether you're an established name or just starting out, we know how difficult it can be to keep up with the demands of your fanbase. FanCentro offers a high level of customer service, personalized training, educational resources, and a variety of selling features, all in one place. Unlike other platforms who do not openly recognize their uncensored content creators, FanCentro is proud to support every influencer and will do everything in our power to give you the tools and promotion you need to succeed. We are always listening to the needs of content creators and constantly developing new tools and features to make your FanCentro experience as easy and profitable as possible.
FanCentro Features
We are so proud of the variety of features we offer, and the more you take advantage of these selling options, the more money you're going to make! Let's take a look at some of our most popular features and how they can help you earn.
Transfer Your Existing Content
Our team will help you easily transfer your OnlyFans content to FanCentro.
Centro University and Success Coaching
Centro University is an amazing educational platform that gives you all the inside tips you need to not only manage FanCentro's features, but to max out your profits. And the best part is, it's 100% FREE! Still have questions after attending Centro U? That's where our success coaches come in. You can connect with a coach for personalized one-on-one advice and guidance by emailing success@fancentro.com.
Private Social Media
Monetize your existing fanbase by creating a private social media account. Once a fan subscribes to your private account, they'll have unlimited access to all your most exclusive and intimate content. You can post on your own schedule and your fans will love using familiar apps to access your hottest moments.
The Feed
The FanCentro Feed is an opportunity for you to post both free and pay-to-view content in your own newsfeed right on your FanCentro page. You can post videos, photosets, updates, even audio files! One of the reasons the Feed is so popular with influencers is because it gives you the ability to schedule your content to post automatically, which means you can load up a ton of content to post whenever you want. With the Feed, your fans can get new content daily, even if you only want to upload once a week.
DMs
FanCentro DMs are an amazing selling tool, and give you the chance to get up close and personal with your fans. Who can you DM? All your subscribers, PLUS anyone who follows your FanCentro page. It's 100% free for fans to follow your page, and once they do you can build sales by DMing them locked content or by sending a piece of free content to entice them to subscribe. You can even send bulk DMs, so consider this: say you get 100 free followers to your page. You can bulk DM them a piece of locked content and then sit back and wait for the passive income to start rolling in!
Clips
Speaking of passive income, our Clips feature is an amazing way to "set it and forget it". You can upload individual clips right to your FanCentro page and any fans who visit can purchase them. That's right, they can buy with no subscription required! Clips are super popular for new fans because they can check out a sample of what your content is all about…and later on come back for a subscription! Since Clips are right on your FanCentro page, it's an easy sell and a great way to build up your passive income stream.
Live Streaming
Live streaming is a newer feature, but it's been super popular with both fans and influencers! There are tons of options: You can go live for your followers and subscribers, do a private show for just subscribers, or even start your show for both and then switch off the stream for your followers, so they'll have to subscribe to see all the action. How do you make money on live stream? Tips! We make it super easy to earn those tips by giving you a Tip Menu option that will allow you to set the price for each activity you perform on camera.
Other features
These tools are just the tip of the iceberg! For a full list of all of our features, including security options, promotional tools, and educational courses check out our four year anniversary roundup.
Do you have questions about how to get started with FanCentro? Let us know! Reach out to success@fancentro.com for in-depth advice on how to start earning money today!
Are you ready to take control of your business and live your best uncensored life? Sign up for FanCentro today!