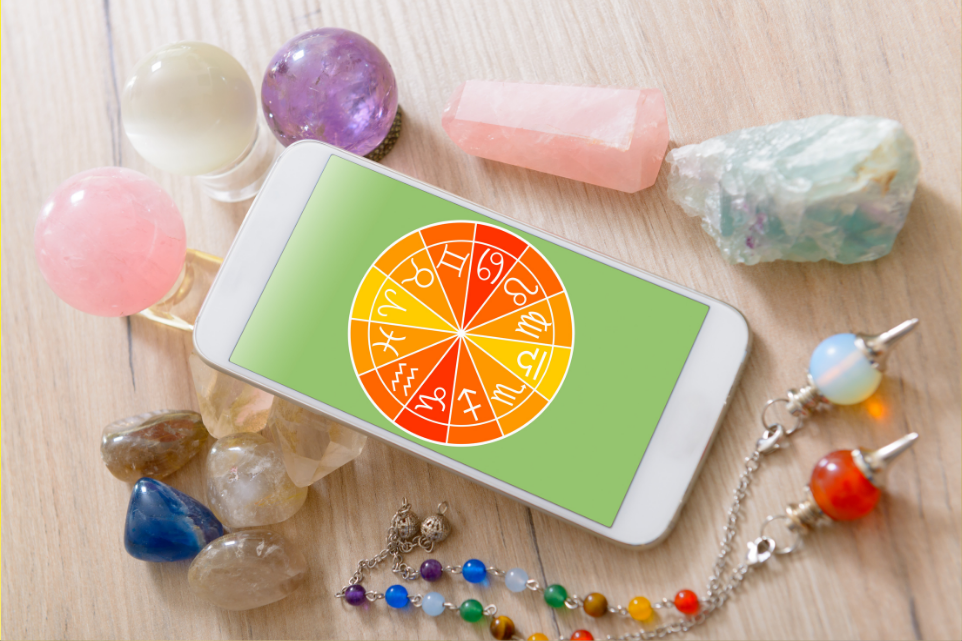 October Horoscopes
Aries – Get ready to tumble into fall with a slight uncertainty about your goals for October. But don't worry if you feel a bit off-kilter at the beginning of the month, because by the 15th you're going to have a plan of attack fully ready to go. This is a great month to do some physical activity, because you're going to have a lot of energy to burn. Now that the leaves are turning it would be great for you to get outside to soothe your body and soul.
Taurus – Have you been feeling left out of the loop lately? It may be time to reevaluate your relationships and cut out toxicity where you can. Remember, even close relationships are no good to you if they bring you down. It's not selfish to put yourself first, it's a necessary step toward taking care of your mental and emotional well-being. If you are seeing red flags or harmful patterns in your relationship, take a step back and decide if it's something that's fixable or if you need to be on your way out.
Gemini – This is the perfect juncture to tap into your creative side and find a project that will really speak to your soul. If you've been thinking of adding a new skill to your repertoire, this month will give you a favorable result. The bolder you are, the more the stars will favor a positive outcome, so think big and don't be afraid to dive in.
Cancer – Get ready for financial gain this month, Cancer! Your hard work and efforts are going to catch up with you and you'll find the reward lining your wallet. No matter how much you want to run out and take yourself on a shopping spree, hold back! This is a situation where the more you save the more you'll build, so instead of blowing your wad, think about how you can make it grow even bigger.
Leo – This summer was a bit of a rough one for you, but you're going to start to see a smoother path soon. Rest and relaxation are crucial, so don't be afraid to spoil yourself at the spa or take that afternoon nap your body is begging for. Self-love is the way to go throughout October, so be sure to treat yourself with something special to lift your spirits and make you feel your absolute best.
Virgo – Don't cry, Virgo! It's true you've been feeling down lately, but there is a HUGE turnaround coming your way. Your low mood is about to turn euphoric when a goal you've been working toward for some time finally comes to fruition. Keep on keeping on, because there are positive changes just around the corner.
Libra – Happy Birthday Libra! This year is all about having razor-sharp focus, because your plans are only going to work if you dedicate yourself to them 100%. That's going to mean a lot of hard work, but it will pay out in the end. Even if you have to push yourself a little bit, remember your dreams are worth it. Don't let distractions sway your focus, keep your eye on the prize and keep pushing forward!
Scorpio – There's love on the horizon, Scorpio, so get ready to meet someone special in a very interesting way. We're talking major coffee shop meet-cutes, so be on your guard. If you see someone that sparks…something…don't be shy! Making the first move will serve you well, so even if you aren't usually the forward type, give it a shot, because you may end up making a connection that will be around for a long, long time.
Sagittarius – A voice from the past is going to provide an interesting turning point for your career. Whether it's business advice from a colleague, or just a suggestion from an old friend, it would be in your best interest to listen to them. Not only do they want what's best for you, they may also have the connections to make positive things happen. Even if it sounds crazy at first, keep an open mind and try to envision what your future would look like if you embark on the path they're suggesting.
Capricorn – You've set a very specific goal for yourself this month, and your mindset is going to decide if you can make it happen. Don't let negativity or self-doubt creep in, stay positive, keep a clear head, and visualize your success. That includes letting others bring you down–there might be a few people who don't see your future the same way you do, but it's important to remember that this is your life, your goal, and it's your hard work that will get you there.
Aquarius – Your happiness has been at its peak this month, and it looks like your good mood will follow you into the fall. They key to making sure that happens? Spread it around. Bring positivity to your relationships, your interactions, and your day to day life. As long as you keep your mood up and negativity down, you're going to find that every day brings new gifts.
Pisces – Overwhelmed doesn't even begin to describe your current state, and you may feel like it's you against the world every single day. Now is the time to draw on your support system to help pull you up out of any dark corners. Relish time spent with friends, say yes to social activities, and try to balance out your day-to-day stress by putting lightness in your heart. Hard times are temporary, but positive memories last forever.