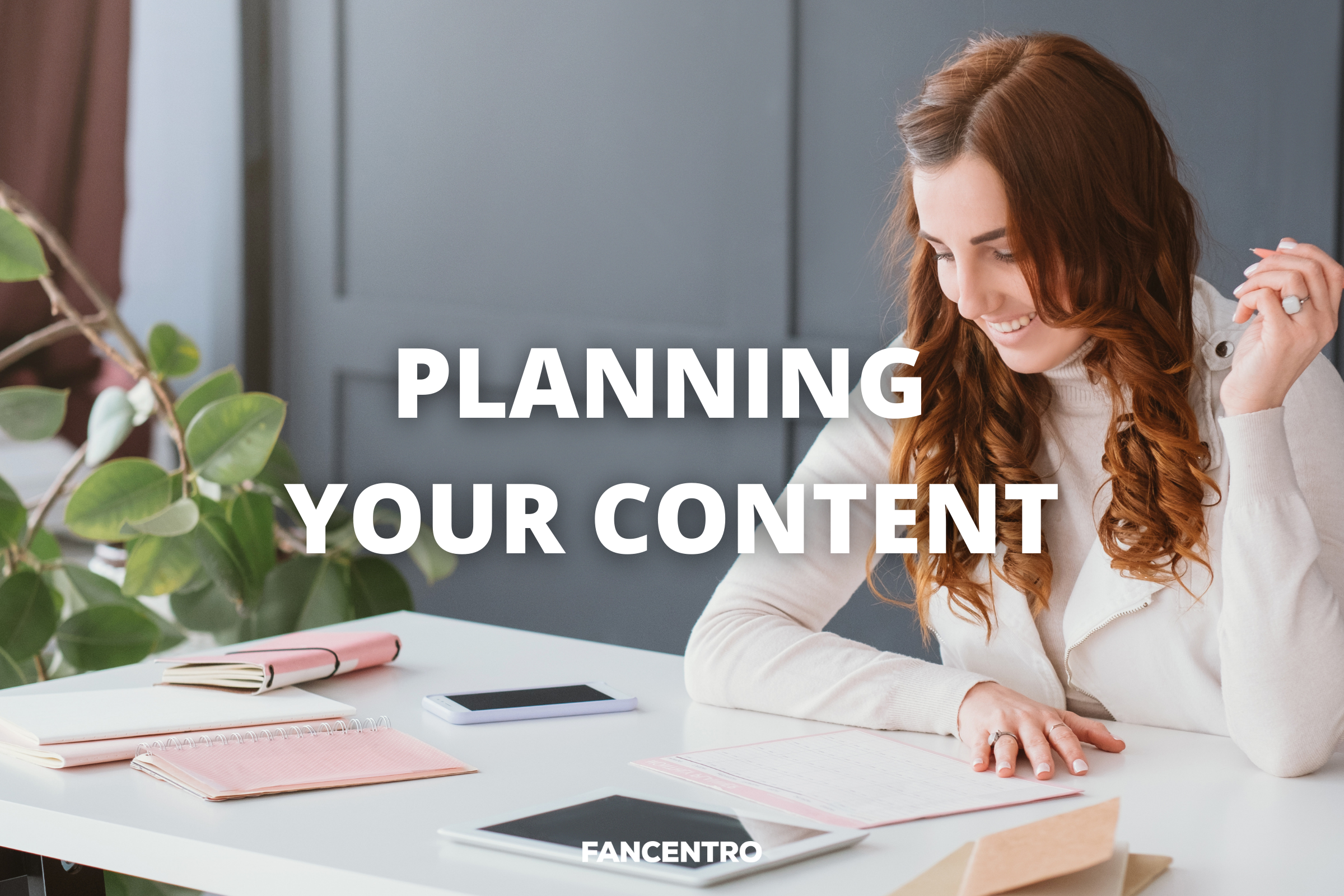 Planning Your Content
As content creators, we know your time is money, so organization is a must! Without a plan for how you're going to shoot, edit, and distribute your content, it's going to be very difficult to keep on top of the latest trends and special events that have the potential to earn you more money and gain more fans. A content plan is an essential part of your business, and we've made it easy to get organized and stay focused!
What is a content plan?
A content plan is a strategy for creating, perfecting, and distributing your content. Kind of like a crystal ball for content creators, your content plan is going to show exactly what is coming up for you. You can plan your content weekly, monthly, or even yearly!
A content plan also allows you to map out your workflow. It can include any kind of information that will be helpful for running your business, but at the very least it should spell out:
Type of content (Story, Feed, social media post, etc.)

Posting schedule

Posting platforms (Fancentro, social media, etc.)

Links to posts

Results*
*This is VERY important! You can have the best content plan in the world, but without understanding how your posts perform, it's not going to help you earn money. Your content play should not only help you stay organized, it should help you identify what works and what doesn't.
Why create a content plan? 
As an influencer, one of the most important things you need to do is stay on top of trends. What's hot, what are people talking about, and what events are coming up that you can monetize? While it's impossible to predict a new trend, having a content plan can help you hop on the bandwagon without worrying about interrupting your current workflow. Why? Because you're already one step ahead! A content plan allows you to get days or even weeks ahead of schedule, so you always have content to post, PLUS plenty of room to engage with trending topics. 
What does a content plan look like? 
Let's take a look at a basic content plan template for social media.
DOWNLOAD: Social Media Content Calendar
As you can see it lists a LOT of different information. Dates, social media platforms, types of posts, special instructions for those posts, and links to the content once posted. It may look overwhelming, but once you get into the habit of planning your content you will not only have more time, you will also begin to see patterns. What worked and what didn't? Which posts had the most engagement? When is the best time to post? Once you answer those questions, you'll be able to create the most effective posts for maximum results!
Setting Goals for Your Content Plan
Every single piece of content you post should have a goal. Whether you want to use a post to increase engagement, drive traffic, boost sales, find followers, or encourage conversion, you need to know how this post is going to achieve that goal. When you're creating your content plan, consider these questions:
Who is the audience for this post? (Fans, followers, new traffic, etc.)

What is it offering them?

Does it give clear instructions to the viewer (i.e. a call to action)?

What will make it stand out?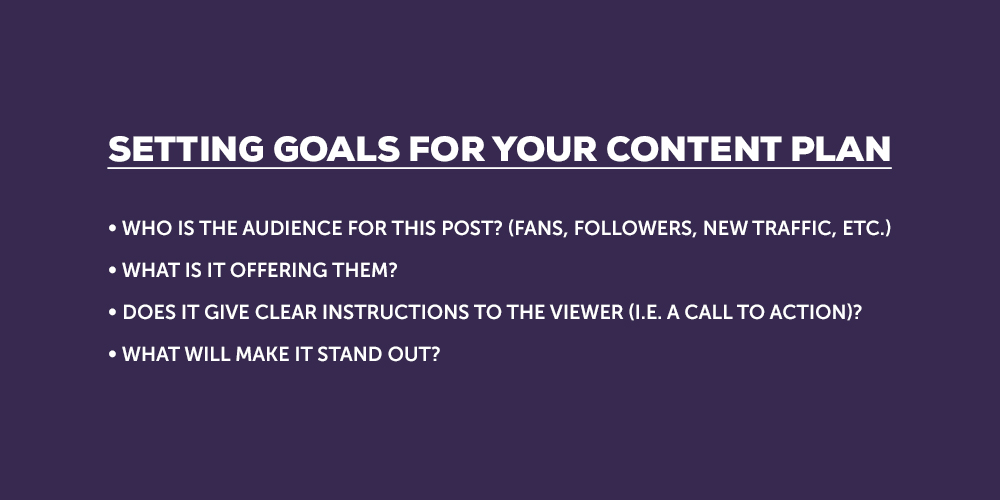 Without a goal in mind, it can be very easy for your content to get lost in the vast sea of the internet. Remember, for every single piece of content you post, there are thousands and thousands of other people posting something similar. You need to make sure you're doing everything possible to make your post stand out and achieve the goal you set for it.
What's the bottom line?
Time is money. Posting your content at random may be a simpler option, but it's not going to give you the results you're looking for. If you want to convert your traffic, drive sales, and find new fans, you must organize your content, determine the best way and time to post it, and analyze the results. The past is the BEST predictor of the future, so don't waste a valuable opportunity to increase your fanbase and line your pockets! 
Need more help planning your content? We're here for you! Connect with a success coach at success@fancentro.com for one-on-one help.