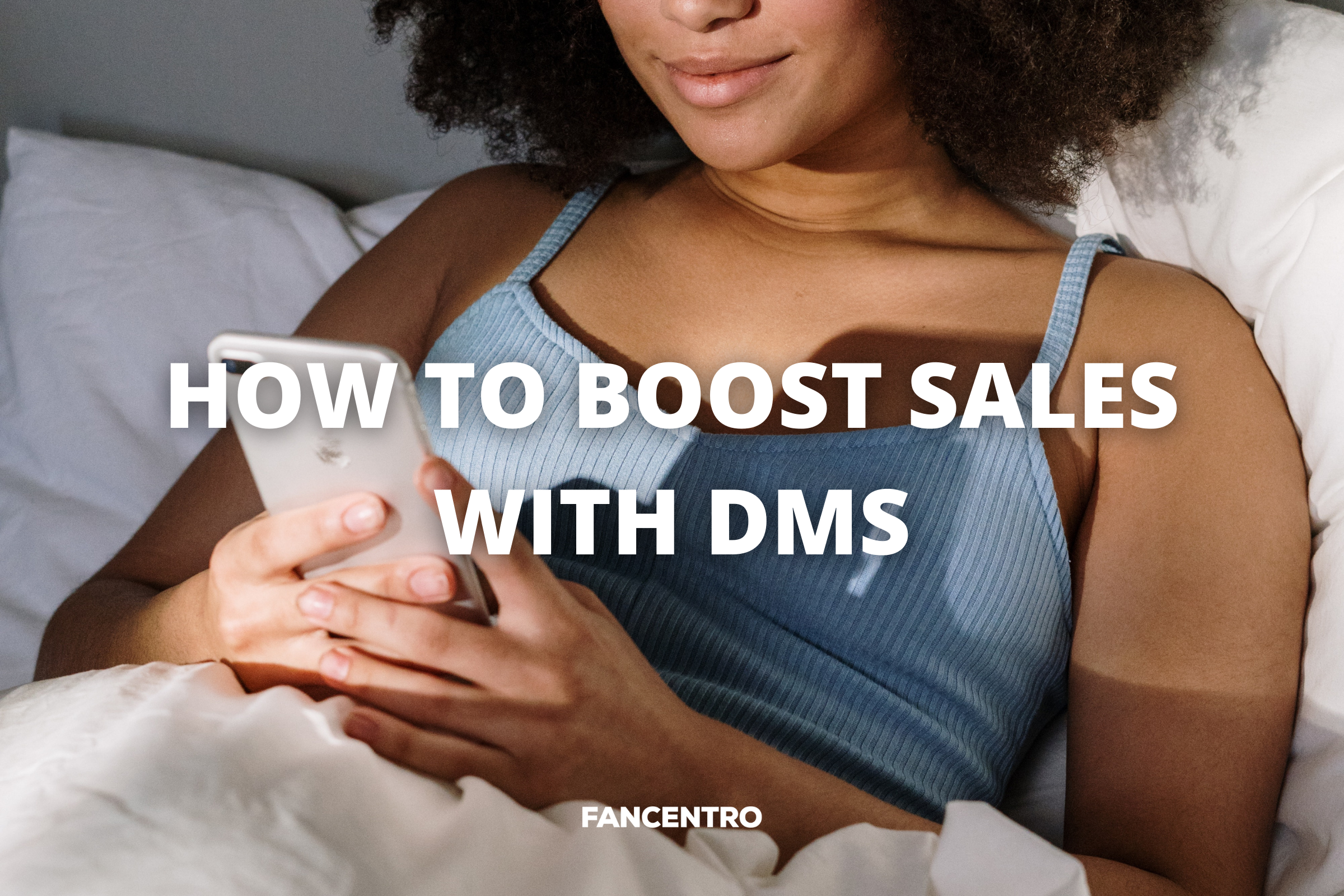 How to Boost Sales With DMs
One of the best ways to increase your profit on FanCentro is by boosting sales using direct messages. By doing this you create a stronger bond with your followers, promote customer loyalty and increase your profit!
In this FanCentro article, we're going to teach you how to boost your sales on FanCentro with DMs. Let's get started!
Welcome message to new followers
It's very important that you welcome new followers as soon as they start following your FanCentro page. This will make them feel special and seen. It will also start a DM conversation which is key to creating a stronger bond with your followers and upselling more content or offers.
Here's an example of a welcome message:
"Hey babyyy 😍 Thank you for following me! I'm so excited to get to know you. Tell me about yourself…" 
You can also include a cute and SFW selfie with your message so that your new follower feels special and connected with you. Once you build rapport, you can lead them to purchase a subscription offer or exclusive content, which we will talk about later in this article.
Thank-you message to new subscribers
Once you sell a subscription offer you can also send a Mass DM to thank new subscribers. Thank-you messages act as a small reward so clients feel appreciated. This will make it more likely that they will continue to buy subscription offers and perhaps even more custom products by you.
Here's an example of a thank-you message:
"Thank you for subscribing!! 💋 I hope you enjoy all the naughty content I've made for you…"
Upsell content on DMs
Another great way to increase your sales is by upselling content via DMs. Once you've built a nice relationship with your followers or subscribers, start enticing them to purchase a subscription offer or a customized product.
Here's an example of a message that upsells content:
"Did you like my photo? Cause I have so much more for you… 😈  You should check out my 'daddy' subscription offer. I know you'll love it"
Offer customized content
If you work inside a certain niche, or if your follower is looking for more specific content, try upselling them customized content. Remember that you can sell customized content at a higher price as it is more specifically made for their interest. This could be a specific photo or video request, or other products.
Here's an example of a message that offers customized content:
"I could make a video specially for you babe… what do you want me to wear?"
Include free or paid content
Including free or paid content in your DMs makes the message more interesting, making followers more engaged in your content and loyal to your online profile. Simple selfies are enough to keep follower engagement and retention, so use them to your benefit!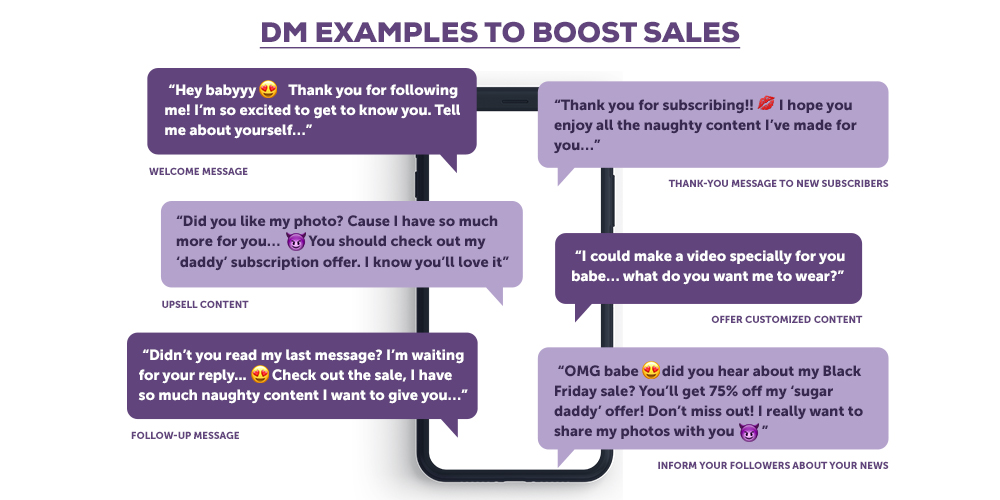 Follow-up messages
A great tool to improve sales via your DMs is taking advantage of follow-up messages. This feature allows you to send a follow-up message to an unread or not-replied-to message, helping make inactive users active again.
Here's an example of a follow-up message:
"Didn't you read my last message? I'm waiting for your reply… 😍 Check out the sale, I have so much naughty content I want to give you…"
Learn more in our article about how to use mass DM follow-ups.
DMs about news
Remember to also use DM to inform your followers about any news you may want to share with them, this includes new offers or sales, such as the upcoming Black Friday Sale. 
Here's an example of how you can use your DMs to inform your followers about your news:
"OMG babe 😍 did you hear about my Black Friday sale? You'll get 75% off my 'sugar daddy' offer! Don't miss out! I really want to share my photos with you 😈"
View statistics about your Mass DMs
To maximize your profits on FanCentro it's also important that you pay attention to the statistics of your DMs to know what to focus on when it comes to your DM marketing plan. By taking advantage of Mass DM stats you will be able to see which groups are best to market to in order to increase sales. This is done by seeing the engagement percentage of each group of your audience, which then allows you to know which group to target. 
With that being said, this would be best to do before your follow-up message. For example:
Send a mass DM.

Review the engagement percentage on your Mass DM Statistics. 

Send follow-up to less active subscribers/followers.
We hope these marketing tips have helped you get a better understanding of how to boost sales with DMs on FanCentro. By taking full advantage of our features you will be able to grow your business and increase your profits on our platform. Learn more marketing tips on our article about email marketing for content creators.