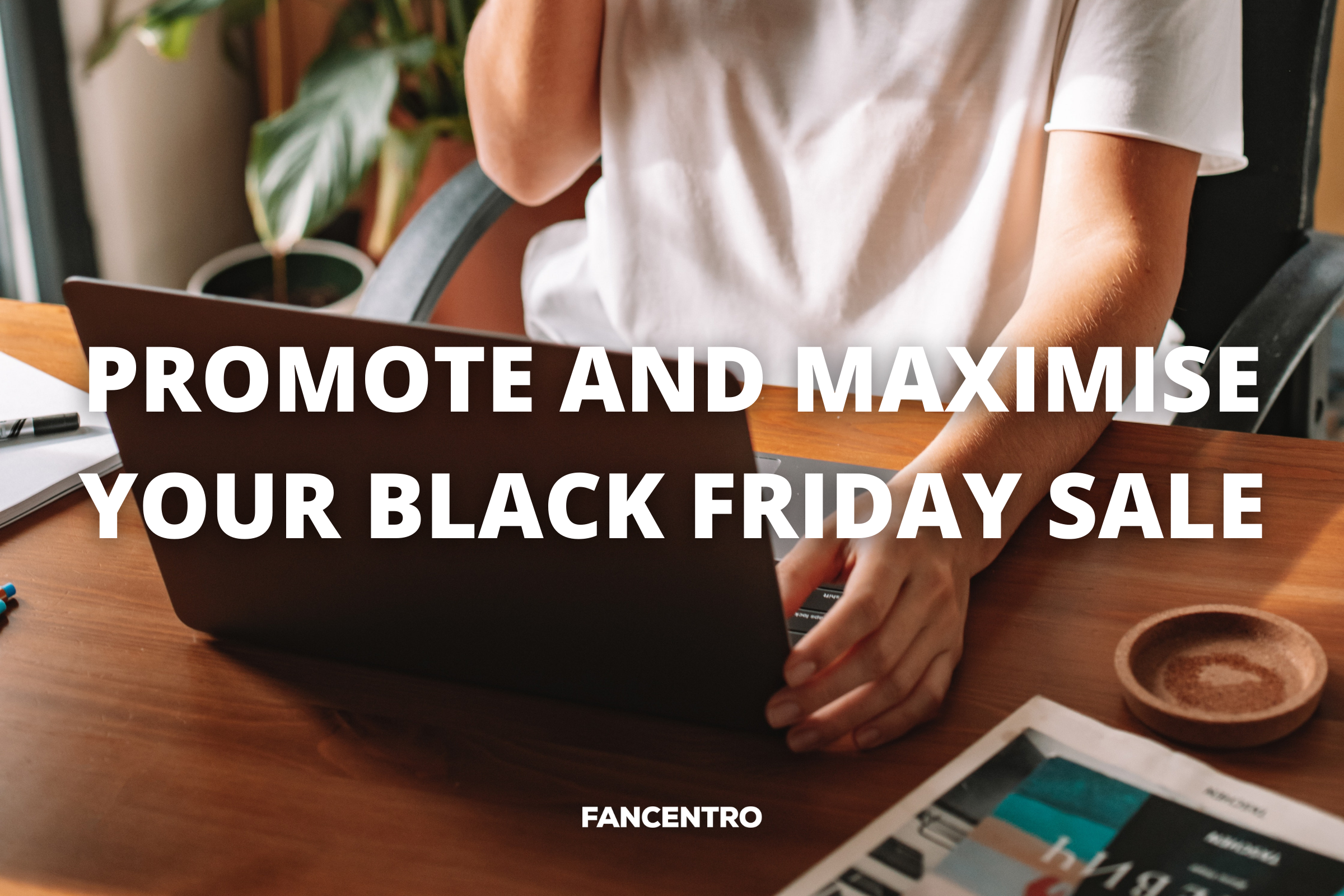 How to Promote and Maximise Your Black Friday Sale
Starting on November 26th until December 3rd, FanCentro is hosting a Black Friday & CyberMonday sale! In this sale, content creators will be able to offer 75% off on subscription offers to boost engagement and drive sales. This is a great opportunity to gain more subscribers and more coin! But in order for you to maximize this sale, it's important to have a marketing plan. Here at FanCentro, we have your back! In this article, we're going to give you marketing tips and tricks so you can get the most out of this Black Friday and CyberMonday sale!
How to promote your Black Friday Sale
First things first, you'll need to promote your sale on different platforms. The best platforms to do these on our Twitter and Reddit. Although you can also use mainstream social media platforms, such as Facebook, Instagram, Snapchat, and Youtube, you'll need to be careful to not get reported, so keep it discreet and SFW. For example, post a cute and innocent selfie mentioning a sale, e.g. "75% off my content" or "don't miss my sale". This way you'll drive potential customers to your FanCentro account.
You will also need to promote it on FanCentro to your followers. You can do this by posting a public post teasing the sale and don't forget to also use your FanCentro Stories to entice your followers to take advantage of the sale to become a subscriber, or by taking advantage of the FanCentro banner generator. Learn more about the banner generator and other features in our article about 11 FanCentro features that will make your life easier.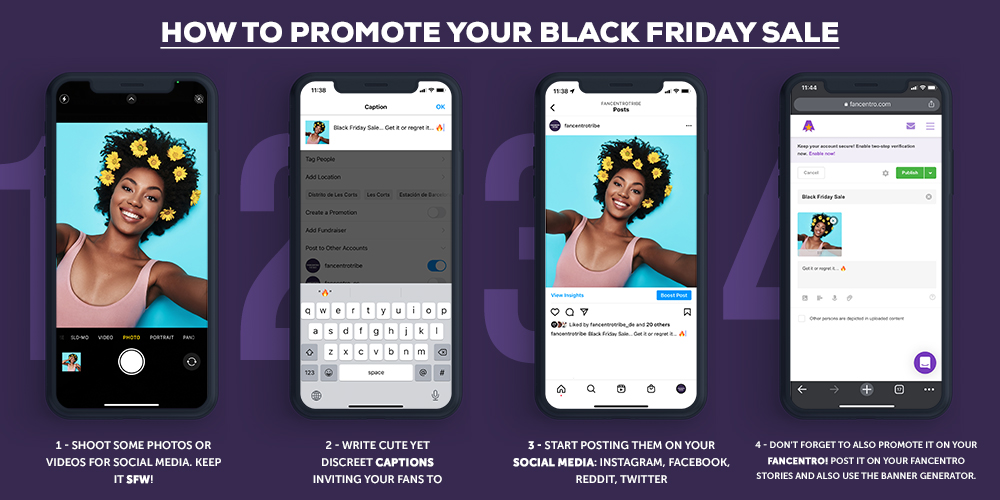 To make sure you get as much reach as possible, make a list of the platforms you'll promote it on, take some photos and write cheeky captions for each platform, and don't just do it one day. Tease for at least 3 days, even when the sale starts and especially on the last day! Clients are more likely to buy when they don't have much time to take advantage of an offer. So don't limit yourself. The more you promote it, the more people will be intrigued by the offer.
How to maximize your Black Friday & CyberMonday Sales
Other than promoting your subscription offer sale, you can further maximize your sale on FanCentro by doing some smart marketing moves. Let's take a look at how you can fully maximize your sale, getting more subscribers and money, on FanCentro:
Offer low prices on subscriptions
Firstly, offer 75% off your subscription offer placing it at a low price. It should be a low price, such as $5, so your fan doesn't have to double think the buy. It's so low, why wouldn't they bite? You can put this sale on a basic subscription offer and leave the other offers full price. You could also put all your subscription offers 75% off the last day to further entice your followers, letting them know it's the only day all offers are on sale. The idea is to offer low-cost subscriptions to get more subscribers and then upsell content via DMs.
Focus on DM sales
Once you drove followers in with low rates on subscription offers, the next step is to focus on DMs to sell them more content. For this, use your DMs to the max! Welcome new subscribers, send them teasers for more content, and get them to fall in love with your online profile. This is how we build a relationship with clients, improving customer loyalty, which then helps us drive sales up and maintain them high.
Follow-up DM feature
Another feature you should take advantage of is the follow-up DM feature. This feature allows you to send a follow-up message to followers that haven't replied or opened a message. This will help you engage inactive users and convert them into active fans that buy your products, helping your sales. You can also send follow-up DMs to thank new subscribers to further engage them in your content.
How to retain your new subscribers
Once the sale is over, it's really important you manage to keep your subscribers to continue making a profit, even after the sale. Here are our tips and tricks so you can retain your new subscribers once the sale is finished:
Stay active
In order to maintain or increase engagement with your fans, it's very important that you're always active on your profile. For example, you should at least post FanCentro Stories every day to maintain engagement. This will keep your fanbase active on your profile and attentive to any new content offers.
Send them DMs
Target your new subscribers and send them persuasive DMs. This will make them feel special and loyal to supporting you, making them stay after the sale. This is what we call in marketing "building client relationships" and you can do this on FanCentro by maximizing your sales via DMs.
Offer new content
Lastly, you can offer them customized content in their DMs. This way you build communication and engagement with the new subscribers, enticing them to stay for more to come. Don't forget to take advantage of the DM follow-up feature to encourage followers to become more active on your FanCentro page.
With these marketing tips, we're sure you'll maximize your sales this holiday season! Don't forget to also check out our article on Email Marketing for Content Creators.