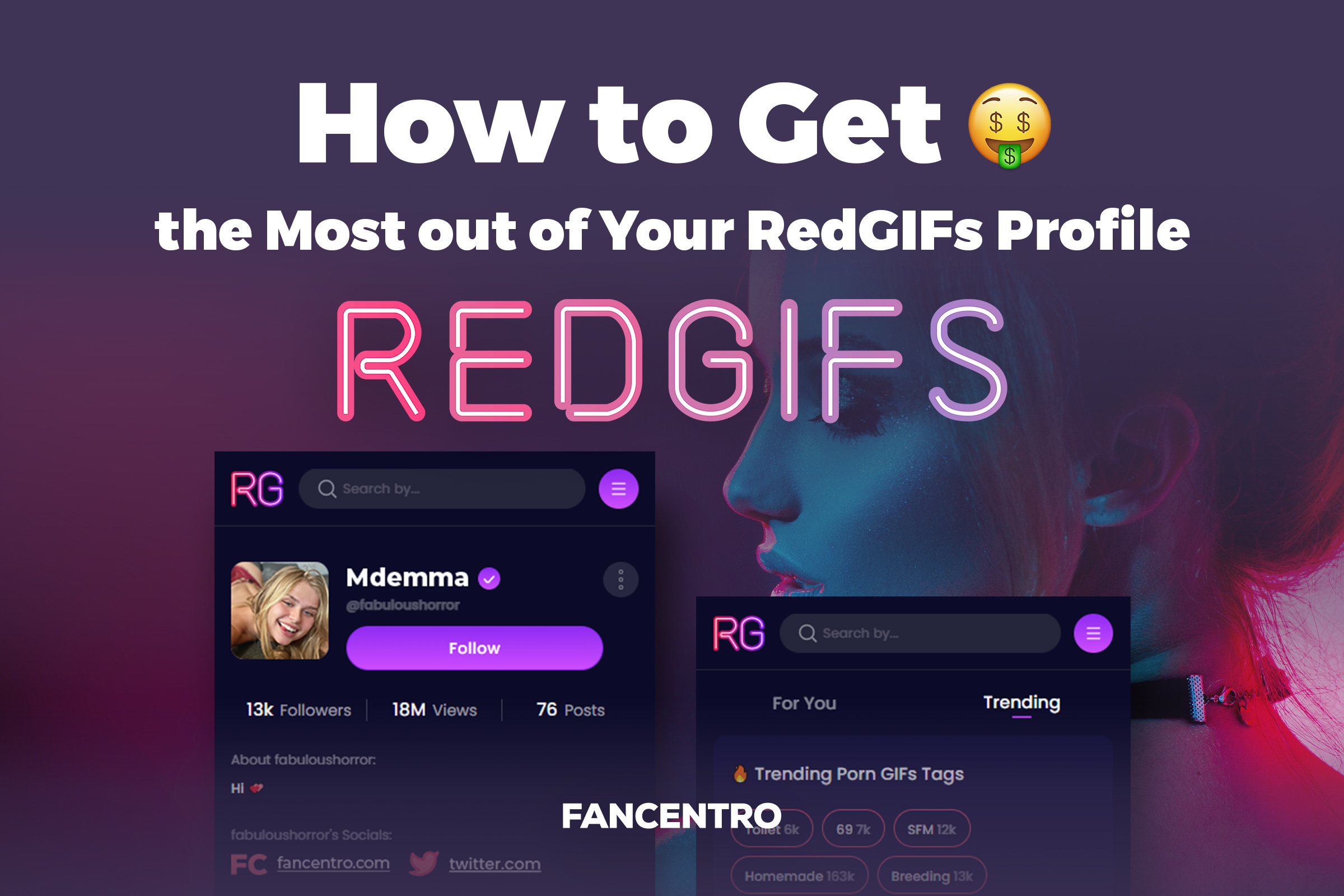 How to Get the Most out of Your RedGIFs Profile
Fancentro creators on RedGIFs can now link their Fancentro page to their RedGIFs profile page, providing an amazing opportunity to get more traffic and exposure. RedGIFs offers a magnitude of benefits for creators, and you can learn more about them by clicking here.
To get the most out of your RedGIFs profile, and attract traffic to your Fancentro page, let's go over some of the site's features and how they can bring more fans to your content.
Trending GIF Categories
When users enter the RedGIFs site, starting on the home page, they can explore trending GIF categories such as threesome, massage, homemade, and taboo. Just as you add tags to your content on Fancentro, it's important to do the same to your content on RedGIFs so that you will show up in these trending categories for scrolling fans. 
Add Social Links to Your Profile
When users discover your RedGIFs profile, they can easily click through to your paid sites. You can add various social media links to your profile, including Twitter, Instagram, Reddit, or even a custom link such as your mysocialhub.io or link tree. 
Access the RedGIFs Subreddit Network for Promo
As you know, RedGIFs is the most trusted Embed Partner for Reddit. To help you navigate promotion on Reddit in the safest way possible, RedGIFs has set up a "network of subreddits" available to adult creators. You can join one of their many subreddits and ask their moderators any questions you may have. Their subreddits are:  /r/RedGIFsAmateur/, /r/RedGIFsSolo/,  /r/RedGIFsVertical/,  /r/RedGIFsOral/,  /r/RedGIFsTrans/,  /r/RedGIFsGay/,  /r/RedGIFsEbony/, /r/RedGIFsLesbian/,  /r/RedGIFsCosplay,  /r/RedGIFs3some/,  /r/RedGIFsAnal/.
If you already have a RedGIFs account, be sure to add Fancentro to your profile. If you don't have an account yet, what are you waiting for? Create an account with RedGIFs!
Want to stay on top of tips, trends, and the latest tools? It's as easy as 1-2-3!
Follow our socials @fancentrotribe for new posts, contests, money-making tips, and more!
Get the hottest news of every month by signing up for our newsletter!
Contact a success coach at success@fancentro.com for one-on-one advice from an expert!