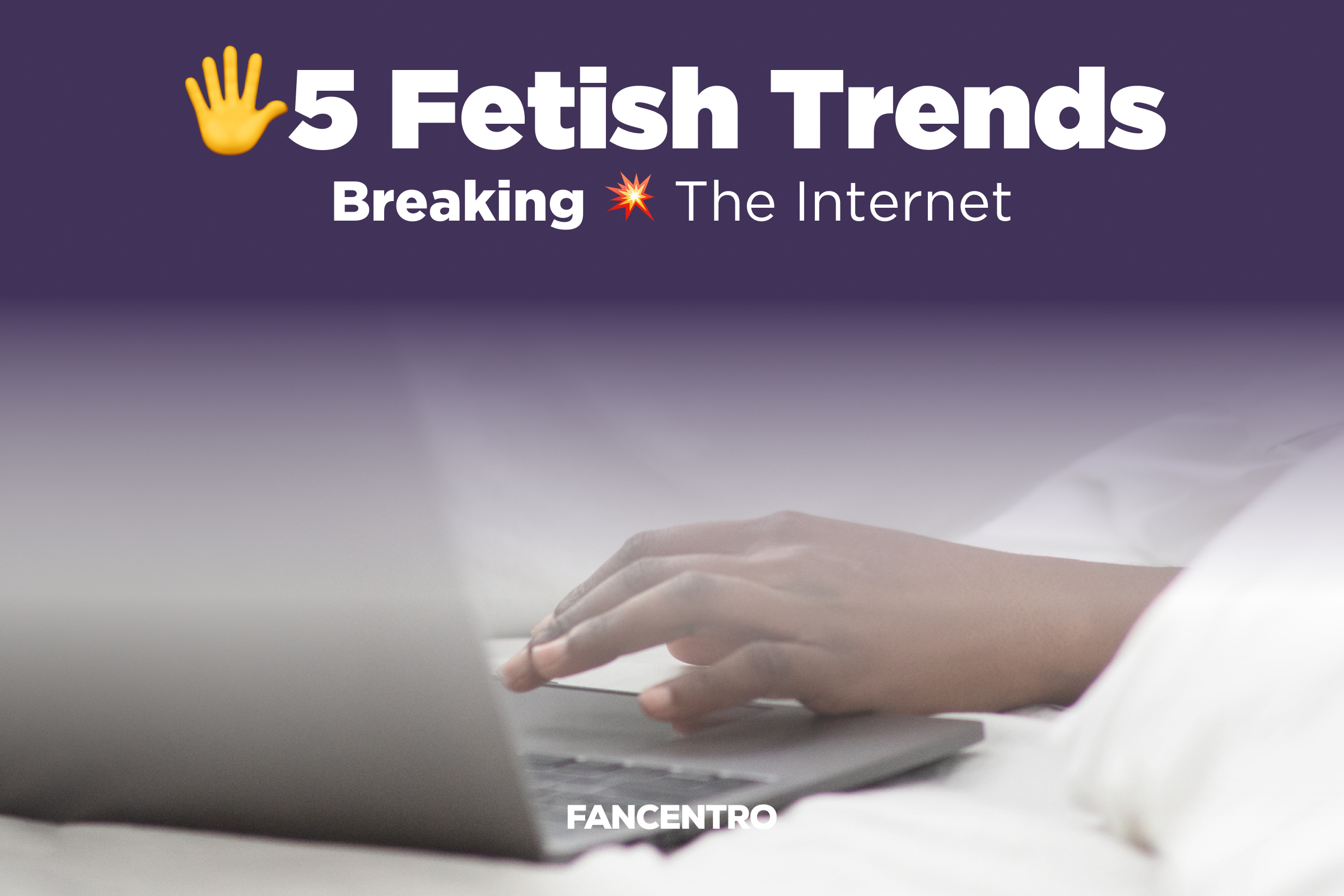 5 Fetish Trends Breaking The Internet
Ready for 5 Fetish Trends Breaking the Internet? Normies may give the illusion that there's a conventional sex guideline, but is there really such a thing as sexual norms? As evolution continues to point out, humans have found infinite ways to have sex. We think it's more taboo to be "normal' than the other way around. The famous sex researcher Alfred Kinsey said once said "The only unnatural sex act is that which can't be performed." At some point, everyone has at least thought about sex in an off-kilter way.
Creating safe spaces to explore this vast landscape has been an ongoing mission; while it can feel like a slow burn (pun intended), the glass ceiling is starting to crack. We handle sexuality, identities, gender roles, ideas, and preferences with empathy and in an inclusive way. In order to really get the message across, open dialogues need to continue. That's where you, fellow creator, come in. 
You are, ultimately, the proprietor of the fetish. You hold the power to set the stage and unleash a person's hidden desires. You own the fetish, allowing you to literally twist and turn it any way you want. 
That being said, it's our honor to share with you these awesome fetish trends causing a stir all over the internet. We've taken some inspo from our friends in well-known spaces, with love and the utmost respect, of course. 
Let's dig in. 
The Golden Shower aka piss play, is nothing new. Creators Laura Cum Kitten23 and Chloe Cupe seamlessly work the trend into their content, and the goddess rap superstar Yung Miami from City Girls has admitted to her love for getting drenched in golden sprays. 
This somewhat mainstream fetish can easily be included in the world of BDSM. The pleasure from it comes from the exchange of power roles between the given and receiver. 
Up for it?  While piss play can be great collaborative content, it's also just as doable for solo performers. Just like masturbation, you can try it on yourself. You can also spice it up if you create content in the bathroom. 
(source: Allure)
Next up, the Latex aka "second skin" gives the feeling of nudity as freedom. The sexual pleasure derived from this trend triggers all five senses. Shout out to the Dutch community for really owning the trend, and we specifically love that it can be paired with ASMR content (shout out to the Queen Jinx ASMR whose YouTube video got over 1.1 million views – she definitely deserves her flowers for this). We'd also like to give honorable mentions to EsLuna Loves Latex and Charlotte Michelle G who are masters of the trend in their own right. 
Up for it? We'd love to see a modern interpretation of Michelle Pfeiffer as Catwoman in Batman Returns. However, there's also something kind of retro about this trend. One idea can be to get into Bettie Paige mode, whips, chains, and handcuffs included.
(Source: Smitzen)
The Edging fetish is exactly as it sounds, pretty much. This fetish is about building up sexual tension in the body without actually to an orgasm. It's about building control and getting familiar of what the sensation feels like. Creator Ghostie does an awesome job with this trend. As YouTuber Pleasure Bhabie points out, the joy of sex is not actually about the cum, but the events leading up to the final act. 
Up for it? You can partner up or go solo, be the receiver, giver, or vouyer, the possibilities are endless. Think of this trend as foreplay (newsflash: It is), but with the intention of intensifying the experience. You've got to go all in, take it there, without actually going all the way. If you're entertaining those that are celibate or abstaining, perhaps give them a little disclosure that this is not for the vanilla types.  
(Source: Elite Daily)
Probably the most risque of the fetish lot, Breeding Kink needs to be handled what extra care. A lot of people seem to believe that since procreation is part of human biology, so this fetish isn't actually a fetish at all. While that does make sense, this isn't really the case. As our friend Femme Froth explains the kink is not about creating life in a literal sense, but the "intention of doing so." This trend is all about consensual power play. This act is not mutually exclusive to cis-hetero partners, in fact, anyone can participate in this kink. Remember, it's the idea of the act than the actual act itself. Our fave creator Kitty Kate demonstrates the kink very well. 
Up For It? If you're not sure where to start, you can try anal or get some sex toys that simulate ejaculation. You can also talk that talk or tell your collaborator to go ham on the baby-making talk, as long as you're both comfortable. 
(Source: Vice)
According to Kink Master Sunny Megatron, "We've reached peak pegging thanks to a number of significant societal shifts impacting identity, emotional intimacy, and pleasure in recent years." Publicly, it appears that there's still a sizable population of (cis) hetero men (and women) who are not prepared to have an open discussion about this trend, but as the Legendary Pornstar  Nina Hartley points out the act of enjoying anal penetration feels good regardless of the gender. CallMeMiss420 demonstrates the trend in a cool and enticing way.
Up for it? Consenting with a confident collaborator who is comfortable in their skin is key. Role-playing is a great way to get into it, or simply partnering up with someone who loves non-conforming gender roles, especially if you're woman-identifying. Some people try to make this about feminism, but it's not that deep! This trend is about finding pleasure and letting the other gender take the lead in the bedroom.
(Source: Cosmopolitan)