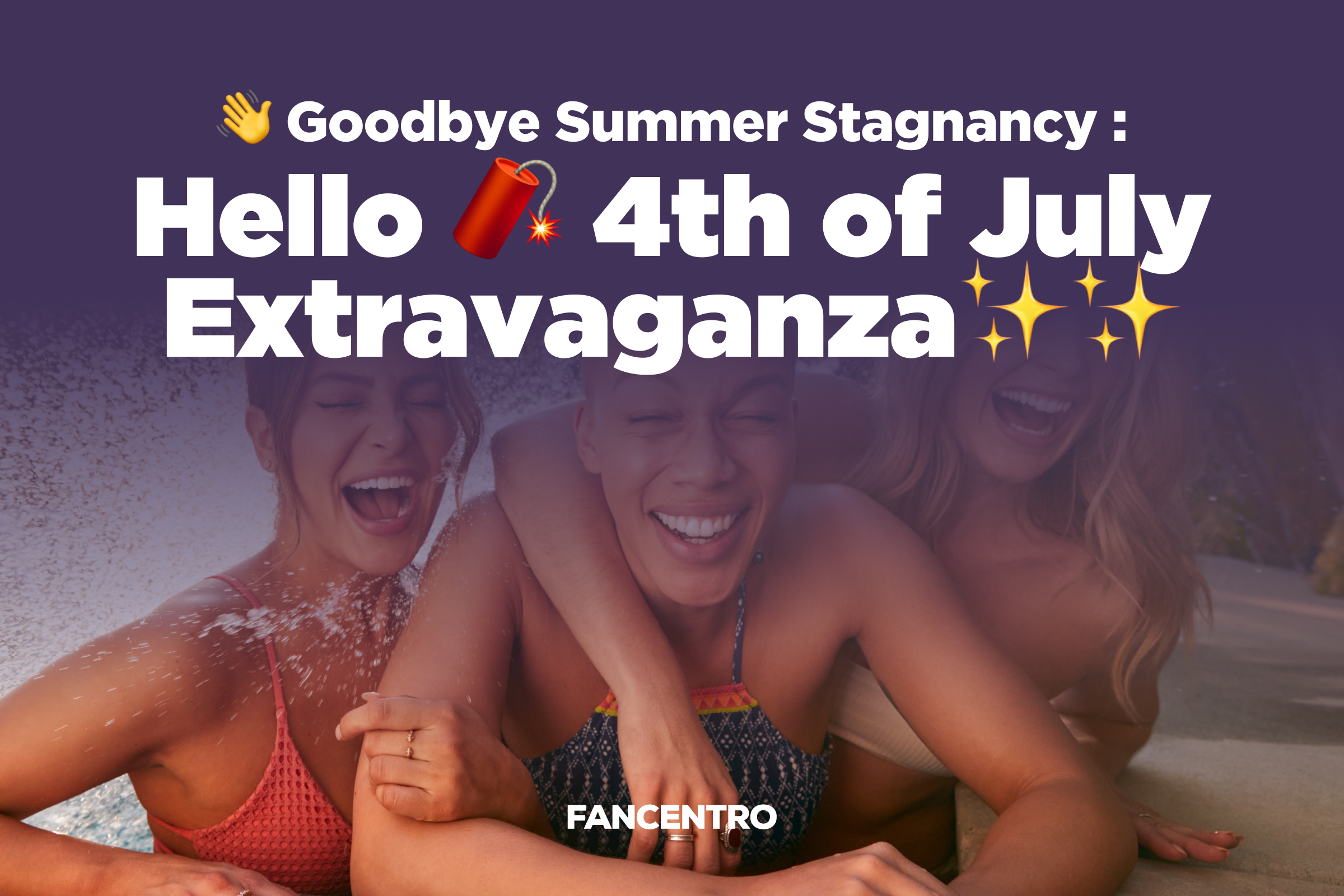 Goodbye Summer Stagnancy: Hello 4th of July Extravaganza
Goodbye Summer stagnancy! It's an incredible time to be a content creator because you have total freedom to turn the season's adventures into a way to bring home the bacon! While the rest of the world may be in their offices pining away for that one week of sun, you can enjoy Summer's offerings without sacrificing your success! Whether it's a fun vacay to a tropical paradise, or hanging out in your backyard with a blowup pool and a margarita in hand, anything can be turned into content that your fans love to see. 
To make sure that your Summer earnings skyrocket, Fancentro is hosting a 4th of July Extravaganza! From June 30th until July 4th, we're going all out! During this promo, all Fancentro creators have the opportunity to offer 50% off on subscription offers. As we shared in this article, celebrating holidays with your fans is not only a great way to boost engagement and drive sales but also to strengthen your connection by making their favorite times of the year more memorable. Don't let the slow vibes of Summer, slow down your success. Gain more subscribers and even more earnings to kick off the month! 
If you really want to make the most of this sale, start working on your marketing plan NOW! Of course, you'll have the advantage of attracting fans organically by being featured on the Influencer Directory with a 4th of July Extravaganza Splash Banner, but we recommend going the extra mile by creating special content to promote the sale to your fans! 
To help get your creative juices flowing we're sharing a list of some fun ideas for you to consider:
Swap out the classic "banana BJ bit" for a hotdog, and create a fun suggestive clip of you going to town on it! Too sweet for meat? Try a popsicle instead!

If people from the US love one thing, it's a

wet t-shirt contest

. This is a content idea that you could do in your sleep! So simple and effective.

If you're not into making adult content, not to worry! Get into the spirit with a

makeup look inspired by the classic firework theme

of the holiday! 

If you want to lean into the "All-American" character archetype for the holiday, you'll need the right fit! Check out this Galore Mag article for some inspiration

! 

Nothing says "USA" like cowboys. Get out your ass-less chaps and find a cowboy or cowgirl to ride!

If ASMR(JOI) is your flavor, try out this classic 4th of July candy,

Pop Rocks

, to bring in some amazing mouth sounds and tingles to your fans!
It's a no-brainer! Joining the 4th of July Extravaganza is your ticket to avoiding any Summer stagnancy! Any questions about marketing the sale, don't hesitate to contact our team of Success Coaches. 
Want to stay on top of tips, trends, and the latest tools? It's as easy as 1-2-3!
Follow

our socials

@fancentrotribe

for new posts, contests, money-making tips, and more!

Get the hottest news of every month by signing up for our

newsletter

!
Contact a success coach at success@fancentro.com for one-on-one advice from an expert!