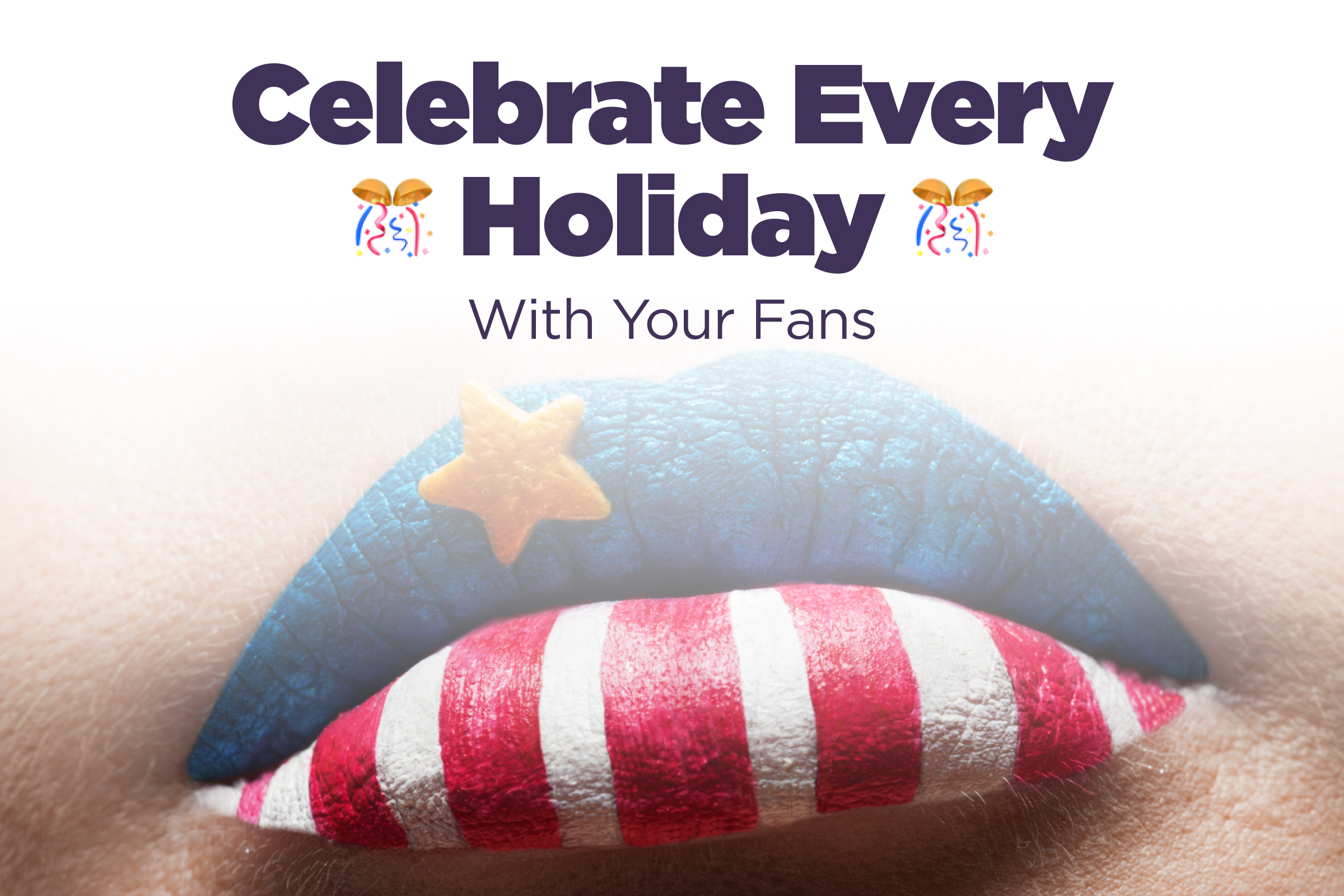 Why Content Creators Should Celebrate Every Holiday With Fans
Start Celebrating EVERY Holiday and Make More Money!
You hear the word "holiday" and usually think of Christmas, right? But we're talking about allll the holidays around the world! Take a quick peek at your calendar, and you'll see tons of holidays celebrated in different countries and cultures worldwide. Sure, those may not be the holidays that you celebrate with your loved ones, but we're thinking about business strategy here. Think about your audience. Where are your fans from? What culture do they belong to? If you focus on their special holidays, they'll be super appreciative and feel seen by you. (Which means they'll stay even more loyal to you and keep subscribing!) 
Celebrate Holidays AND Big Events!
For example, the Dutch market is really growing right now. So it's a good idea to celebrate King's Day with your Dutch fans even if you personally don't celebrate it. They'll love seeing you participating in their culture! What if you have a lot of Brazilian fans? Start celebrating Carnival! And don't just think about traditional holidays! Celebrate major events in your fans' countries too, like the Superbowl in the United States or other major sporting events worldwide. Fans will love to see you cheering for their favorite event!
Create New Traditions!
Brainstorm different ways to celebrate with your fans:
Greet your fans who celebrate this holiday!

Create special holiday content like celebratory videos!

Wear holiday themed clothing!

Give special holiday discounts!

Build a new holiday tradition with your fans, so they want to stay connected year after year!
Make Every Holiday Green!
Your fans and subscribers will be so thankful if you acknowledge and appreciate their cultures. This makes them feel seen by you, and making solid, long term connections with your audience is the key to retaining them. And of course, retaining more of your fans – and getting new fans – means more income rolling into your beautiful bank account! So if you want to see more green in your pocket, you should start celebrating EVERY holiday!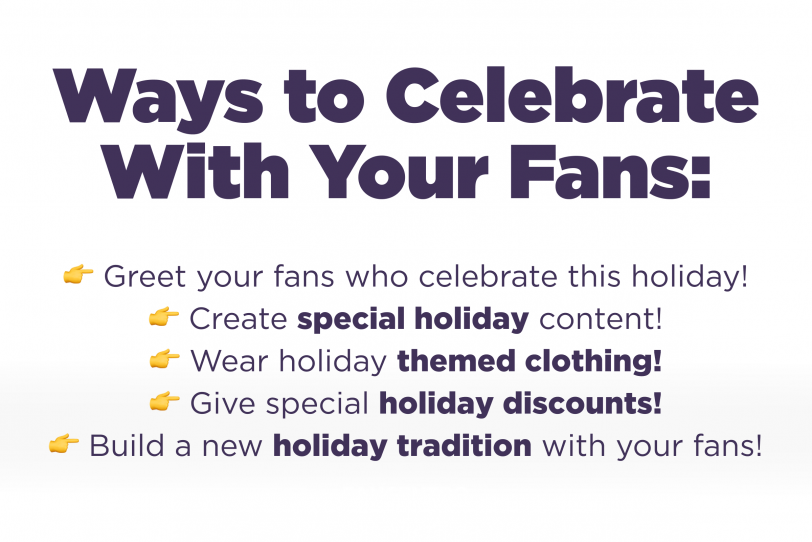 Speaking of Celebrating Holidays…Join the Explosive 4th of July Sale!
Join in on all the summer fun! Get new subscribers and join our explosive 4th of July Sale! The 4th of July Sale will run from July, but models can join a week before the sale begins. Models who join the sale will be featured on a 4th of July Sale filter starting on the first day of the sale. The discount for the 4th of July Sale is % for first joins only! Plus, you can always cook some hot dogs, watch some fireworks, and of course, wear your sparkliest red, white, and blue outfit! 
To sum up…
Why Join?
Get

extra exposure

AND

extra profit

!!

Appeal to fresh

new audiences

!

Promote it to all your fans!! 

Get

featured on the Influencers page

with the 4th of July Sale filter. 
All the Info:
The sale runs from

July!

Choose one of your offers to join the

75% off 4th of July Sale

! (The discount is only applied to initial joins.)

Use your custom

4th of July Sale social banners

for

extra promotion

!
Get in the spirit by wearing your hottest red, white, and blue outfit and add it to your profile pic! Let's turn the Fancentro Discovery Page red, white, and blue for the 4th of July!  It's a great way to celebrate summer fun even if we can't party in the USA! 
And remember!
Want to stay on top of tips, trends, and the latest tools? It's as easy as 1-2-3!
Follow

our socials

@fancentrotribe

for new posts, contests, money-making tips, and more!

Get the hottest news of every month by signing up for our

newsletter

!

Contact a success coach at

success@fancentro.com

for one-on-one advice from an expert!