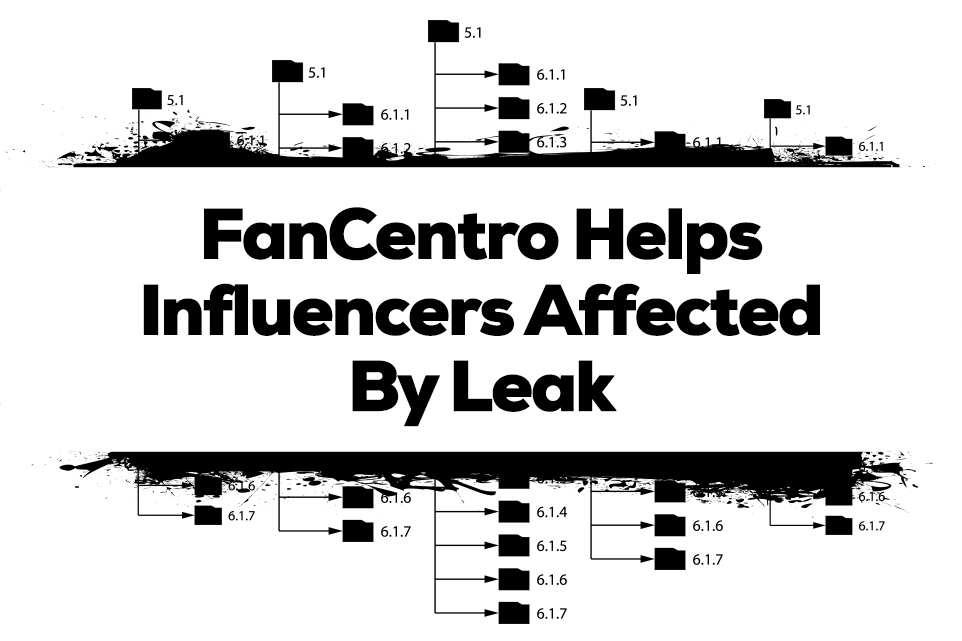 FanCentro is offering Free DMCA Services To Influencers Affected By Leak
The FanCentro team was extremely saddened to hear of the large-scale leak of content made by adult influencers. While FanCentro itself remains secure and was not affected by this leak, we know how devastating this is, and want to offer our help to those who were.
Adult influencers rely on paid content to provide a steady revenue stream, and this most recent leak of copyrighted content now threatens the livelihood of thousands of influencers. Many influencers now fear the worst —whole libraries of paid content suddenly being shared for free online. 
So for the next three months, we'll provide DMCA (copyright) protection for any affected influencer who works with us — whether you've been with us from the beginning or signed up today. The DMCA firm we partner with searches for unauthorized uploads of your content on a wide variety of pirate sites and file-sharing sites, and issues legal takedown notices to the sites, Google and others.
This DMCA protection is a service we already provide to our top influencers, but given the gravity of the leak, we're expanding the scope of our contract with DMCAforce.com in order to help limit the effect of the breach.
When your livelihood is centered around putting extremely sensitive material online, keeping your content safe is, to put it mildly, really fucking crucial. Your best bet is to find a home for your content that will minimize the chances that it may fall into the wrong hands. However, if the worst does occur, it's always best to have damage control in place. That's where DMCA comes in.
What is DMCA?
DMCA stands for Digital Millennium Copyright Act — it's a law that compel sites to respect your copyright and helps get it taken down. DMCA firms monitor sites for stolen content and help to get it removed. They scan the libraries of known pirating sites (some firms will scan Google as well) for unauthorized uses of your content. If stolen content is found, they will then help request that the stolen content is removed.
How Do I Get Free DMCA Protection from FanCentro?
FanCentro believes in keeping influencers content safe. For those affected, we want to equip you with the tools to keep your content where it belongs. If you've been affected by the recent leak, and want a solution for better protecting your content, we're offering influencers with a FanCentro account three-months of free copyright protection.
To be eligible:
You must have an active FanCentro account.

You must have made at least 20 sales in the last three days.

If you're new to FanCentro, you must activate your FC Feed and upload three pieces of content, and upload at least one video to Clips on FanCentro. This will put your content in a safe space where it can start to earn you money.

If requested, you must be able to provide proof that you were affected by the recent leak.
Once you're established on FanCentro, please contact our support team via live chat or send an email to support@fancentro.com. They will help you get connected with DMCAForce and walk you through the process of reporting.
What if I'm not a FanCentro influencer?
Even if you're not on Fancentro currently, but your content was included in the recent leak, you can still take advantage our of this offer! All you need to do is sign up for Fancentro, activate your feed, upload 3 pieces of content, and upload 1 clip for sale on FanCentro! If you need any help getting set up, contact our support team via live chat or send an email to support@fancentro.com.
What do I have to do next?
Once your DMCA account is active, there are no additional responsibilities on your part. Your DMCA account manager will monitor the web for unauthorized uses of your content and if they are found they will request that they are removed. 
Can I send links that I find?
Yes! If you find your content being used without permission, you can submit the links through your client dashboard on DMCAForce and they will send in the takedown request.
What if I have DMCA questions?
You will have a personal DMCA account manager assigned to you who will be able to answer all of your related questions.
If you're interested in other tips to protect your content, see FanCentro's Guide to Keeping Your Content Safe.