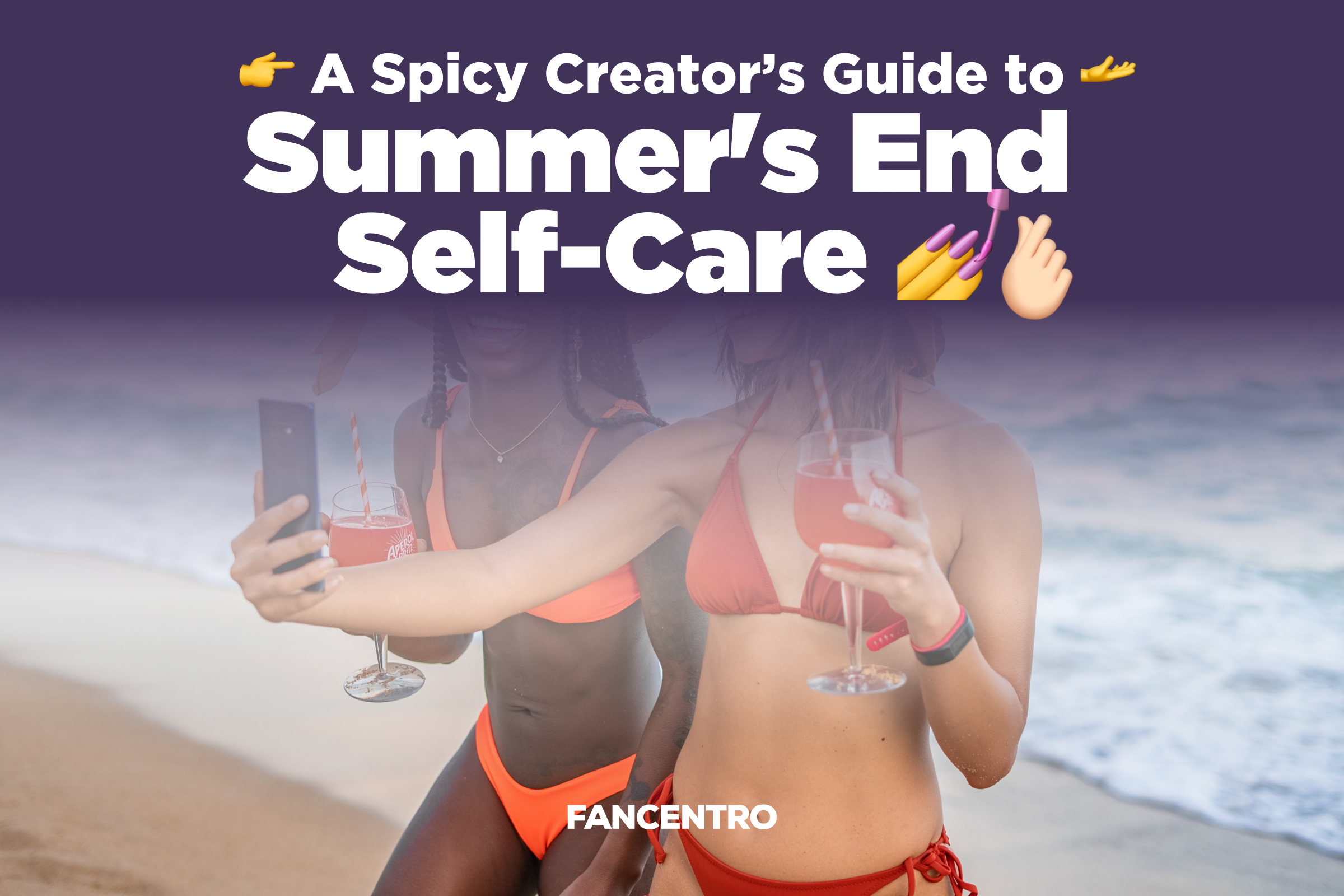 A Spicy Creator's Guide to Summer's End Self-Care
August is here! Now's your chance to show off your Summer glow-up! Keeping things hot doesn't have to be reserved for a single season, you know that better than anyone! To take the new month in stride, it's time to check in with yourself on what goals you want to achieve this season. Let's manifest more growth than ever- financially, creatively, and mentally!
A Spicy Creator's Guide to Summer's End Self-Care:
Reconnect with your goals
After a summer of fun, reconnect with your end-of-the-year income goals & set up steps for your Fall & Winter business plan. Book a consultation with one of our success coaches to set practical goal markers to help you get there.
Now that you have the Freemium subscription offer in your repertoire, let it work its magic with your fan base! To really see it bring in the big $$ watch for trends with your fans. See how they respond to the free features and what types of locked content hit their sweet spot. This is your new best friend when it comes to increase subscriptions & extra income via locked content!
Pro tip for getting your $$ goals in order: While it's still early, get all of your ducks in a row with your tax plan– make sure your system for accounting is on lock. If you need external help organizing things so it's especially stress free, connect with a Spicy Accountant like Katherine Studley. You can also take advantage of our Centro U Spicy Creator Master Classes for quick tips.
Get Involved with the Spicy Community
When you're working as a spicy creator, you're connecting with fans all of the time, so it's important to prioritize filling up your own cup.
If you didn't know, Fancentro has set up telegram groups to help you get connected with other creators. In these groups, you feel more connected to others who know exactly what you're going through as you're building your fanbase & creating new content. It's so important to find solidarity with other creators & work towards fostering a community that supports each other's successes!
Another way to be proactive about being intentional this season is to seek out even more effective emotional support. Whether you've struggled with burnout or just want to talk in a safe space about the ins and outs of being a spicy creator, you can always reach out to FSC or Pineapple Support. Pineapple Support offers therapy for adult industry creatives and is a great way to get in touch with yourself to find out what you need going into a new season.
Start Fresh with New Subscribers with FREEMIUM!
Earlier this Summer we introduced FREEMIUM! As we shared in this article, with this new pricing plan, your fans to subscribe for free, giving them access to selected basic features/perks of your Fancentro profile. Promoting this subscription offer to your fans is a great way to take followers you've gained over the Summer and develop the relationship a bit more. From there they can, and surely will want to, access additional subscription options and content as time goes on, and their love & loyalty to you as a creator grows!
Want to stay on top of tips, trends, and the latest tools? It's as easy as 1-2-3!
1. Follow our socials @fancentrotribe for new posts, contests, money-making tips, and more!
2. Get the hottest news of every month by signing up for our newsletter!
3. Contact a success coach at success@fancentro.com for one-on-one advice from an expert!