Understanding Chargebacks and How To Prevent Them
What's Happening??
Have you ever hustled, treated your fans well, only to see some of the purchases that were made in the past are taken back without explanation? It's frustrating, isn't it?
Any consumer can at any time dispute a charge and begin the process known as a chargeback, and that is what this article is about. This right cannot be revoked by us, Fancentro, nor can it be revoked by any authority. To put it simply – by a consumer request their bank "takes" the purchase amount from the recipient account and sends it back to the consumer account. A bank does not require any approval for this transaction nor does a dispute procedure exist to reverse it.
Since chargebacks are inevitable, it is important to understand that they are a part of running a business in our e-commerce world these days whether we want it or not. But, anyway, let's start from the beginning.
Which Payment Methods Allow Chargebacks?
Among all payment methods available to your fans only the following ones allow chargebacks:
SEPA Direct Debit (enabled for 1-Click sales only)
Credit Cards (Visa / Mastercard / Discover Card / JCBcard)
When it comes to credit cards, things may not really be as bad as you think – currently the chargeback rate on our platform for credit cards is <1% on average, which means that out of 100 sales potentially 1 sale only results in a chargeback.
But when it comes to SEPA, not everything in the garden is rosy. SEPA (Single Euro Payments Area) Direct Debit (SEPA DD) is a bank account-based payment method available across the Eurozone, which can be used for both e-commerce and recurring payments, and is a real pain in the ass chargeback-wise. A chargeback is possible up to eight weeks after the transaction without supplying any justification and on a no-questions-asked basis! A fan can automatically get their money back with just one click of a button in their banking application since there is no dispute resolution process in existence.
This payment method on our platform is enabled for 1-Click sales only, so SEPA 1-clicks are only enabled for those fans that made a 'safe' payment method transaction previously.
Why do we still use SEPA DD for 1-Click sales when SEPA DD has such a high chargeback rate? 
SEPA is one of the most popular payment methods in the EU and significantly increases overall sales coming from European countries. Despite risks associated with SEPA, our analysis shows that even when 10% of SEPA transactions result in chargebacks, the model's earnings are at least 18% higher than it would have been without 1-Clicks via SEPA.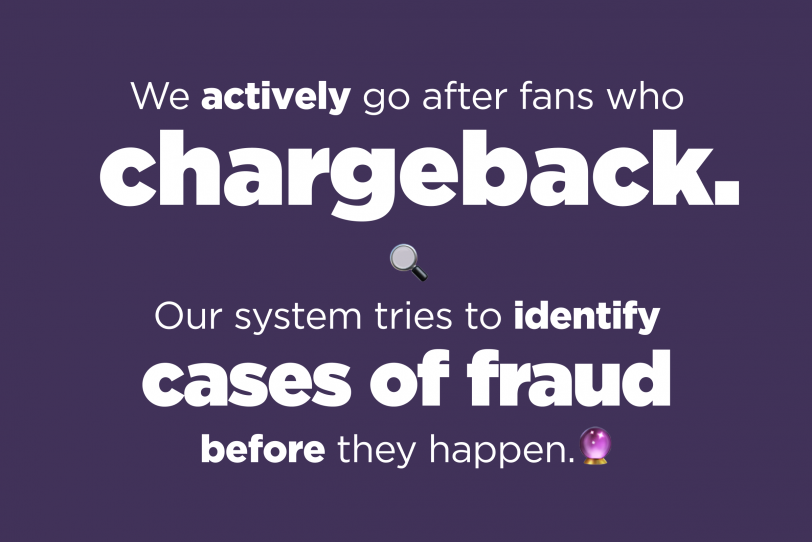 What Does It Mean For You? 
It means that even if you lose funds through SEPA chargebacks, you gain more anyway. However, if you do not feel comfortable offering services with SEPA DD 1-Clicks enabled on your page, we can disable SEPA DD as a method for you entirely.
The only thing you need to understand when making a decision, which is totally up to you, is that you will lose more than you could potentially lose through chargebacks with SEPA DD enabled.
How Can We Reduce Chargebacks?
You (Influencer)
Always communicate openly and clearly with your fans
No false promises – always deliver what fans pay for
Us (Fancentro)
We actively go after fans who chargeback. Not only are they instantly blocked from making any other purchases through CentroBill, but depending on their location, we may send debt collection after them to recover the money.
Intelligent security – our system tries to identify cases of fraud before they happen. We are often able to preemptively stop chargebacks and in some cases, increase the fan's satisfaction and spending.
Fancentro and CentroBill work tirelessly to ensure that you get all the money you've worked so hard for. Additionally, we always cover the chargeback fees applied on top of the initial amount, and those fees are often higher than the original chargebacked amount. We collect about 20% of SEPA DD chargebacks which is a pretty healthy number. Of course, any chargebacks that are collected are 100% put back into your account.
Want to stay on top of tips, trends, and the latest tools? It's as easy as 1-2-3!
1. Follow our socials @fancentrotribe for new posts, contests, money-making tips, and more!
2. Get the hottest news of every month by signing up for our newsletter!
3. Contact a success coach at success@fancentro.com for one-on-one advice from an expert