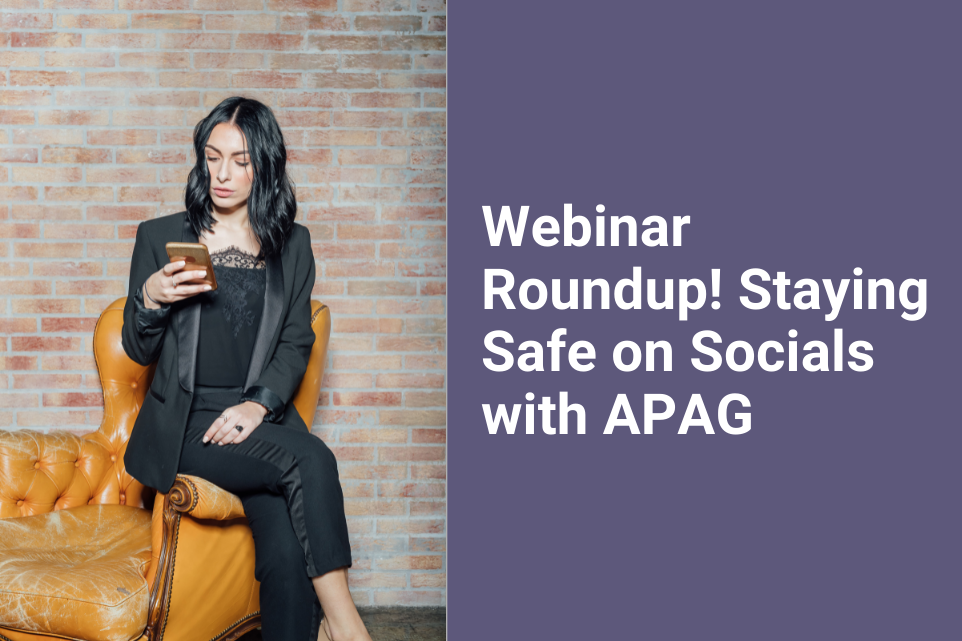 Webinar Roundup! Staying Safe on Socials with APAG
On Wednesday, May 12th, FanCentro hosted the incredibly successful APAG webinar Staying Safe on Socials featuring a panel of industry experts who tackled a wide range of important topics regarding social media rights for adult influencers. Included in the panel was APAG President, Alana Evans, Vice President, Ruby, APAG secretary, Kelly Pierce, Marketing and Business Consultant Amberly Rothfield, and APAG's legal counsel Jim Felton.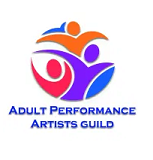 What is APAG?
APAG stands for Adult Performer Artists Guild, and because it consists of adult performers, their board is uniquely qualified to understand the needs and struggles faced by those in the industry. APAG has a mission to help adult performers earn employee rights, establish guidelines for performer responsibilities, negotiate fair practices and fair wages for sex workers, fight the discrimination faced by adult performers every day, and help them create a better future.
Find out how you can get involved more with APAG's mission by visiting https://apagunion.com
The Battle in Numbers
In a survey recently performed by Centro University, we polled adult performers and sex workers on their experiences on social media and uncovered some alarming trends.
Nearly half (46%) suffered a permanent account ban on Twitter or Instagram in the past year.
Nearly 1 in 10 (8.7%) suffered the closure of both. (Others reported suspensions and shadowbanning)
A single social media ban costs an adult creator an average of $30,000 in the first year alone.
In total, account closures cost independent adult content creators an estimated $259M in 2020.
On average, it took at least 36 months for a sex worker to recover from the loss of income from one banned account.
These statistics are staggering, and show a clear uphill battle for adult influencers who are simply trying to build and maintain a fanbase, the same way a mainstream influencer would. And it's not just bans and suspensions that are the problem–many content creators face identity theft, impersonation, and intense cyberbullying.
Taking On Instagram
APAG recently took on social media giant Instagram in a bid to improve conditions for sex workers on the platform and prevent discrimination and bans that, for adult performers, often come without provocation. The adult industry is definitely under a microscope on social media, and there have been thousands of instances of unfair practices and rules that don't seem to apply to mainstream performers and entities.
In this webinar, the panelists spoke in more depth about what that meeting looked like, and how they are working proactively with Instagram to improve conditions for adult performers moving forward. They have agreed to begin the reinstatement of many suspended accounts, and some have already been successfully restored.
The Role of Legislation
The panel also discussed the role that legislation has on adult work and discussed at length the importance of being aware of candidates' position on sex work. There are a multitude of bills being passed that have a tremendous effect on the adult industry, but many adult workers remain unaware of the position of their elected officials. The panel strongly advised doing your homework when it comes to voting, asking the right questions, and understanding how your vote has the potential to turn the tides on harmful legislation.
Staying Safe on Socials
In the interim, there are steps that influencers can take to maintain the safety of their accounts, and the panel discussed some of the most major situations to be aware of. Let's look at some of the main points that were discussed:
Performers may link to adult fan platforms like FanCentro from their profile, but the link cannot directly lead to adult content. That doesn't just mean nudity or explicit content, but includes sexually explicit language or references to adult work (saying you're a porn star or adult influencer, for example, or using XXX) — what Instagram referred to as "sexual solicitation." Some suggestions from the APAG panel included an interim link page, or a personal, SFW site, from which you can then link to your fan platform.
Similarly, the same applies to links sent in DMs as bots may crawl the DMs looking for adult links. Some on the APAG team avoid even mentioning the name of fan platforms and advised if someone asks for adult content via DM, it may be best to block them.
"Handbras" and stickers (virtual or otherwise) should be avoided. In fact, any touching of breasts should be avoided.
Avoid flesh-colored swimsuits and backgrounds. Posts may be flagged for the percentage of skin in the post, and automated systems may read something flesh-colored as actual flesh, which could lead to your content being flagged.
Review your old posts on Instagram for any potential content that might be in violation. The policies change, and just because it wasn't flagged earlier does not mean that it won't be now.
In addition to bots and Instagram itself, there are malicious flaggers who look to go after adult content. That can include both those morally opposed to sex work and sex workers, and those who might try to steal or hack your account. In some cases, influencers have seen their accounts flagged or removed, and scam/copycat accounts rise in their place.
Instagram is now aware of the significant concern over hacked and stolen pages.
Verification — the blue check — does not mean you have total freedom to post, but it can mean that you may have more leeway. Instagram understands that verified and other popular accounts are more likely to get maliciously flagged, and so does not remove them as quickly.
Verification is an uphill battle. A trademarked name does not mean that IG will provide instant verification, and while trademarking your name is one factor that is considered for instant verification, it is not the only one.
Verification is also a notability issue. IG has an equity team that will explore ways of verification to help prevent impersonation, and IG is working on finding a solution to the impersonation issues.
Hashtag brigading. When certain hashtags are used repeatedly in association with something explicit, a temporary hold on that hashtag is placed. This is not permanent, and use should be limited. Using too many hashtags could be viewed as spam, and result in an account ban, shadowban, or suspension. Be sure to review old posts to make sure you're not in violation.
Other important points came to light during the Q&A portion of the webinar with influencers asking if similar initiatives will be taken with Twitter, why using linktrees is (usually) a bad idea, and how to maintain the safety of your personal information.
Click here to watch the webinar now!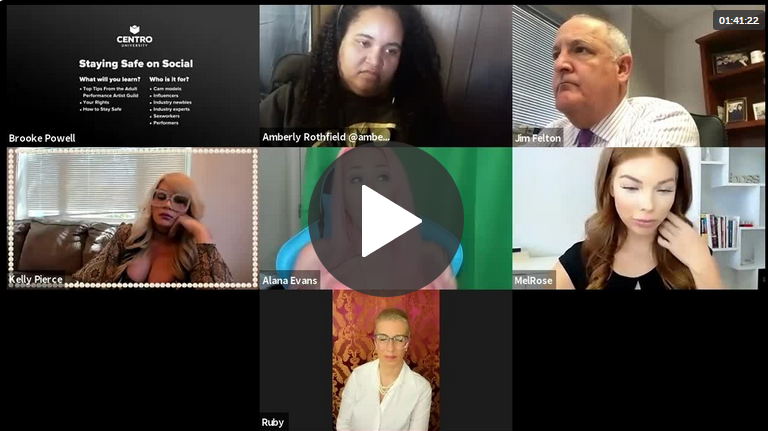 Stay tuned to Centro University for more on our webinar series!