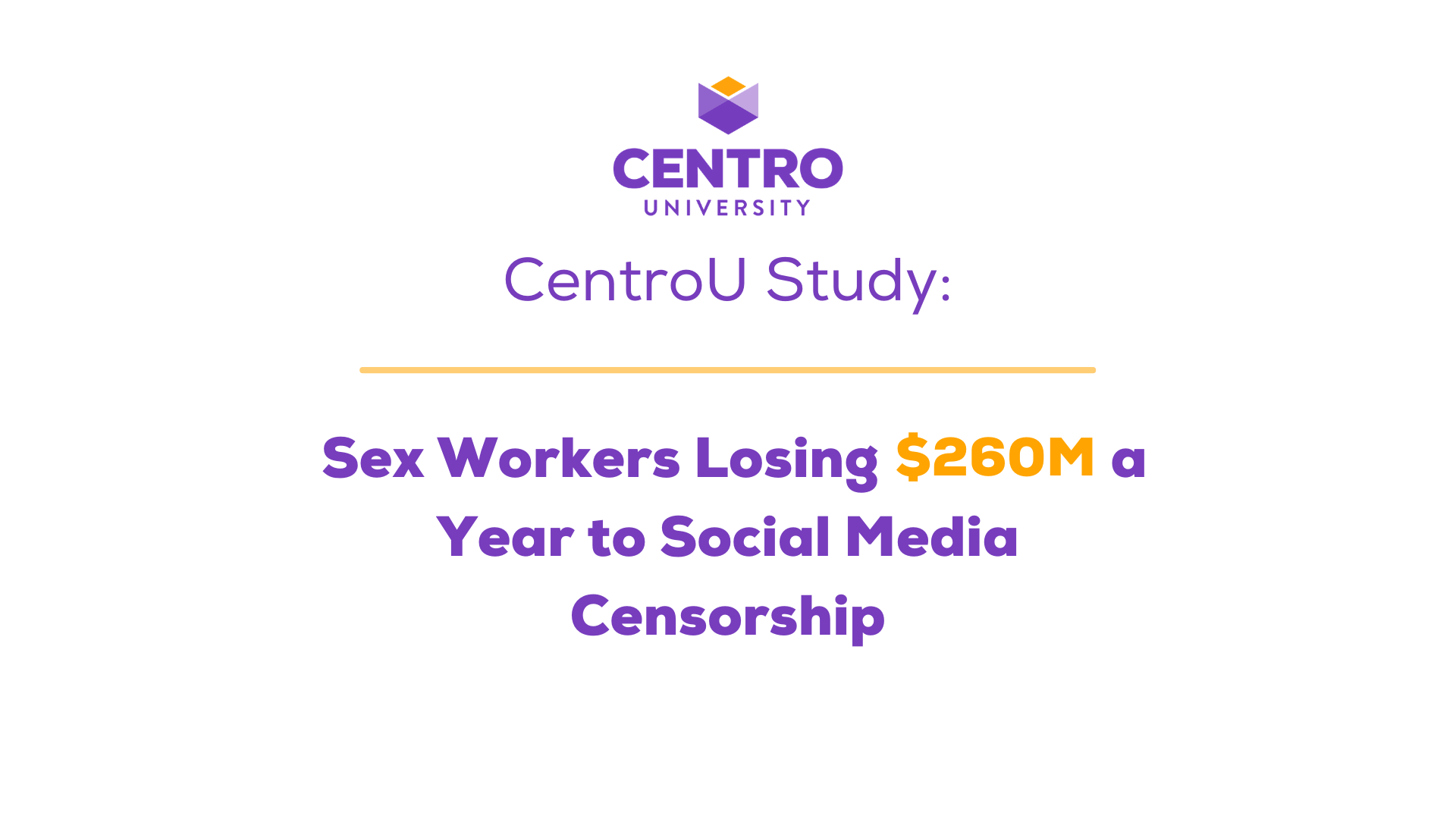 CentroU Study: Sex Workers Losing $260M A Year to Social Media Censorship
"It's absolutely horrid the amount of censorship on sex workers right now and no one is doing anything about it, completely destroying our way to promote and make income. Completely destroying everything we built."
— FanCentro Influencer
Adult influencers know just how devastating an account ban can be. Sales plummet, new subscriptions fall, sponsorship deals and other income evaporate.
We know arbitrary censorship rules on social media platforms like Twitter and Instagram are a key hurdle to building stable, dependable adult businesses. But was it possible to put a price tag on it? Centro University set out to quantify it.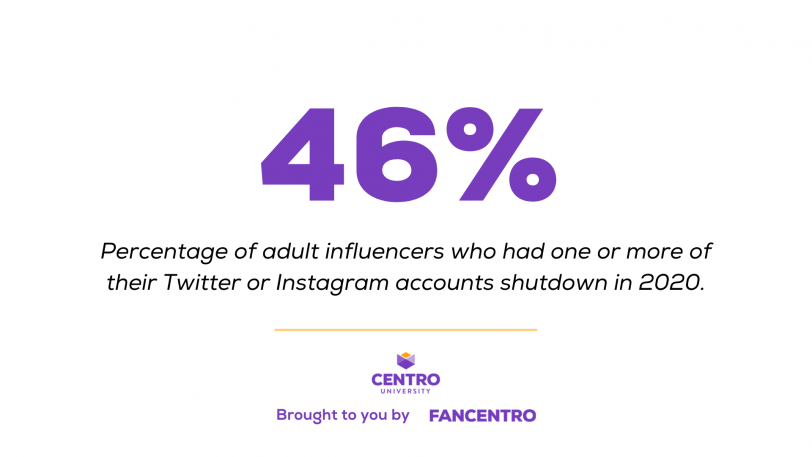 In February, Centro University sent out a survey to influencers using the FanCentro platform, asking about their experiences with social media censorship. The results were sobering — nearly half (46%) of influencers surveyed said they'd suffered a permanent account ban on Twitter or Instagram in the past year. Others reported suspensions and shadowbanning.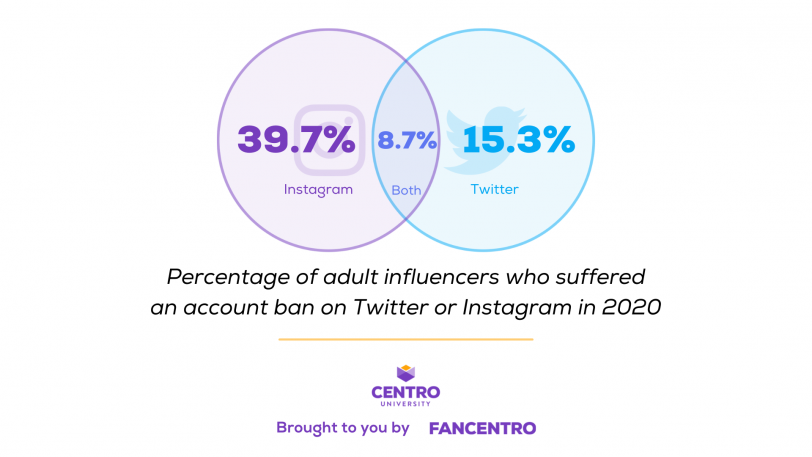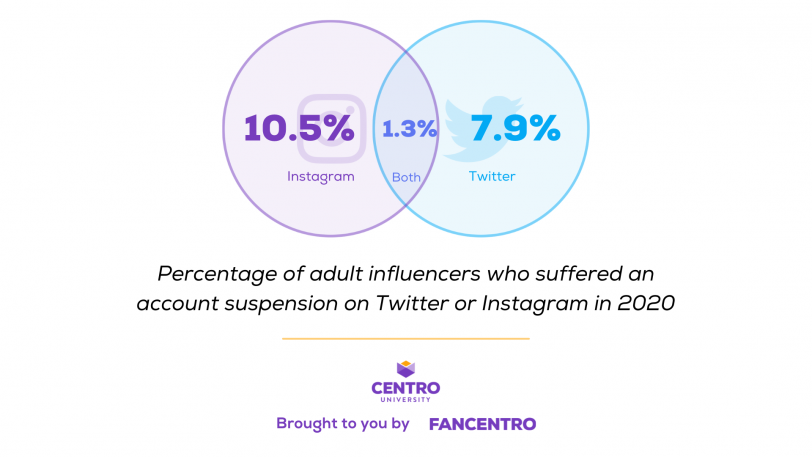 As expected, most influencers had been paying close attention to the Terms of Service, avoiding nudity or explicit content, monitoring follows and hashtags, limiting where they link and if they advertise. When the account ban came, most had no idea what they'd violated and had no chance to appeal.
Sex workers, it's no surprise, face different standards on social than other influencers.
"I can't post anything that other girls post.. I can't even make a face without them saying its sexual."
"Followed some sex work and business accounts and got suspended. Didn't tell me why at all or send me an email explaining why. Didn't break the TOS or rules or anything."
"I got [flagged] at some point I think  it was a guy who was mad I wouldn't take his membership request"
"I was deleted for a suggestive clothed photo in my header. I lost my entire platform… 114k followers … 2 weeks before the launch of my website"

"As a sex worker you are constantly reminded of the stigma"
THE COST TO INFLUENCERS
To quantify how much this cost, we created a profile of a typical adult influencer — if such a thing could exist — earning approximately $4,000 a month using one social account and selling on one fan platform.*
We then looked at things like churn rate — the average length of a subscription — and the overall lifetime value of a new subscriber. We incorporated average conversion rate for sales based on a social media following, and various proprietary and public data that help us understand how influencers monetize their followings.
A newly suspended influencer earning $4000 in January could expect their income to drop by about a third — to $2600 — in February, but as subscriptions expire and new fans fail to replace the old ones, that loss would accelerate. By July, that influencer would be earning under $1000 a month — and that's assuming they acted rapidly and began rebuilding their social.**
By the end of the first year, an influencer suffers over $30,000 in lost income.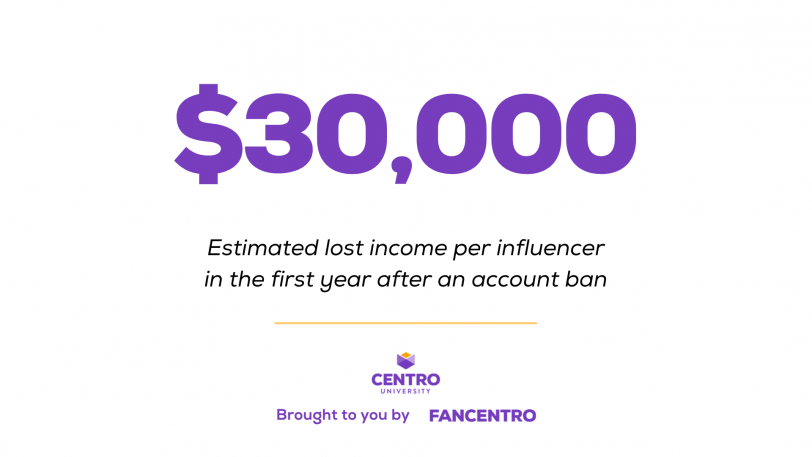 But the losses don't stop there, of course. As most influencers know, it takes a long time to build a social following. Those losses continue until you're able to rebuild that following, and that fan base.
THE GLOBAL COST
With well-over 1M adult influencer accounts, social media censorship operates as a discriminatory global tax on the work of adult influencers and content creators — a cost of approximately $260M in 2020 alone.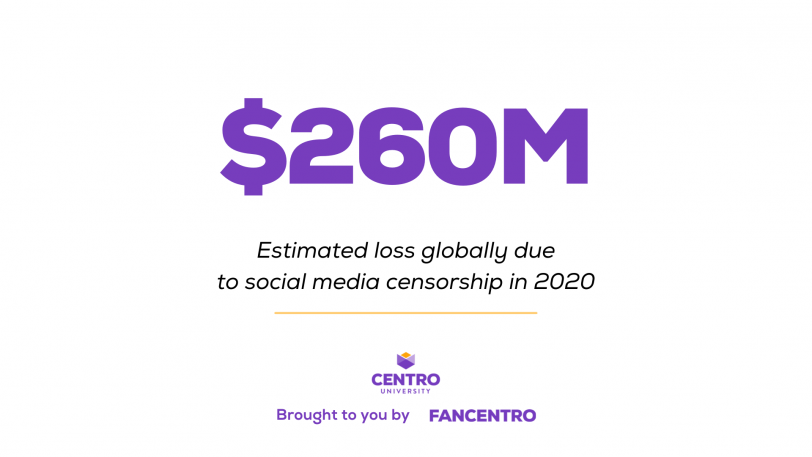 That's right. It's not just you. Censorship by platforms like Twitter and Instagram are costing influencers hundreds of millions of dollars a year. 
That may look like a huge number, but it's a conservative estimate. We know that influencers earn money on multiple platforms and that a social media loss can multiply as well. Shadowbans and other algorithm blocks are hard to account for and can cause as much income loss as an outright ban. And the bleeding doesn't stop after a year.
But $260M in losses can at least begin to quantify the cost of the censorship to adult influencers and other sex workers. It's a number worth fighting over. It doesn't matter how big you are, or how many followers you have. Until we finally stop arbitrary and discriminatory bans and censorship, tech companies have the power to disrupt your entire — and entirely legal — business.
CONTINUING THE CONVERSATION
That's why on May 12th, we hosted a special webinar with Alana Evans and the team at APAG. They've been fighting for sex worker rights on social media platforms, and have had direct discussions with Instagram and Twitter — in many cases, getting accounts reinstated. They shared what the latest rules are, and how to operate your business without getting flagged.
Catch the full roundup of this important webinar now
CENTRO UNIVERSITY
Are you a sex worker that uses social media? Continue your (adult) education with Centro University, the first school specifically for porn stars, adult influencers, and other sex workers. CentroU is a comprehensive educational system that will show you exactly how to successfully build a career as an influencer with FanCentro.
Click on the link below to enter CentroU and begin your first course today. Your future starts here.
*There is tremendous variation among influencers on every aspect of this. Many influencers make much more money, many have much less. Many are on multiple platforms, and earn income beyond platform sales. However, based on FanCentro's internal numbers, as well as publicly available data, $4000/month proved to be a good statistical mean for active influencers.
**We know the drop is much more drastic for some influencers, especially if they don't have multiple social media accounts or ways of re-engaging fans when one account is closed. Newer influencers may see more drastic drops, Alternatively, the drop may be less dramatic if an influencer has wide name recognition, multiple social platforms, or a base of long-term subscribers. 
*** While millions of people joined platforms like ours in the past year, not all accounts are active. To understand the effect of social media censorship globally, we looked at different metrics, including the percent of active accounts, the distribution of earnings across those active accounts, and the relationship between social media followers and earnings.