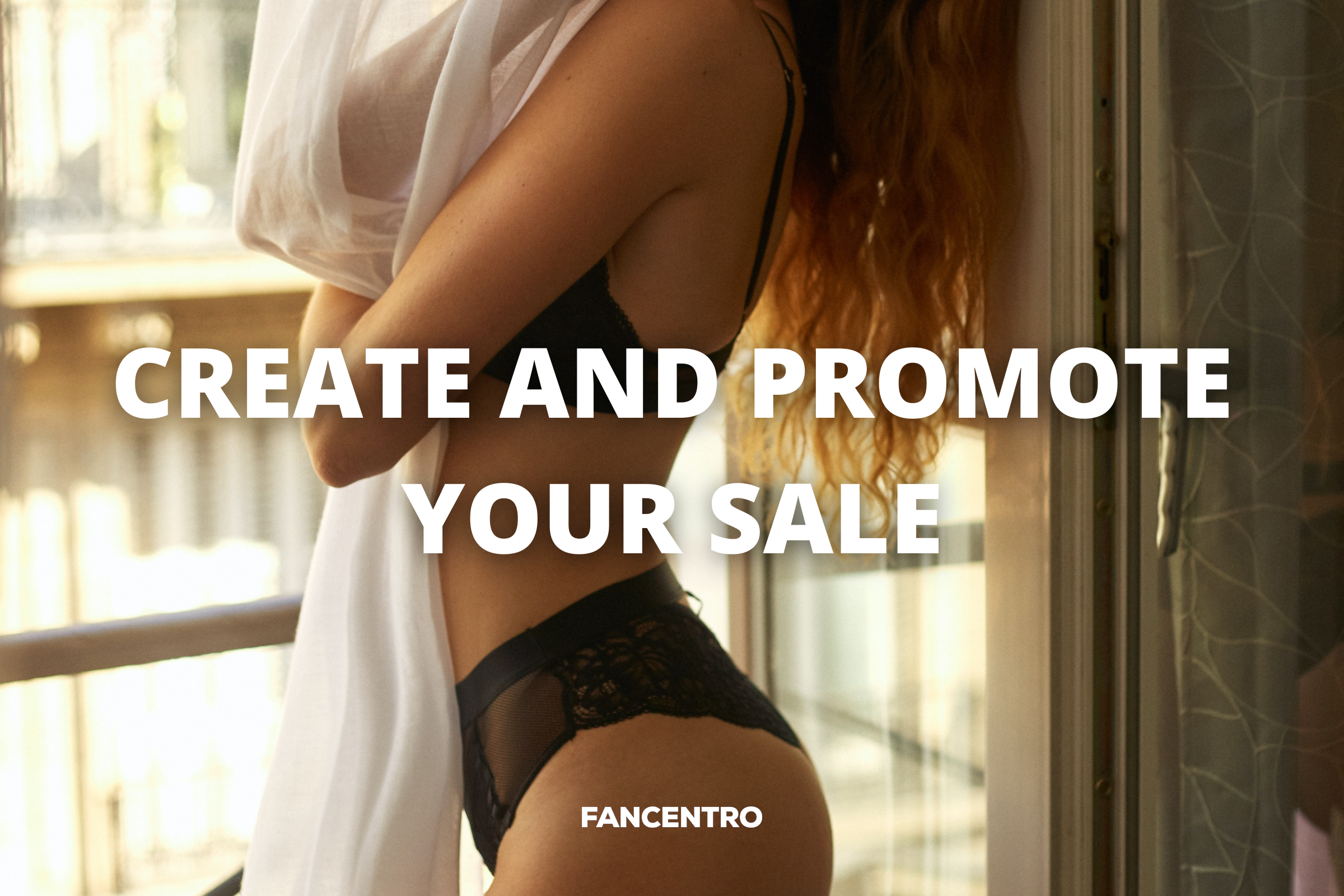 How to Create and Promote Your Own Sales on Fancentro
To optimise your FanCentro page and make more money, it's really important that you're aware of all the marketing tools available on the site. One effective way to do this on FanCentro is by creating enticing sales for your fans. 
This can include private photos, videos, private stories, sexting, used lingerie or more. It's completely up to you what you want to offer, the price, for how long you'll offer your sale, etc. You could also do a short-time sale on your subscription fee for new customers to subscribe and become active customers.
If you've never made a "FanCentro Offer" keep reading to learn how to create your own sale on FanCentro and how to promote it to optimise the sale and make more money!
How to create a sale on FanCentro
To create an offer on your FanCentro page you'll need to go to:
Your page > Subscription offers > Add recurring offer / one-time offer / free trial offer
Here, you'll have three different types of sales you can offer to your fans:
Recurring offer

: with this sale your fan will be billed monthly and will need to pay to continue having access to the content. This type of sale is preferred for a regular income. 

One-time offer

: with this sale your fan will be billed once and will have lifetime access to the content.

Free trial offer

: with this sale your fan can see the content for a limited time and then will be billed to continue to have access to the content.
Once you have chosen what type of sale you want to create, it's time to add a title, description and the perks the offer will include. We recommend you go with your niche fetish, use emojis and write the description as if it were a private text. Here are examples from some of our models to help you brainstorm: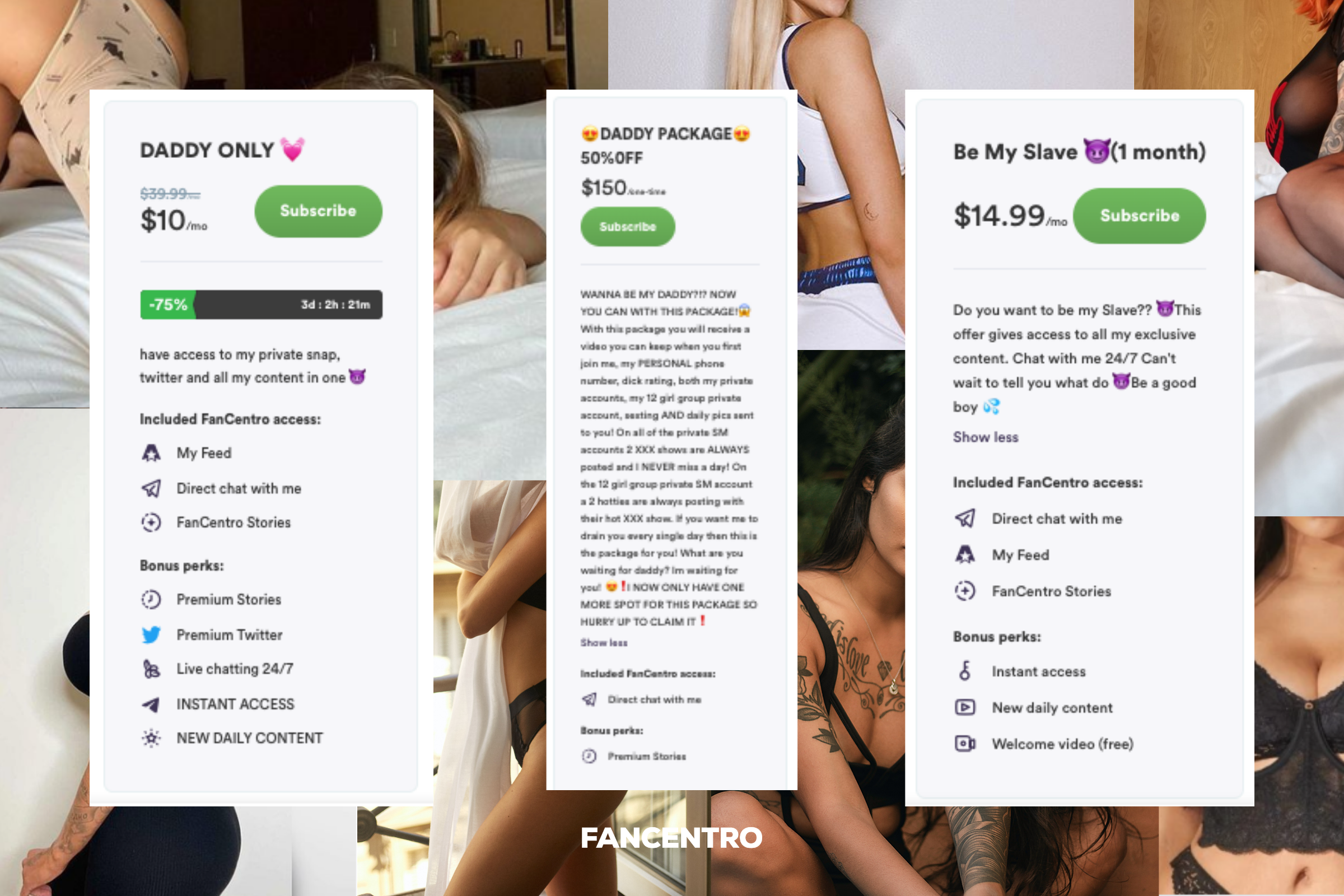 If you're having trouble understanding how to create an offer on your FanCentro page, don't hesitate to get in contact with us and we will set up a meeting with one of our Success Coaches who will teach you how to make a sale and give you more tips on how to optimise you page for maximum income.
Now that you have your sale prepared, it's time to promote your offer via social media and other marketing tools to get the word out to your fans and optimise your income. We also invite you to check out our article on how to create an avatar that sells.
How to promoting your sale
Now that you have created your sale, it's time to get the word out and drive traffic to your page. This is where marketing is very useful! Learning the basics about marketing can really help you boost your sales, get more customers and therefore, make more money. Here are some marketing ideas on how you can market your sale:
Creating banners for social media
The first thing you should do is create banners for your social media (Instagram, Facebook, Twitter, Reddit, etc). These should be safe for work but intriguing enough to get them on your FanCentro page. To make these banners or photos, you can make it directly on your stories on Instagram or Facebook, then save it and use it on reddit and twitter, or you can use canva.
For social media, we recommend you keep your posts as SFW as possible on censored social media platforms, such as Instagram and Facebook. This way, you avoid being suspended from these accounts. It takes a lot of time and effort to build a following and it would be a pity to be banned for one photo. Although Twitter and Reddit seem to be more open to sexually explicit content, it's best to keep it safe for work.
Lastly, you should also use the banner generator on your FanCentro page to promote your sale. he Banner Generator allows you to create custom banners for all your socials in literally seconds. Select a picture, choose the size, and generate! That's it! You can find the banner generator under the "Promotions" tab in your FanCentro admin.
Creating Reels or TikToks
Another great way to promote your sale is by making a fun and engaging Reel or TikTok. Videos are much more engaging than photos nowadays, so why not take advantage of that and create a cute, cheeky and SFW video to promote your sale?
Use a fun a trendy song and show off your cute personality. Then, tell your followers to check out your offer in the video or description. Don't forget to include the link to your FanCentro page somewhere so your followers can find it and get the sale. Many influencers do this by adding it in their IG or TikTok bio or by using a third party website where they can put the different links to their different social platforms.
Promoting it on a live
Speaking of videos, you could also do a live and speak to your followers. Be yourself as personality is key and mention that you're now offering a sale. Tell them to check out the sale by going to your FanCentro page and don't forget to tell them how they can find that link.
Live videos are a great way to talk to your followers and make it feel like a video call. It helps them feel close to you and willing to do more, such as purchase a new offer. By making them feel like a friend, or more, you provide them with the feeling of an intimate relationship, something they may be seeking. So go live on Instagram or FanCentro, say hello to your followers and invite them to check out the sale!
Email marketing
Last but not least is email marketing. This marketing tool is very useful and effective as it an alternative to social media platforms. By offering a newsletter to your followers, you allow them to catch up with your activities when it's best for them via email. Here you send them a message and tell them your new offers and any news you want them to know about. This builds customer loyalty and it's also a safe net in case Instagram or Facebook ever changes and you lose your following.
Learn more about how to build your fanbase without social media in our article social media marketing alternatives for content creators.
Don't forget to also check out CentroU, your online university to learn everything about how to maximise your income on FanCentro and earn more money! You can also speak to your Success Coach from our sales team and they will help you improve your page and offers in order to make more money with FanCentro.