Five Years of Features
We've reached a magnificent milestone. Fancentro is turning five years old! When we first started, we could never have dreamed of all the wonderful ways our platform has grown. This is all thanks to you and your incredible hard work.
Let's take a look at this extraordinary year of evolution at Fancentro and how your feedback helped make it all happen! We began the year with a new tagging feature for your feed. Now you can tag your Fancentro friends in your Feed posts or DMs and cross-promote each other. This helps bring new traffic to everyone's profile. It's a win-win for everyone! We also introduced a new livestreaming option that helps amp up your earnings. You can go live for both your followers and subscribers, or you can go live for subscribers only. You can even start livestreaming to followers and subscribers and then switch to a subscribers only option midstream! 
We also added welcome message templates for subscription offers and new followers to make it easier than ever for you to quickly create and send out messages to everyone! This helps you boost your sales since you're creating a stronger bond with your followers and promoting customer loyalty. Additionally, we added Stories to Fancentro's site, so you can post pics and videos to your subscribers or to the general public. Plus, fans can tip you on every story you post! 
Since Fancentro began, your feedback has helped us create an influencer-friendly platform with tons of options for selling content. The dedication and support of our influencers means everything to us. We couldn't have done it without you!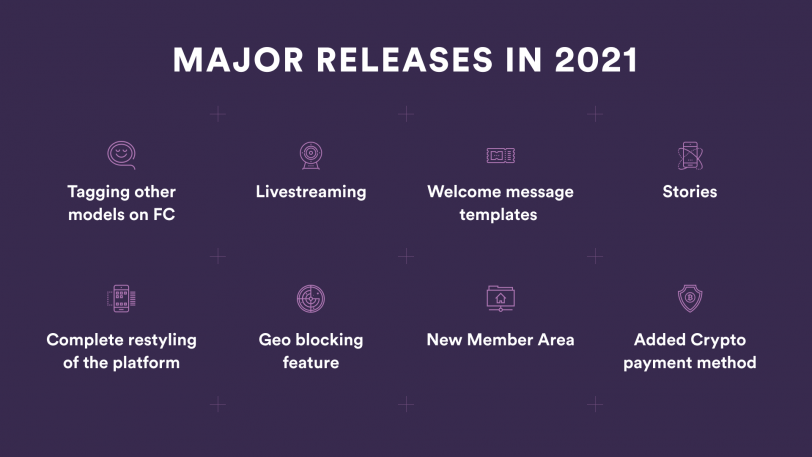 What's next for 2022? 
You asked. We delivered! We've barely begun 2022, but we've already released some incredible updates. There's a new Model Profile that makes it even easier for you to share content with your followers and subscribers. The new Member Area helps fans to find you, follow you, and fund you in more ways than ever before. All of this equates to the same great thing – that it's easier than ever for you to get noticed and earn more!
These five years have been an amazing whirlwind, and we're so grateful to have you along for the ride. Here's to another year of success!
2021 
People and Tagging 
Mentions are another great way to make sales, and you can really increase your traffic by collaborating with other influencers in your Feed posts or DMs! Tag your influencer friends and fans will be given a direct link to check them out. Imagine merging your traffic with the traffic of ALL your other FanCentro babes with a simple S4S. Check out the details here!
Livestream
Our latest offering! Now that Fancentro has launched the Livestream feature, we know that you're probably dying to check it out and go live! There are a bunch of ways to earn money livestreaming on FanCentro, and we want to help you master them. Get started with your first livestream here!
New Subscription Offers
We turned subscription offers into a package deal so you can create the perfect bundle for your fans. Bundle any of your offers together to make it easier for you and your fans. Want to sell your own swag? With these new subscription offers, you can bundle that option right in. Check it out by clicking here.
x10 Pages Load Speed Improvement
 We've upped page loading by 10X to make visiting your Fancentro page a smoother, speedier process.
Stories
Your social media Stories can't be NSFW but Fancentro Stories can! With our Stories feature you can post quick, uncensored content to your Story all day long for extra tips and conversion opportunities. Post public Stories (vanilla), Follower only (slightly spicy), or Subscriber only (XXX). This is a great way to increase conversion and turn your followers into paying fans!
2020 
Influencer Referral Program
2019 was the year of the Lamborghini, but we also launched an amazing program that allowed you to refer your friends to Fancentro and get paid for it! Under the referral program, you're given 10% of FanCentro's profits for a full year after they sign up–that means you'll get a piece of the commission without cutting into their profits! Know someone who would kill it on Fancentro? Click here to get your referral link so you can both start earning!
Your Own Clip Store
Clips was the second car on the passive income train! With Clips, you can post your best clips and videos right on your Fancentro profile, and fans can purchase them anytime…without a subscription! That means a passing fan might not be ready for a subscription, but they can still purchase a Clip, which means more opportunities for you to earn from your traffic. Looking for easy money? Load up your Clips page and promote, promote, promote! You'll see results from both paid subscribers and free followers!
Centro University
Okay guys, this is a big one! Centro University was the first ever educational series for influencers, and since its launch, the videos have been viewed by more than three thousand influencers! Originally launched as a ten-part series, Centro University is steadily growing with more videos set to release in 2021. In addition, Centro University hosts monthly webinars to help you learn more about how to succeed as an adult influencer. Want to stay in the loop? Keep your eye on Centro University!
Fan Feedback 
2020 introduced Fan Feedback, so you can get important information on what is working for your fans and what isn't. Fan feedback is incredibly useful for tailoring your content in a way that will ensure you earn the most money.
Mass DM Scheduling
Want to create a DM schedule? Build up your passive income by scheduling mass DMs to send locked content to your followers whenever you choose.
Locked Text Messages in DMs
2020 was the year of two big DM updates — first, you have the option of pre-scheduling mass DMs to send when you choose. That will help you build passive income when you schedule mass DMs with locked content attached. Just schedule your messages and watch the money roll in! We also introduced the option to send locked text messages to your fans for even more income.
Restricted Subscription Offers
Want to give your fans major fear of missing out? Set up a restricted subscription offer! These offers have limits, either on how long they are available or how many people can subscribe to them. Once an offer is 'sold out' fans will have to wait until the next offer to snag a subscription. This is a great way to build intrigue over what they missed so they'll be sure to hop on the train next time around! You can set one up here.
Automated Template DMs
Want to send an automatic message when a fan subscribes to you or sends you a DM? Create a DM template! These templates can be programmed to automatically send to your fans when you choose, so you can be on top of your DMs all the time!

2019
Follow Influencers – Free Fan Following!
Fans also got the opportunity to follow your Fancentro page for free, so if you have fans who are on the fence, this is a great way to convert them to paying subscribers. The best part? Once a fan follows you, you have the ability to DM them, so you can start earning money from followers before they even hit Subscribe.
DMs and Mass DMs
DMs were the first HUGE selling feature since the Feed was rolled out, and the ability to DM opened a ton of doors for earning more money. With the option to send both locked and unlocked content to your paid subscribers OR your free followers, DMs allowed you to start building passive income simply by sending a few messages a day. You can even send audio DMs! Now DMs are the best way to get up close and personal with your fans, earn tips, and send your most exclusive content!
Encrypted Secure Storage for Personal Data
 Security is always at the top of the list when it comes to your personal information, and we incorporated highly encrypted storage to keep your data safe and secure.
Automated Retention Offers
It's always a bummer when a fan wants to cancel their subscription–that's why we introduced retention offers! Retention offers are the best way to keep your fans right where they are. How do they work? When a fan wants to cancel their subscription, you then have the option of offering them a lower rate to stay. That way you'll retain their subscription, and your fans will be happy to stay!
Free and Paid Voice Recordings in DMs
Give your fans an audio treat by sending voice recordings via DM! Give your content another layer of intrigue when you let them hear your voice.
Feed Posts Direct Links
Do you have a Feed post that you KNOW will get a ton of attention from fans? Link it! Direct links to specific Feed posts allow you to zero in on your most money-making content and promote it directly to your fans. It's also a great way to intrigue non-subscribing fans into hitting that Buy button!
Automatic Content Watermarking
Protect your content with an automatic watermark every time you upload to your FanCentro page. Your watermark includes your FanCentro link (fancentro.com/yourname) to keep content-snatchers away from your goods!
2018 
Telegram Notifications
 Want to know what's going on with your fans 24/7? We made it possible with Telegram notifications. This feature allowed you to keep a close eye on your fans and their activity so you didn't miss a single money-making moment! You can set up Telegram notifications here.
Paid Content Feed
The Feed was the first major content selling option built right into your FanCentro profile. With the Feed, you now had the ability to run a pay-to-view newsfeed for additional subscription opportunities. Since then the Feed has evolved into an amazing way to post both free and paid content, send photos, videos, and audio messages, and offer an alternative subscription option for your fans. You can set up your Feed here.
Automated Tweeting
Auto-Tweets were designed so you could keep your fans in the loop about what's happening on your FanCentro! You have the power to decide which information to auto-tweet, and it's a great way to build intrigue for new fans! You can set up the auto-tweet feature here.
Feed Post Scheduling
Want to take some time off? Love presetting all your content for the week ahead of time? With this feature you have the option to schedule your Feed posts to go live when you want them to!
Accounts Security / 2FA
We amped up security with the addition of two-factor authentication on your FanCentro account! This feature allowed you to secure your account whenever you logged in from a new device to prevent pirates from stealing your booty! You can learn all about how to set up two-step verification here or click here to activate it.
The Banner Generator
 Promo is super important for anyone trying to make it on social media, and we wanted to give you a quick and easy way to promote your FanCentro profile on your socials in just a few clicks. The Banner Generator was born! The Banner Generator is one of our easiest promo tools, and you can create custom banners for all your socials. Just choose a picture, select the size, and generate! That's it! Want to take it out for a spin? Check out the "Promotions" tab in your FanCentro admin!
Cross-sells for Join offers
Want to promote your ModelCentro site on your FanCentro account? This feature allows you to do just that, bringing you a unique cross-selling opportunity.
Free Trials
The Free Trials option was a great way to drive traffic and improve conversion…after all, after a free trial of your FanCentro, how could anyone resist a subscription?
2017
FanCentro was born! The platform launched on February 8, 2017 and we've been growing ever since!
Affiliate Marketing Program
In 2017 our affiliate program, was launched to help influencers find new traffic streams and boost their payouts. You can start getting your name in front of the top affiliates in the industry by clicking here!
Discounts for subscription offers
Discounts came about so that you could give your fans a little extra incentive to buy a subscription and boost your sales. With discounts you can opt to slash prices on your subscriptions, hold limited deals, and increase your payouts! This was a highly anticipated addition to the FanCentro platform, and it's still a popular option–want to set a discount? Click here to get started.
Instagram Integration
2017 was also the year you could increase your FanCentro earnings by monetizing your Instagram with a premium account!
Domain Names
Personalize your FanCentro account with your own domain name! This development was hugely popular with influencers who wanted their branding reflected everywhere, even in their FanCentro link!
Unlimited Tips
Who doesn't love a tip? This feature was launched to allow your fans to send you a little extra thank you for a job well done, and it's grown to be one of the easiest ways to bulk up your payouts. We've used tips for tons of different promos and with the addition of tips to DMs and Livestream, the sky's the limit! You can enable your tips here.
Want to stay on top of tips, trends, and the latest tools? It's easy as 1-2-3!
Follow our socials @fancentrotribe for new posts, contests, money-making tips, and more!
Get the hottest news of every month by signing up for our newsletter!
Contact a success coach at success@fancentro.com for one-on-one advice from an expert!